(Whereupon I decided to make good use of the Ruler Designer DLC)
The year is 867 and I, Seleukos of House Seleucid, have become Count of Hellas. The circumstances of my ascension to that post were rather unusual since, much like my idol, Emperor Julian, I was destined to become a theologian; indeed, I am considered by many to be a master of theology.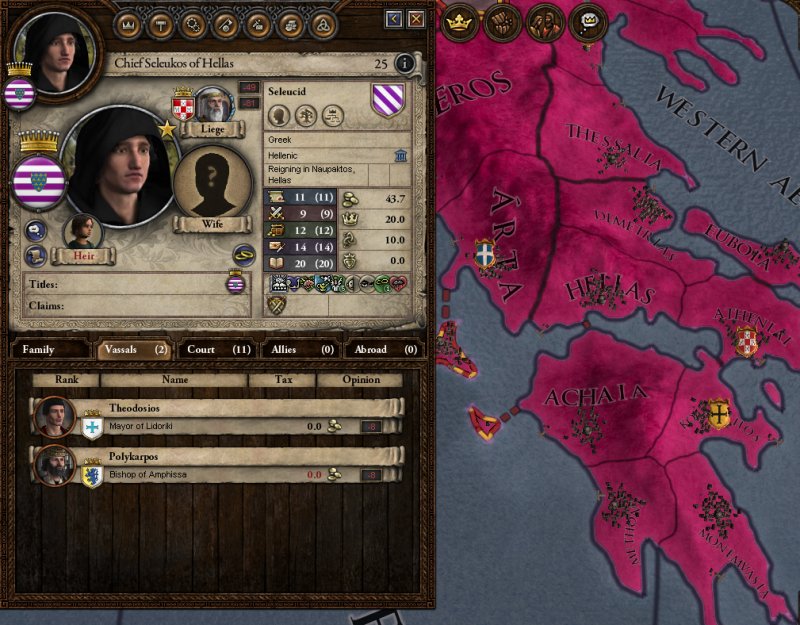 Chief? I'm not a chief, I'm a count! At the very least I should be an archon or something!
But it was this intense study, along with my cynicism and innate genius, that led me to see the fundamental errors of Christianity and the superiority of our ancestral religion. Living as I did close to the ancient Oracle of Delphi, I was able to research the ancient rites and have developed a healthy interest in theurgy, which the unlearned dismiss as mysticism. Such is their ignorance.
But then again, such is the ignorance of our age. I grew up shy and weak, avoiding crowds and confrontations with the illiterati whenever possible. In such solitude I learned patience and chastity, but I was also visited upon by depression, a malady I have not yet been able to shake off.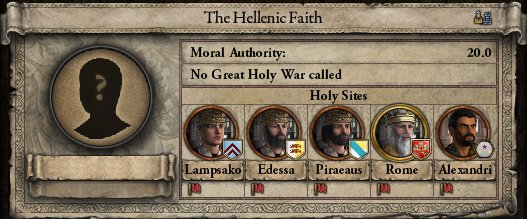 The Hellenic faith is going through some rough times. Although it has found in me a staunch believer, everyone else seems to have fallen under the sway of the Galilaean Cult or the beliefs of the Mohammedans. No Hellenic holy site is serviced by its true priests. This may one day change, and I'd like to believe that the process will begin here, in tiny Hellas.
Choices!
But to have any lasting impact on this world, I will need a legacy. Since I am unmarried, I send out people to search for suitable brides. To my consternation, my fellow Byzantine counts seem unable or unwilling to accept me as part of their families. Maybe it's because they call me a "chief" instead of a count. I'll have to have words with my chancellor about that. The only potential bride in Greece is Apollonia, a courtier in Hellas. Although she is looking to get married with someone, she makes it very clear that she hopes that someone will not have to be me. The feelings are mutual – she's a mean-spirited girl, with her zeal in Orthodox Christianity being but one of her vices.
The other choice is young Gydja Rognhildr, from distant Norway. My people must have traveled all across Europe in search for any woman who would accept to marry me! She is 15 years old, so we agree on a betrothal while she sets sail for Hellas.
The year passes without much to do in my county. Our emperor is fighting the Saracens in Sicily, but joining that war is neither within my means nor within my interests. The Doux of Athens (who hates me; everyone does) gave me the title of Master of the Hunt. Seeing as I'm too physically weak and uninterested in sports to be hunting, I can't help but wonder if this is some kind of stealth insult. But I accept the title nonetheless, and continue reading my books while I wait for my bride to arrive.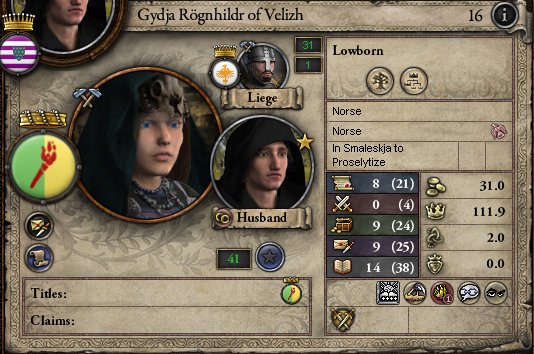 Sweet Aphrodite! Gydja has arrived for the wedding, and I cannot believe my luck. When I selected her as a bride I knew she was still being tutored but I had no idea of the extent of her studies. It turns out she's a master theologian just like me, on top of being a lustful 16-year old! We'll have so much hot geeky sex!
The wedding went great. I considered asking my vassals to contribute to the expenses, but decided against it. My people should know I spare no expenses when it comes to prestige. Now, it's time to complete the ceremony... in bed!
Huh, what's that sound?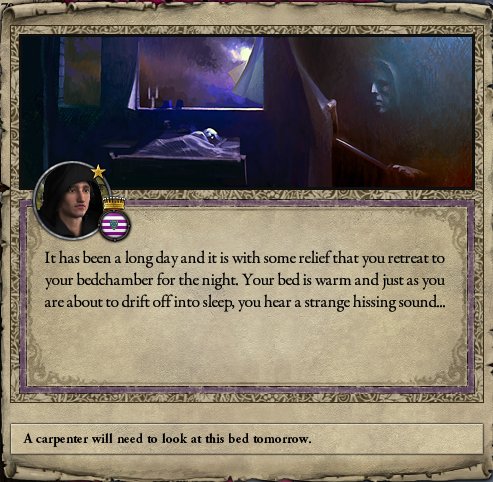 Snakes! I hate snakes! Who would do something like... oh right, everyone but my wife hates me.
:'(