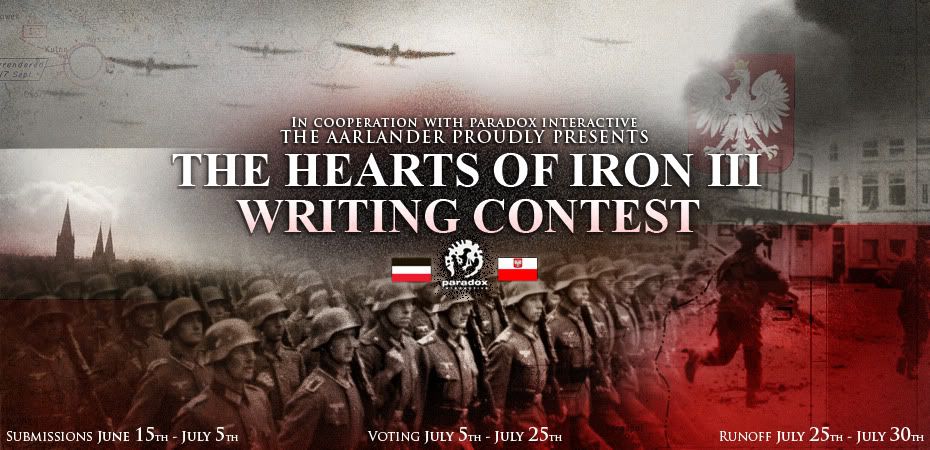 Official Hearts of Iron III AAR Contest Comment Thread
​
Please leave comments here for any discussions or questions. Singletone Mosby and I will be answering any questions here as well and we hope you all have fun!
Please go to the rules: click
here
. Good luck!
We Are Currently in the RUNOFF phase of the Contest​
Here are YOUR Top Five (and Guaranteed Winners of Free HOI3) Picks in No Particular Order:
Fall Weiss
by
demokratickid
: A poem about the German invasion of Poland.
Watch out for vegetables...
by
cocodtim
: A young girl dreams about vegetables at war.
Doktor Strangelove, or: How I Learned to Stop Worrying and Love the Hun
by
Llywelyn
: In a Dr. Strangelovian plan Poland wants Germany to invade them.
Here is Europe as the cool empire of P0L4ND!!!
by
Storm501
: Mussolini goes after Albanian women and world conquest.
OUR LADY of SORROWS - The Seven Tragedies of Poland
by
robw963
: In seven steps the tragic fate of Poland is described.
Please Vote in the Poll Above for Who will Receive the Grand Prize of the Signed Hard Copy of Hearts of Iron III . The Four Runner Ups will receive their Free Copy of HOI3 via gamersgate
If you are a contestant please provide Singleton Mosby and Myself your e-mail and gamersgate username . Good luck !
Last edited: