First Lieutenant
9 Badges
Today, I will not do a real update. Almost 20 years have passed and that is 1/5 of the time. It is time for the first State of the Republic Adress and to talk about things I learned and things I will never learn and of course about the tactical and strategical plans.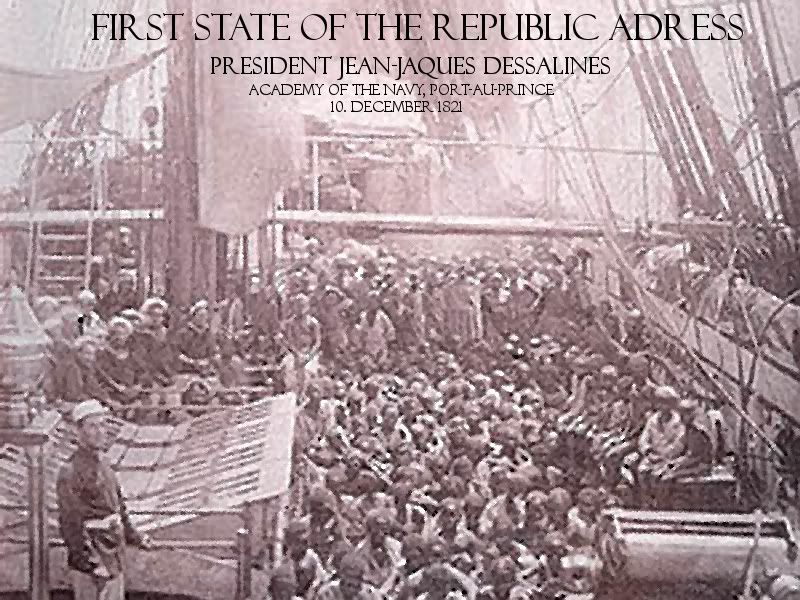 About the Income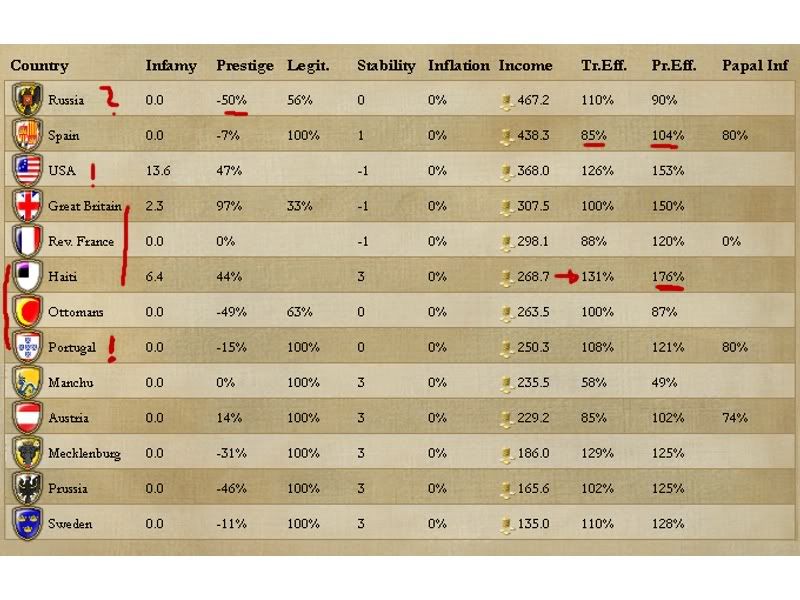 Tax Income
In the beginning, the tax income was really a surprise for me. I had expected, that I had to mint like a maniac to be able to see a ducat or two. Instead the basetaxes are really nice. Having only two provinces, I can also use my magistrate to boost their local tax income by Population Censuses rather than building roads everywhere (which give a much smaller boost). Building the CoT had skyrocketed the income. I did not expect that as well, but to be fair, Port-Au-Prince has a nice position in the mid of the Carribean and the Mexican CoT, as well as the American one in Conoy are no match. Although I experienced, that I had to mint more when I needed larger armies and navies, as the problem always had been that I only got two cores. Therefore I get more money from monthly minting, than from the yearly income (god I love tax accessors).
Production
Yes, look at my Production Efficiency. It's unbelievable. I produce sugar in every Carribean province, plus slaves (!) in Liberia. Sugar is one of the most expensive goods in the world, therefore production really boosts my income. It also helps enriching my center of trade. I plan to diversify and also take non sugary provinces. But I also want to monopolize sugar trade and get every sugar province in my hand. (Seriously they should think about some effects for that. For no other reasons than monopolizing a colonial good, did Portugal and then the VOC become that strong). Also, I love the Adam Smith NI. and the provincial decision to formalize everything.
Trade
I am quite successful in trade although I'm neither mercantile nor free trade at the moment. I will switch to fully mercantile soon to kick everyone out of Port-au-Prince. I have both good merchant NIs.
Other Things
What really kicked off the growth (you will later see it in the graph, was going reformed. From there I got my money to start the CoT and to send out merchants everywhere). The colonies in Africa are just a toy. I waste much money on them and they aren't even strategically important. Could be that something funny happens there - you never know. Let's just see.
Other Nations
I am the only power with significant growth in income. All the others didn't move far or had a bad drop of income (USA). I'm still not at the top, although I managed to pass Portugal (still holds Brazil and African colonies). I will always have to be friendly to the USA, because they are still large and too close to me. Besides they are a really good ally and didn't let me down, yet. France, Britain, Austria and Prussia are in a real tough war and I expect that France can't take it and will plunge into the meaninglessness. (Hope I can take their colonies then.)
Here is a chart of the income. The horizontal lines are symbolizing the original income at start. The vertical lines are the positive or negative growth. (I'm still pretty small). Russia is huge, but I don't expect them to come to the Carribean. Also Austria does not play an important role in my planning. (As well as Manchu, but I left them behind already).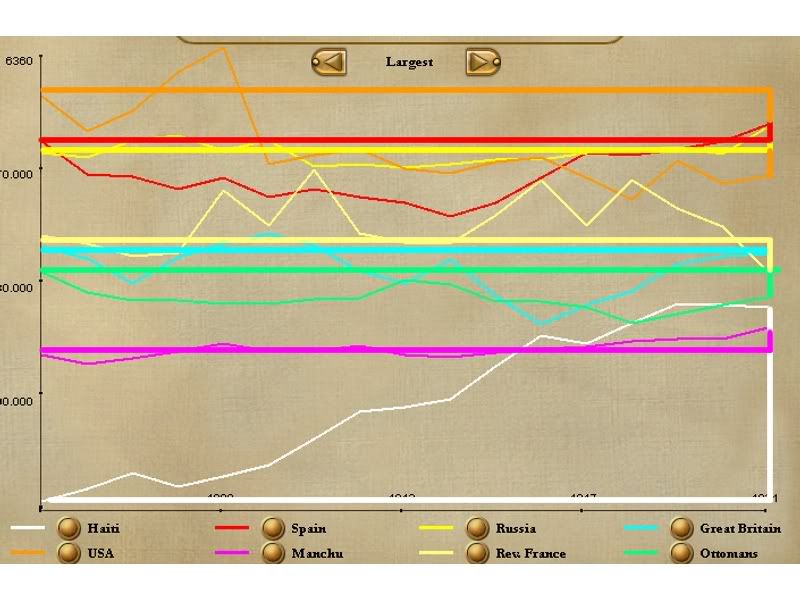 About the Technology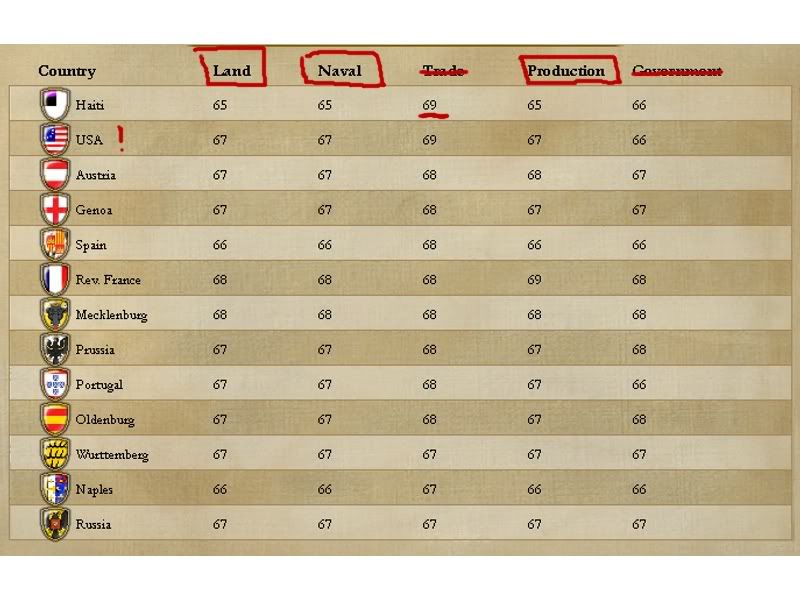 Government tech isn't too useful anymore. I got all NI spots and I'm happy with the Constitutional Republic. Trade efficiency is really high, and very costy to go further compared to the opportunity costs. I'm a bit behind in everything because I did invest much into trade tech and I'm also minting very much. Land tech is not too important, but shall not be neglected. I can't rely on strong land forces anyways. My manpower is ridiculous, so my armies will always be weaker. I will have to have a huge navy so I can sink their ships before they land their troops on my lands, as well as on their islands. I'm not planning to fight on European Mainland, as they owuld immedeatly wipe me out. Also I won't be fighting in Mexico without the help of my big brother the USA, who have a massive amount of useless troops in their mainland.
About the Navy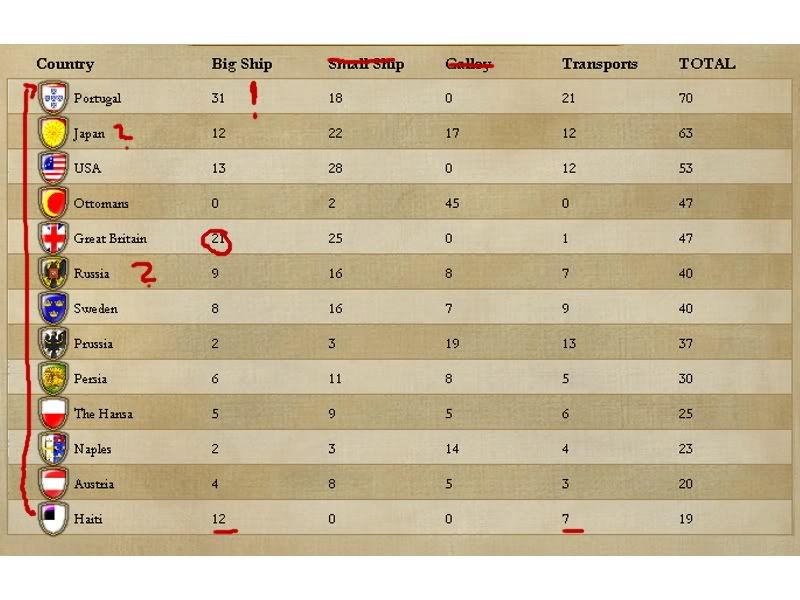 Interesting fact: Portugal has the biggest Navy and the most big ships. They have less income then me! That's bad because Portugal has certainly some interest in my region. Also GB is ahead of me, which is not good. I need more Threedeckers, but I can only produce ships in two provinces. I will try to build a shipyard in PoP. I already have one in St. Dominique. I also need to get an armada of East Indianmen. I don't know about Japan and Russia, but they are no threat at the moment. Also look, there is no Spain anywhere (?!).
About the Trade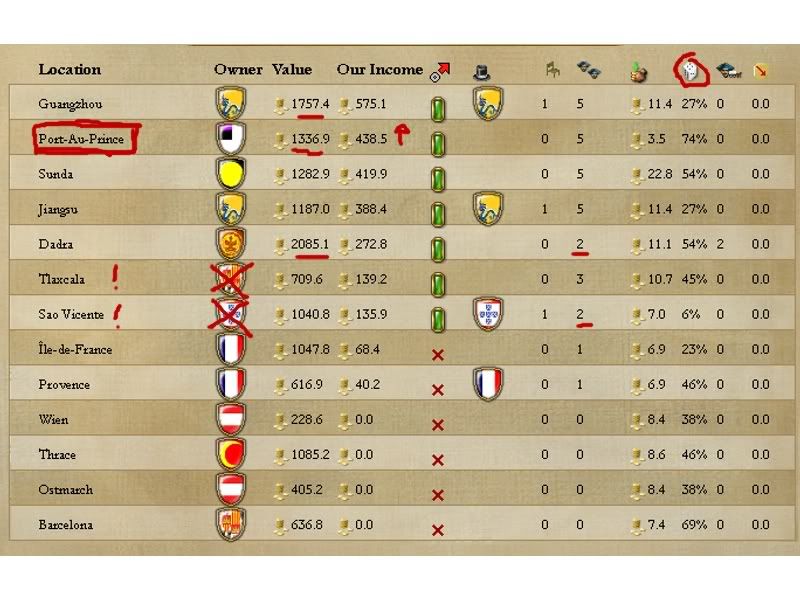 ​
As said before, I will try to go mercantile. At the moment my trade is slowly progressing. Too slow for my taste, but I can't change that. Also I need to take the CoT's from Portugal and Spain, or at least give them to México or Brazil. And of course, make PoP the biggest CoT in the world.
Any Plans?​
I will have to get a bigger Navy and wait for an opportunity to fight a European power. It may cost my life, though. First, I will get rid of the UPCA. No other colonial revolutionaries are allowed in the Carribean. It belongs to Haiti. I hope the war in France rages on. But I have to be careful, when it changes back to France and you are still at war with Rev. France, it might be a CtD. Had that before...
. I also have to sow some discontent in Spain and Britain, so Mexico, Colombia, LaPlata, Péru, Chile and Canada finally revolt. Also, I will go on with the mega fortification of my islands. If they manage to land troops, they should not be able to get the fortresses. Also, because I only have one big army, It will take time to hop from island to island. So it's nice not having to give in to revolutions because of that. At last a map of the world. Look at USA, they possess Crete. Did the McDonalds already open? I bet that they made a theme park out of Santorin.
Also thanks for your comments and have fun.