Habsburg Adventures!
A Nation Called Austria
I'm going to try making my first AAR, it's (as the title suggests) an Austria game. Difficulty is normal/normal with all the settings on defaults.
My objective will be to secure and then maintain Austria's status as a world superpower, and push the Infidel out of Europe.
Austria starts off as a respectable regional power, with quite good prospects for expansion. Anyway, as you can see in the picture I begin by allying Poland and Hungary, as they tend to be Bohemian expansion targets and I should be able to use a stab-hit free defensive war with them to expand north-wards.
Most of the advisors I could pick from were poor, apart from this guy, who I'm quite happy with.
Although you can't see many of them in this picture, I accept royal marriages with about 8 or so minors and also marry into Hungary and Poland to increase relations.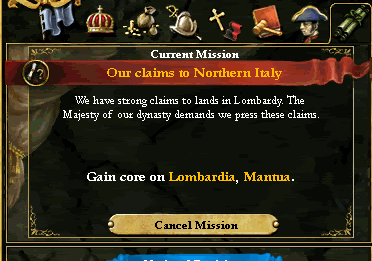 Quite a nice first mission, but I won't really go for it until the HRE is in weaker hands or Bohemia has been knocked down a peg or two and I'm confident of my ability to defeat them. Not really shown in any of the screenshots, but I've also ordered 4,000 new infantry and 4,000 new cavalry to reinforce the Habsburg armies.
Although I don't intend to expand into the regions suggested by the mission, I do intend to press into Northern Italy. Venice isn't protected by the HRE and could very well drag several HRE minors into the war as well. This is where I really wish I didn't have to call my allies to arms on every war, I'm most probably going to lose Hungary and Poland when I invade Venice, but I should be able to get them back relatively easily after. But it's still annoying and could be a major problem if Bohemia invades them while I'm unallied.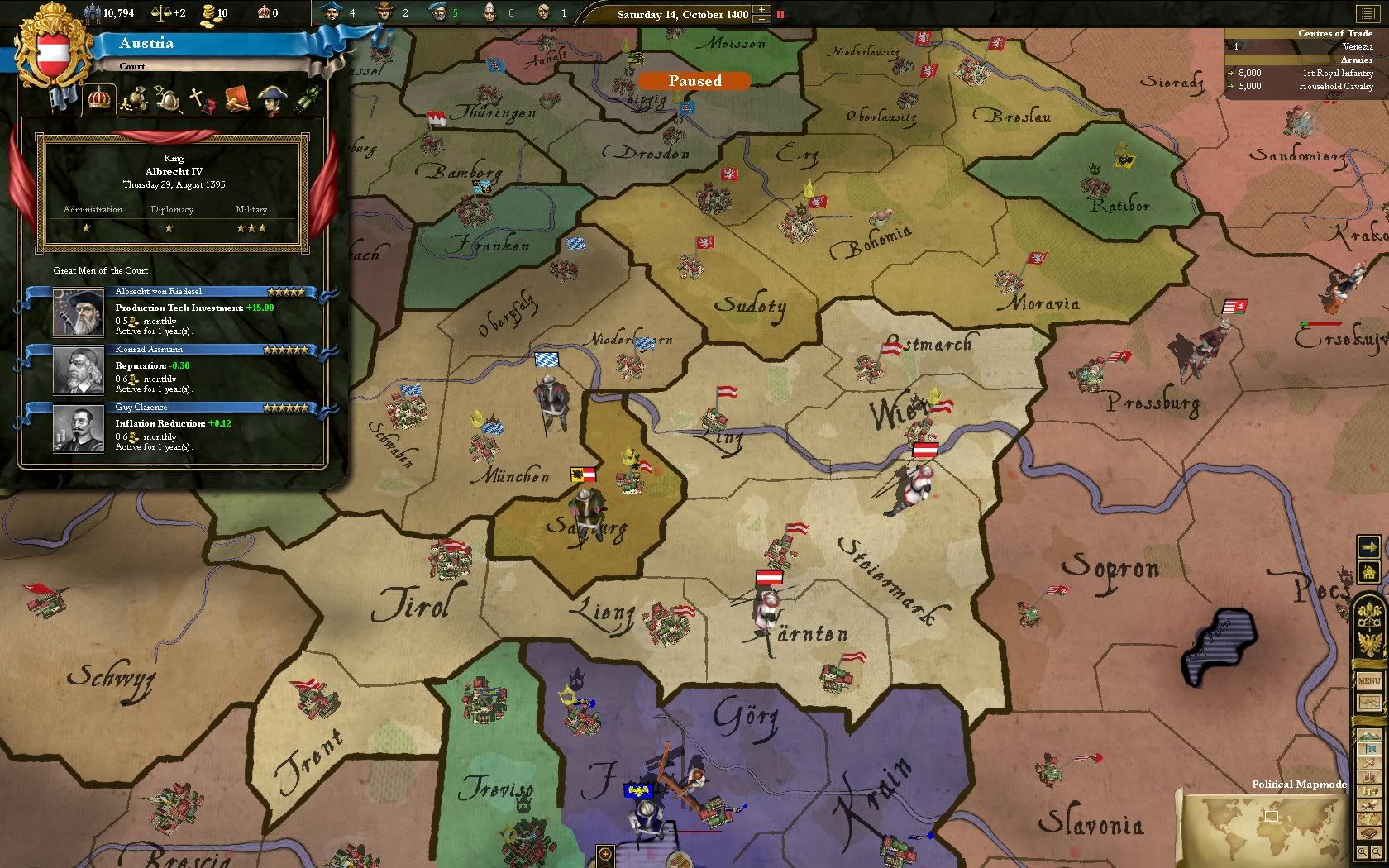 Not much happens until 14th October 1400, when I pause to grab up the AI's rejected advisors, and get quite a good pick in my opinion. This screenshot also shows the military improvements I've made. Despite the name of my top diplomat, I'm assured he is infact one of the best.
The first of many wars to ensure Habsburg dominance in Europe begins.
-I'm going to try and include some roleplaying/character-dialogue next update.
Also, starting from next time, I'm going to take the time to resize the screenshots and also change them to gif format. These screenshots took ages to upload.
I also really see why screenshots need resizing now, I'll do that for next update.