Prologue
The right to rule China is granted by Heaven.

There can be only one legitimate ruler of China.

The right to rule is based on the virtue of the ruler and his good performance as a steward for Heaven.

The right to rule may be passed down from father to son, but only on the conditions established above. Once the Mandate is lost, the will of Heaven towards a successor will only be known by the working out of the imponderable force of events in human history.
​
----------------------------------------
Hi and welcome to my second AAR! Since I am waiting for the expansions of the PI games I am currently playing to fall in price a little bit (The Old Gods and A Heart of Darkness, I am looking at you), I've decided to take a look at Europa Universalis III once more. The truth is that I haven't played since times of In Nomine. But because PI was so kind and gave me the last two expansions for free, well, let's see what has changed.
The first thing I noted that there is some sort of a new mod in the subforums called Death and Taxes so I decided to give it a go as it looked much more alive than Magna Mundi (which I had been used to playing). I had already planned that I wanted to do an AAR, a gameplay one to be accurate, with it since it is now after my exams and I have to burn some free time.
At first I wanted to play my favourite colonising nation - the Duchy of Kurland but after the Latvian nationalists annihilated my standing army, I decided against it. So...how about something...more fun? I quickly went through the timespace of the world and finally focused on something that looked very promising - the Jurchen tribes. I assumed that D+T (sorry, the Czech PC keyboard does not have an 'and' symbol on it) is totally OK with the lack of balancing, considering that not only the Jurchens are much weaker than the Chinese, they also start disunited. Well, it's going to be fun. I chose the 'most powerful' of the three - the Jianzhou Jurchen clan in 1356.
The Jurchens are Shamanist and stuck with a Tribal Khanate. Korea hates them, Yuan hates them and so do the Chinese. And they all enjoy allying against us. As the only brethren willing to join us in our righteous fight are the other two tribes we are planning to destroy...well, I do not dare to hope you'll bet on us.
In other news, we have Nomad troops and Asian technology but also some good stuff: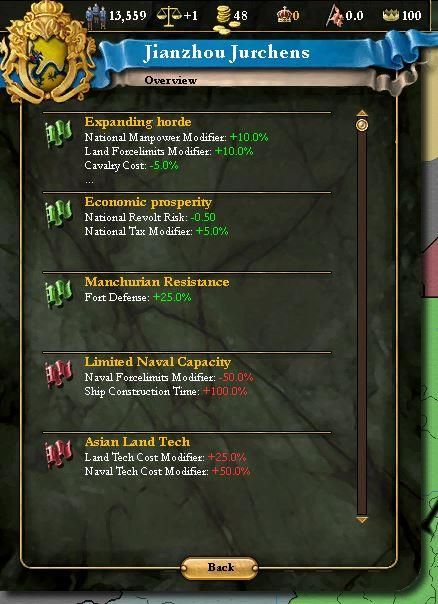 Together with a constant CB against both other hordes and settled countries we border on. Finally I'd like to show you my initial goal:
----------------------------------------
Well, I think that this was enough chitchat and the horde can set off!
But before we start, I would like to be honest with you:
This is actually my third try as the Jurchens - first time I chose wrong starting moves (attacking Jin instead of the other two tribes) and second time I conquered my tenth province and then my infamy limit got decreased by ten - and the over-limit events are a bit harsh (like getting fifteen points of inflation).
I also modified the decision to form Qing not to require a core on Beijing as I doubt that the Jurchen tribes would sack the Northern Capital, sit down and wait a few decades (while suffering some succession crises) and THEN form the Great Qing. It would be more of a decision of a moment than anything else.