Introduction
I am currently working on a larger suggestion for the region of Illyria (i.e Croatia, Bosnia, Slovenia) and in doing so I have read up on the internal political situation of the area in and around 1444. In doing my research, I have decided to suggest in this smaller thread that a new Estate be added for the Catholic South Slavs as well as Hungary (whose politics were almost inseparable at the time). This estate would represent the "Guests" or
Gosti
: central Europeans invited to settle the region by the Hungarian King.
Historical Background
The following quote is from Prof. Ivo Goldstein's book
Croatia: A History
, and describes the origin of the
Gosti
in Croatia (and to some degree Hungary as well).
"By the twelfth and thirteenth centuries, towns had grown quite strong in Italy and Germany, and in Hungary and northern Croatia (Slavonia) the king and great lords granted various kinds of privileges and financial concessions to Italian and German craftsmen and merchants to attract them to the country. Part of the immigrant wave that swept through central Europe at this time reached Croatia: the newcomers were called guests (gosti, hospites), and joined with local people to build settlements along important routes, by crossroads and in the surroundings of castles where they practised their trade. They were under the king's protection and under the immediate authority of the župan [tribal leader, eventually the Croatian equivalent to count]. When the counties began to disintegrate, the powerful lords threatened to turn the communities of 'guests' into serfs. Because this was not in the king's interest, he supported the creation of free 'guest' communes subject to his direct authority. In the thirteenth century about fifteen Slavonian cities received royal charters granting them municipal freedom, which some of them used to develop into major centres while others remained insignificant settlements. After the Mongolians devastated Hungary and Croatia in 1241-2, King Bela IV issued an especially large number of such charters to encourage faster development. The commune of 'guests' elected the city judge, who had administrative power, and the king granted them the surrounding land. Artisans and merchants could travel to markets without paying customs duties. Gradec (today part of Zagreb) received the greatest privileges. The Golden Bull of 1242 required the citizens to build city walls and organise their defence. They got their own judiciary, autonomy, privileges in crafts and trade, the right to organise fairs, and so on." [1]
Another historical justification for including this new Estate is the
Unio Trium Nationum
or "Union of Three Nations". This concept was a royal charter from the Hungarian king in 1438 regarding the administration of Transylvania, in which the land was divided among the nobility, German settlers (Transylvanian Saxons), and the local Székelys (Hungarian minority in Transylvania). [2]
Transylvanian Saxons first arrived in the area around the mid-12th century as part of the
Ostsiedlung
: a period of German migration into central and Eastern Europe. Despite being called "Saxons", they originated from all over Germany (though most were from Franconian-speaking regions) and were more settlers invited by the Hungarian king.Their settlements would go on to form the region known as the "Royal Lands" (German:
Königsboden
, Hungarian:
Királyföld
). [3]
The following is an ethnic map of Transylvania in 1815 (the closest to EUIV start I could find though I'll keep looking) [4]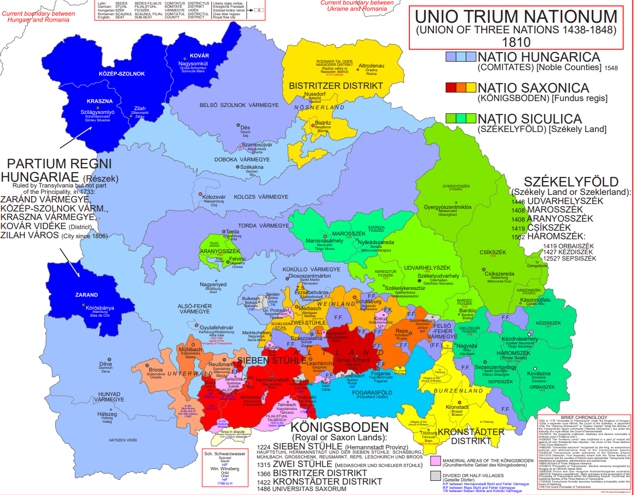 Many of these groups have lasted to the present day, particularly in Croatia where a whole electoral district is devoted solely to national minorities [5], many of whom include the decendents of the original "Guests".
With this historical data in mind, it is clear that the best way to represent this internal dynamic would be to give these groups their own representation as an estate as in many ways they enjoyed the same privileged status as the existing nobility, burghers, etc. If the East Slavs can have Cossacks, then why can't the Carpathians and South Slavs have Gosti?
Setup
Now before I get into the actual mechanics of the Gosti Estate, I would like to first acknowledge a few necessary changes to the starting situation of Hungary and Croatia in order to have this mechanic work better.
Firstly, the provinces of Kiralyföld and Maros should not have Transylvanian culture. In reference to the map above, Kiralyföld was made up of a majority of Transylvanian Saxons, therefore it should be given Franconian culture instead of Transylvanian in-game. Also clear from the above map is that Maros was majority Székely, and remains so to this day [6], therefore meaning it should be Hungarian and not Transylvanian in-game.
Finally, this Estate should only be made available for certain countries. My suggestion would be that only Catholic countries whose primary culture is in the Carpathian or South Slavic culture groups should get access to the Gosti Estate. However, I am open to other options when it comes to determining who gets the Estate (i.e basing it off of Regions or Government Type) so any suggestions there are welcome.
Mechanics
So now, how would this new Estate work? Well the closest existing Estate in the game I could compare it to would be the Dhimmi for Muslim countries, except whereas the Dhimmi are concerned primarily with Religion, Gosti would be concerned with Culture. This part is still very much a work-in-progress so any help or suggestions (particularly with modifiers/balancing) would be much appreciated.
1: Province Assignment
Firstly, this Estate would not demand territory unless there are cored provinces which do not belong to the country's Primary Culture Group.

In order to assign a province to the Gosti, the province must be of a culture which does not belong to the country's Primary Culture Group.

The following provinces would be assigned to the Gosti from game start:
-Slavonia
-Syrmia
-Kiralyföld
2: Local Effects
-Cannot Convert Culture in $PROVINCE$
-Effects of Non-Accepted Culture in $PROVINCE$ are negated
-Effects on Local Manpower caused by Local Autonomy in $PROVINCE$ are negated
3: Estate Interactions
"Recruit Minister"
Requirements:
-Gosti Estate has 40 Influence
Effects:
-Gosti Estate gains +15 Influence
-Nobility Estate gains -15 Loyalty
-A Discounted Grand Captain appears

"Enserf the Gosti"
Requirements:
-Gosti Estate has 30 Loyalty
-Current Age is one of the following:
-Age of Discovery
-Age of Reformation
Effects:
-Gosti Estate gains -15 Loyalty
-Gain Local Autonomy -0.15% in Gosti-controlled provinces

"Grant Municipal Charters"
Requirements:
-Gosti Estate has 30 Influence
Effects:
-Gosti Estate gains 25 Loyalty
-Gosti Estate gains 10 Influence
-Gain Local Unrest -2 in Gosti-controlled provinces
4: National Effects
As with all Estate modifiers, these scale up when the Influence of the Gosti Estate increases. The values shown here are for the 4th "tier" of Estate Influence (i.e 60-100).

-Loyalty<40%: Build Cost +10%, Production Efficiency -10%
-Loyalty>40%: Build Cost -10%
-Loyalty>60%: Build Cost -10%, Production Efficiency +20%

The other "tiers" are just the above values multiplied by the following factors respectively:

-Tier 1 (0-19): *0.25
-Tier 2 (20-39): *0.50
-Tier 3 (40-59): *0.75

5: Events
Events for the Gosti would mostly just be variations on the normal Estate events, though I am in the process of making some specific events for them and will add those when I am done them.
Closing/Sources
Thanks for reading my thread! Hopefully you liked my idea and if you have any more ideas/suggestions/constructive critiques then they are truly appreciated!
Last edited: