Debased coinage
35 Badges
God's Own Country: A Montenegro AAR
Here Begins A Great Tale
​
IN THE HISTORY of mankind there have always been dreamers, men of superior imagination and intellect who believed that it was their destiny to shape the world in their image, to fearlessly tread where no man/woman/alien/other (delete as appropriate) has trodden before, to realise their lofty ambitions and live forever in infamy. Some were, simply, geniuses. Others were men of great cunning and arrogance, but some...well, let's face it, some were just plain bonkers...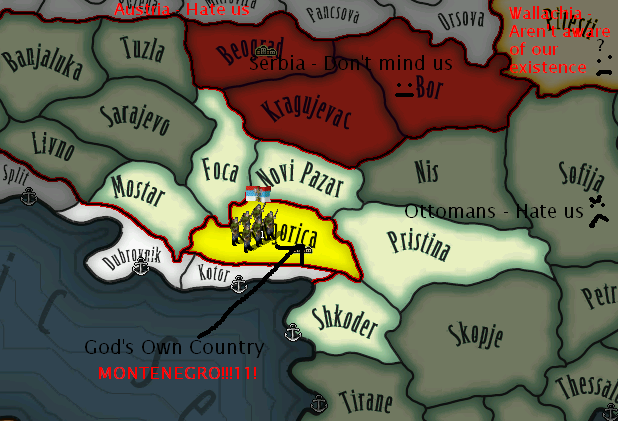 Long ago, there lived a Prince-Bishop. He knew he was special, as he was the only Prince-Bishop to have his very own army! And what a cool army it was. Unfortunately, it was a really really tiny teeny weeny, somewhat embarrassing army, and his neighbours had much bigger, albeit less cool, armies. Worse still, both those neighbours were rather rude and unpleasant to the Prince-Bishop and his little realm of Montenegro.
In the city of Podgorica, the Prince-Bishop sat on his throne, Prince-Bishoping...
Prince-Bishop: Hey you, advisor, what's your name?
Advisor: My name is Dmitri Advisorovic, your most awesome Prince-Bishoppyness.
P-B: Right right. So it's January 1st 1836, and I've mysteriously forgotten everything about the country I'm supposed to rule and need you to remind me of all the stuff I should know. You know, as is customary in this type of AAR. For
their
benefit, yes?
*Winks*
Advisorivic: My lord, you have something in your eye? Let me have a look.
P-B: Argh get away from my eye!
Advisorovic: Geez, I'm soo sorry for trying to help you. Whatever man, whatever.
P-B
*Growling*
Just give the damn info.
Advisorovic: Okay, Montenegro. We have just over 100,000 people, most are simple farmers but a few are soldiers. We have a little army, no navy, no airforce, not even a kid with a kite, and our treasury consists of £500 we found buried using a pirate map you found while out hunting for possums.
P-B: A pirate map, eh? That gives me an idea...wait here, I'll be right back!
*runs out*
A week later
Advisorovic: Wow, I wonder where he went? Do
you
know, dear reader? If you do, call our helpline on 0800 etc etc.
Another week later
P-B: Hey Dmitri, I'm back! Boy, you'll never believe what happened to me! But anyway, I got the Doritos you wanted.
Advisorovic: ...Um, your most irreverent Prince-Bishoptasticness, Doritos??
P-B: Yeah, liked you asked for. Why are you looking like that?
Advisorovic:
*Sighs deeply*
You're an idiot. You're a complete cretin. Bloody hell, why? WHY? Every time I, generic advisor, appear in an AAR, the ruler is always a total moron. Come on, I mean surely there were some competent rulers in history? For every loser there is a winner, right? But no, in comedy (and I use the term loosely as far as this is concerned) AARs the King, Emperor, Tribal Chief or flipping Prince-Bishop is an idiot, a complete n00b, an incompetent moron who has trouble with spelling his own name and chewing with his mouth shut! You know what, game over man. Game over!
P-B:
*Pause*
So I guess you don't want a Dorito? Okaaay, I'll take that as a no.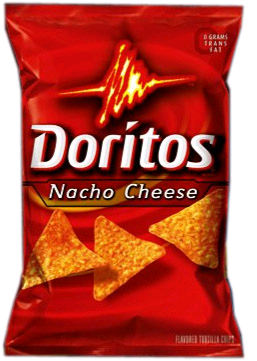 **​
Later that night, as the humble Prince-Bishop lay awake pondering his existence, he felt the ground shake beneath him, and suddenly there was a light! Not just any light, but a really bright one, shining down from the sky above.
"PRINCE-BISHOP, BOW BEFORE YOUR GOD!!!!!11!!"
The Prince-Bishop swallowed deeply, and blinked in amazement. "Oh my word, who
are
you?"
There was a pause, and the sound of muttering. "WELL, I'M GOD, I THOUGHT THAT WOULD BE PRETTY OBVIOUS...DO ANY OTHER HEAVENLY BEINGS TELL YOU TO BOW BEFORE THEM ON A REGULAR BASIS, OR WHAT? BECAUSE I ASKED THEM TO KNOCK IT OFF A WHILE BACK, ON ACCOUNT OF MY JEALOUSY..."
The Prince-Bishop furrowed his brow. "Well, not on a
regular
basis, no. But there's this mad guy who lives down the road who swears he's God, and I bow down before him-
"SILENCE! I COME BEFORE YOU TODAY AS I DID WITH....WITH, UH, CURSES, YOU KNOW, THE GUY ON THAT MOUNTAIN, THE ONE WHO GOT LOST IN A DESSERT, WHAT WAS HIS NAME?"
The Prince-Bishop pondered meekly. "Elvis?"
"YES, ELVIS. I COME TO TELL YOU OF A MISSION THAT LIES BEFORE YOU, THAT IS OF GREAT IMPORTANCE TO ALL...WAIT, ELVIS??"
"Uh, or it might have been Moses. I always get those two mixed up."
"GOOD, YES, HIM. NICE GUY, LIKED BUILDING BOATS...ANYWAY, AS I SAID I HAVE COME TO TELL YOU OF WHAT IT IS YOU MUST DO."
"
And they all went in two by two, into Moses' Ark
," the Prince-Bishop sang, oblivously. He looked up and smiled. "Hehe, sorry, what were you saying?"
"YOU MUST GUIDE MONTENEGRO TO GREATNESS."
"Ah, well now,
waaay
ahead of you there. You see, when I was out buying Advisorovic his Doritos, which by the way he got
really
stroppy about, I came across a man selling treasure maps for a tenner. X marks the spot and all that. And he said that if I go to Cuba, I'll find-"
"NO. YOU MUST DO IT BY CREATING A NATION DEVOTED TO GOD. THAT'S ME. I'M GOD. I LIKE ATTENTION, YOU SEE. IT'S KINDA MY THING."
"Creating a nation...?"
God sighed. "I MEANT MONTENEGRO."
"Ah, right you are."
"BYE NOW."
The light disappeared, leaving the Prince-Bishop alone once again in his chamber. "What a thoroughly nice chap. But I wonder what he meant?"
For hours he sat thinking, trying to understand God's words. And then it struck!
"Yes, of course! But I'll need cash...oh yes, the stockpiles! I'll sell the stockpiles! God bless stockpiles!"
The next day, the Prince-Bishop, by royal decree, ordered all the peasant serving in the field to report to Podgorica cathedral to become priests. As the masses began to form, a thin smile formed on his lips. Above there was some thunder.
"WHAT THE HECK, THIS IS
NOT
WHAT I MEANT! I WAS ASKING YOU TO DO THE USUAL STUFF, YOU KNOW, PRINT SOME PAMPHLETS OR GIVE AWAY SOME FREE BIBLES...NEW TESTAMENT ONLY, OF COURSE. AHEM."
"Montenegro shall become strong through having an entire population devoted to research. The world will bow before our amazing research rate! The priests are currently busy working on a, heh, practical steam engine!"
"HMM. WELL, IT SHOULD BE QUITE AMUSING TO WATCH WHAT HAPPENS ANYWAY. I'LL JUST GO GRAB SOME POPCORN."
Before:

After:
Last edited: