Sky-Whale Captain
60 Badges
Glory adn Poor Spellign: The Story fo Brandenburg
By Dasfubar
EU3 v1.1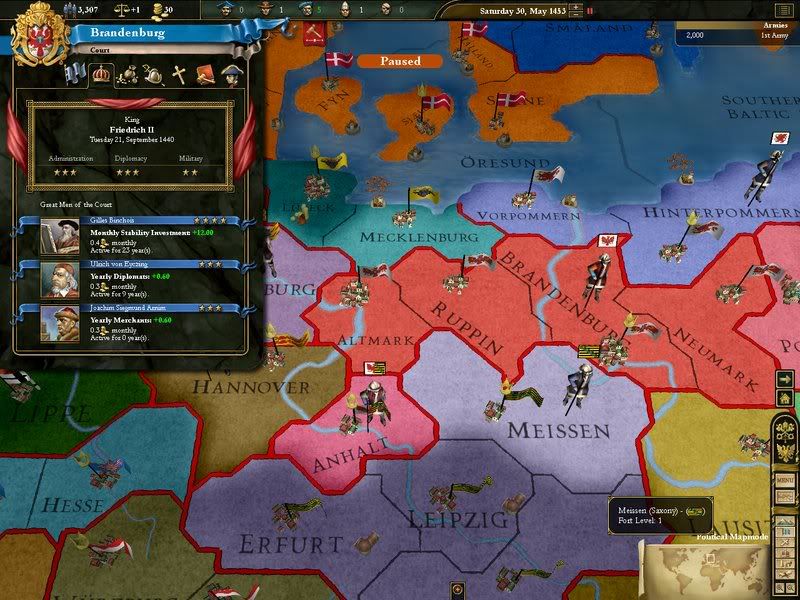 Brandenburg, the land covered in orangey red carpeting, was a moderate power in The Holy Roman Empire. Bordering Poland, Saxony, and the much-feared Anhaltians she had much to fear and hope for in the mid fifteenth century. Unfortunately she was lead by Friedrich II, the most stupidest and laziest king in all of Europe.
It was May 30th, 1453 and the King had been forced to take care of his children for the day.
"Why the **** do I have to take care of these little ****reds? None of them are really even mine!" The king whined as he sat on his throne watching the tapestries. "Nothing but repeats. I cant wait til Saturday Night Liveth comes on. What day does it go on Gilles?"
"I believe its on Saturday, Sir." Replied the advisor.
"But that's not soon enough!" moaned Friedrich.
"Daddy, you have to give the workers a break, making a tapestry live like that is awfully hard on the hands." Commented Gertrude.
"Stuff it," retorted the King, "I say when the workers get breaks and I will give them one on the 32nd of Nonever!"
"You're a big meanie head!" the princess yelled and ran to her room.
Friederich turned to Gilles. "You'd think she'd act more responsible for a twenty year old…" and stopped to think.
Two days later….
"Gilles I've decided to sell Gertrude to the circus!" the King announced.
"Sir, wouldn't it be better to arrange a marrage between her and another royal family? Perhaps to Pomerania?"
"But I wanna see monkeys", the king started to pout.
"If you want we can pass through Poland on the way there Sir." Said Gilles
"Yay! Monkeys! Monkeys! Monkeys!" the king started to jump up and down. "You know, I bet I could get rid of Helga the same way!" the king turned to Gilles with a dopey smile on his face.
"Very well sir, while we're out would you mind if we met with some of my family in Saxony and Luneburg?"
"Ok Gilles," the king responded, "as long as we can see monkeys."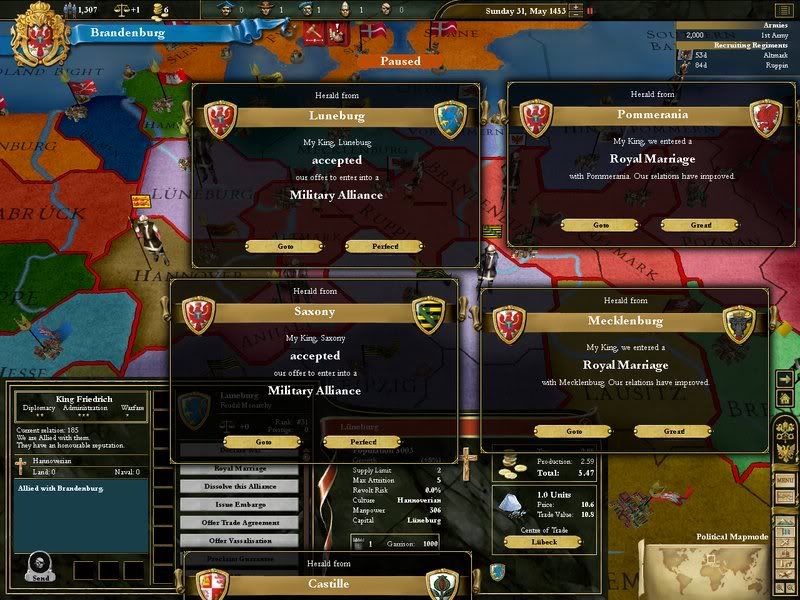 Last edited: