CKII's missing dynastic scoresheet (ex-DynasticGlory) (0.4: Old Gods compatibility)
05/10/2013 update: now compatible with Old Gods! However, BIG caveat: CKII no longer seems to store the prestige and piety of dead characters. That means the glory of dead characters in GloriaMundi can't be calculated properly anymore which really limits the value of the tool... If anybody from Paradox reads this and feels like adding those values back in a patch, it would be awesome!
Paradox's Crusader Kings II differs from other realm-building grand strategy games in one key respect: you control a dynasty, not a kingdom. Sadly, in practice you control one character at a time, and the fortunes of the rest of your dynasty have no bearings on how the game turns out (aside, of course, from a well-groomed heir or two). Your eldest daughter ends up marrying to a glorious dynasty, and giving birth to Christianity's greatest king in a century? You get nothing for it. You managed to get your kid brother named Pope? Doesn't register. You've spent two years of war installing your cousin on the throne of Poland? Waste of time. Unless you are a committed role-player, Crusader Kings II will reward you for one thing only: massive conquest.
Gloria Mundi is a modest proposal to change that. Give it a saved game and it will give you, for every dynasty in the game, their cumulated prestige and piety, plus a global "Glory" score that attempts to capture your dynasty's legacy – prestige, piety, genius leaders, saints and heretics, it all count. Now you know where you stand.
Gloria Mundi is based on
DynasticGlory
, a similar tool I had developed for Crusader Kings I.
Gloria Mundi is available in English and French (multilingual download), for Mac and Windows. Email-me if you want to translate it to an other language.
Download from the Gloria Mundi website.
Dynastic Hall of Fame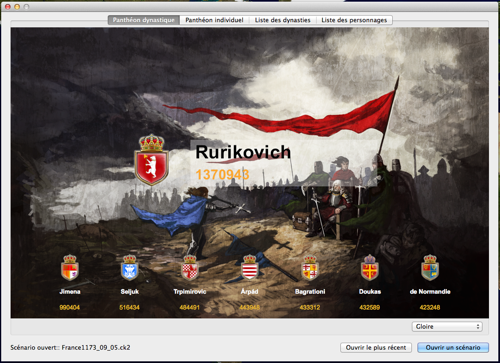 The centrepiece of Gloria Mundi, this screen shows the top eight dynasties in all their splendour. You can have them rated by Glory, Prestige or Piety.
Individual Hall of Fame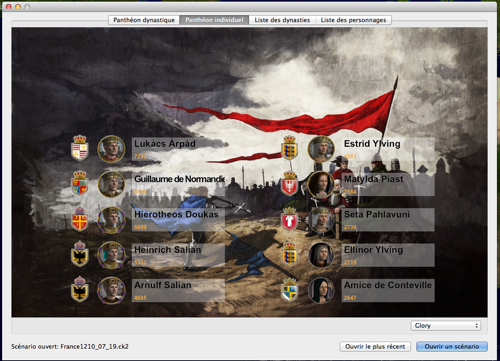 Wondering which mighty men and women are remembered with awe throughout the ages? This screen displays the top five men and women, sorted by Glory, Prestige or Piety.
Data tables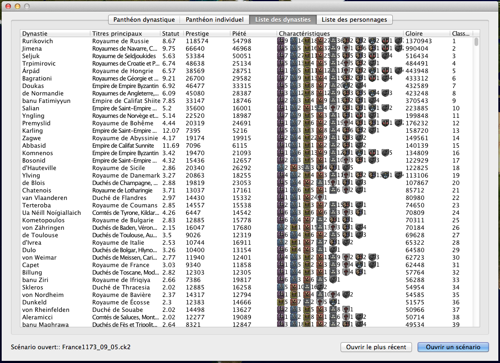 For a full view of the rankings, Gloria Mundi provides a complete, sortable list of all the dynasties and all the characters, along with the key figures for all of them.
Both tables can be exported as CSV files, for Excel fans.
Details on a dynasty
To find out more about your dynasty, or that of a rival, just double-click it in the list to get extra information - just how many inbred and cruel characters does your dynasty contains, again?
Details on a character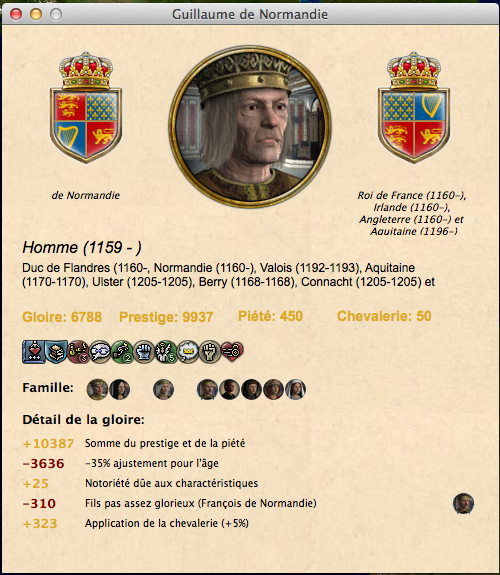 Wondering why your greatest leader ever has such a low glory? Could it be because he is a hunchback with a collection of no-good children? Check out detailed information on every character in game.
Release Notes
0.4 - 05/10/2013
Compatible with CKII 1.11 (DLC "Old Gods")
0.3 - 20/06/2012
Added the ability to view all members of a dynasty with one or more traits (by clicking on the icon of a trait)
Handling of dynasties added by mods
Option in the settings to exclude people born before the start of the game
The main title of a character is now listed first (same in the quarted shields)
The different titles of each dynasty are now sorted by number of years they were owned, plus a bonus if it was as primary title
Children and spouses are now sorted by year of birth in the page of each character
Adding columns with the number of members of a dynasty and the number of living members
Columns in the lists of dynasties and characters are now resizable
The main window is now resizable
Fixed bug where some aged northern European characters had blue hair
0.2 - 14/06/2012
Display of the portraits of characters
List of the parents, spouses and childrens of each character on his page
No longer chokes generating error reports when using it with a mod that adds dynasties or traits
A few other small improvements
0.1.1 - 09/06/2012
Improved status calculations
Fixed bugs linked to attempts to find the CKII folder that could crash Gloria Mundi on startup
Improved the handling of the absence of QuickTime
The main title of a character now shows in the character lists (the main one and the one for each dynasty)
In the character window, hovering the cursor above the main or extra titles will show the complete text
Tweaks to the values of some traits
To be done
Dynasty coat-of-arms as used within Crusader Kings II
Display of characters' portraits
Last edited: