The following article is about the various German naval strategies and how to implement them. I currently use Armageddon 1.3, but most of it would be relevant for earlier versions. IN all versions I use the same basic strategy to maximize your IC- assuming a 1936 start.
1. Reoccupy the Rhineland ASAP.
2. Have IG Farbin rush the machine tool techs
3. Maximize the central planning slider.
4. Change ministers-Minster of Security: Gurtner; and Armaments Minister: Schacht (10% IC bonus). Don't fire Schacht
5. In 1939 apppoint Hans Oster as intelligence minister for 5% IC bonus.
Cancel all the initial German production run except for the Graf Spee. Keep your encryption up to date and rush the Sealane interdiction techs. Beeline for the 1940 ship assembly line tech. Put fire control and radar brigades on relevent capital ships. Generally I prepare for my naval plans at least 1-2 years in advance due to the construction time required for capital ships.
Gearing Bonus
The earlier Germany build naval craft, the better. A single production line of transports and convoys started in 1936 will give you all the transports and convoys you need, and they never need upgrading. If I'm aiming for naval dominance a X99 serial of each is ordered Jan1st 1st.
The workhorse of the German submarine fleet should be the humble type seven U-boat- the level III submarines that cost 1.6 IC each and Germany can build in 1936. A X99 serial X3 parrelell production run started on January 1st 1936 will give you a copious amount by Danzig or War- something like 33 Flotillas. They will cost you a massive 4.8 IC to build, and you will probably never shut the production ines down. Maybe reduce the parrellel builds to 1 or 2 lines to replace combat losses once you have enough.
Even once you build type IX boats use both to interdict the sealanes around England. Even if you can't block all the resources from England, they will have to devote a lot of IC to building replacement convoys. Gearing bonuses can also be relevent if you build lvl IV battleships such as the Bismarck class. I have started building them in 36 and shut the lines down after they have built 6 each.
I generally don't build naval brigades as part of a capital ship. I'll set up a separate line so I can gain the benefit of the gearing bonus. Fire control and radar can always be added later. If I need detroyers I'll generally rush the improved destroyer tech and build X3 lvl IV destroyers in January/Feb 1936 or so. That will give me all the destroyers I need up util 1942/43 when I'll consider switching to lvl V destroyers.
The Grand Navy
Basically this is a traditional German game. Neglect the navy to some extent, and crush Russia. Optionally build a few submarines, maybe a few type VII subs but essentially you are focused on crushing Russia in 1941 or so. Sealion could be risky but once you triger the bitter peace you can parallel build X18 aircraft carriers or battleships if you like which will be ready in 1943 or so. By then the UK and USA likely have superior naval doctrines than you do, but you can just beat them to death with sheer numbers or use nav bombers as well. Odds are you will have 400+ IC and can smash through Persia and grab India if you haven't already done so.
Sealane Interdiction
This strategy means you are going to try and destroy the entire UK merchant fleet and cut off supplies to all their forces around the world. To achieve this crank out a large amount of submarines. I start with X3 lvl III subs in 36 and rush the improved subs tech from Jan 1st 1936. It will be comkplete towards the end of the year and then I'll buiild X6 lvl IV subs in January 36 or so, while keeping the old model lvl III subs in production. Have your submarine fleet set sail around August 20th 39 and prepostion them them in a doubel ring around the UK.
1st ring. Faeroe Gap, West Irish Sea, Cape Finisterre
2nd Ring. North Atlantic, Western Approaches, The Azores, and Coast of Portugal.
Each seazone should have a sub fleet of X6 flotillas. As soon as the war starts assign the subs as convoy raiders in each sea zone. Try and keep up a constant pressure even if some subs get sunk. You have a few more than you need which make excellent replacements fleets while survivors trickle back to port. If you run short on subs even sending out 2-5 subs in a pack can still sink a few convoys so break up damaged fleets and send out more or less healthy subs to sink more.
Odds are in early 1940 you will notice your subs sinking a lot less ships. This means the UK is starting to run low on convoys. Since this strategy uses very little IC it has a very low opportunity cost to the Luftwaffe and Wehrmacht. Combine with naval bombers for more fun and games. You should win the battle of the Atlantic by mid 1940 or so although the English fleet will be more or less intact.
At some point build capital ships and invade England or risk a landing and see if your subs can distract the royal naval long enough to force a landing in southern England, or do the gamey paradrop into Cardiff, rush in 20 odd divisions and take out the UK mainland.
Plan Z
Ever wanted to engage the Royal Navy early in a more or less fair fight and destroy them? This way you build a massive fleet and have at it in 1940 or so. You goal is to build 2 SAG consisteing of 6 BB, 10 DD and 2 CVL by may 1940. Each BB will have fire control, radar, and improved hull. It is possable but the opportunity coast is high. The Luftwaffe won't receive any new planes until 1940 and your army will be smaller than what you're probably used to, and no new factories will be built. This concept invloved buy now pay later- the extra IC captured in 39-40 will be used to expand the Wehrmacht in tiime for Barbarossa. Your goal will be something like.
1939. Invade Poland, France, and Yugoslavia
1940. Invade England, Spain, Romania, Middle East
1941. Barbarossa, trigger the BP.
1942. Invade the US and annex in 42/43.
1943. Annex the UK and all remaining allies.
1944. Mop up any leftovers, consider DoW Japan and annexing the USSR.
On January the 1st 1936. I build.
X6 Bismarcks (BB lvl IV X10+ serial)
X1 Panzer I
X3 36 Inf
X1 militia
X1 transport
X1 convoys
All will be X99 serial but stop the Panzers after you have built 13-14 of them as you inherit one divisions off the Czechs and 5 is enough..You won't have enough IC to build it all but once you change sliders, minsiter, occupy the Rhine and complete the Graf Spee you will have enough. Extra IC gained from technology, minister, Austria, Sudetenland and the Czechs will be used to upgrade everything starting in 1938. Since so muc IC is invested in the navy you need the gearing bonues o the miltia and 36 inf to have a reasonable size army by Danzig or war. I rush self propelled artillery and improved destroyers along with naval techs, and new CVLs.. I'll lay down X3 DD in early 37 and X2 or X4 CVL in 38/39 depending if I have enough time to build 4 by May 1940. The only other things you really need is naval brigades, SPA for the tanks, and maybe a single HQ unit built. All IC will be used to upgrade later. Crush Poland and France in 1939 and use the extra IC to prepare for Sealion and Barbarossa. This means in I'll build X4 Nav bombers and X6 marines in Oct 39 or so and slowly upgrade the army over winter 39/40. Italy and Greece have a dust up and Romania DoWs Italy. Invade Yugoslavia and ally with Italy once you have annexed them and invade Romania.
By May 1940 you should have X12 Bismarcks with another 6 ready by late 1940. Using your airforce to support them use the marine to invade the beaches of southern England. Your modern fleet will decimate any English fleet sent against it except maybe some very large ones with aircraft carrier. Support them using naval bombers and invading England is easy and can be done with a single HQ, 3 tank divisions and around a dozen inf divisiosn + the marines.. Use the extra IC to build more men, mot inf, planes/whatever. Invade Spain with, grab Gibralter, crush the English in the middle east and seize Iraq. Consider invading Persia but the Soviets may DoW even once the GoI wears off. Iraq and Romania usually supply all the oil you need. Transfer everything back to europe for Barbaossa. At some point increase production of transports and convoys, and once the BP fires you may want to build X10 or more of each over winter 41. Invade Bermuda if you haven't already done so- you can reach it from Seville. From Bermuda you can invade anywhere you like in the USA. In 42 DoW the USA and invade. From here its not usually to hard to win, regardless.
Battlecruiser Mayhem.
Battlecruisers suck right? Forum member Iwo Jima came up with an interesting point on this thread.
http://forum.paradoxplaza.com/forum/showthread.php?t=473312
Eseentially they don't compare to bad to BB which they are usually compared to. Essentially he argued a 12 shp SAG of 6 BC+6 CL was very effective if Donitz was your naval chief. I'll put it in a different way- consider.
6 BB Jan1st 1936=60 IC.
6 BC=54 IC
+6 IC in the battlecruiser favour. Big deal that's only 6 IC. 6 IC is enough for X3 lines of SS-III. With Gearing bonus in early 1940 you will have X18 BC built and 39-42 subs or somehting like that built or 12 BB for the same price in IC and construction days. To be fair I'll mention the 3rd BB will be ready in late 1940. Now both ships will require escorts.
X 3 lvl IV DD laid down early 37= 8.4 IC
X4 CVL in 1938= 11.2
Requires 19.6 IC
The BC only need a single CL line which costs 6 IC, maybe 2 later on for a short while. Hell lets just make it 2 CL for 12 IC total, and I'll be generous and assume you rush the 39 CVLs and only need 2 lines running which brings the IC required down to 14 IC.
BBs+DD+CVL
14IC+60 IC= 74
Battlecruisers+subs+CL
72IC
Essenetially heap of cruisers+subs vs a large BB SAG. However the Battlecruiser Mayhem strategy requires an additional X6 SS-IV subs being laid down in addition to everything else in early 1937. Your basic start build for Germany on January the 1st 1936 is something like.
X6 BC
X1 capital fire control
X2 light cruisers
X1 Panzer I
X1 militia
All 99 serial builds of course, although 14 Panzers is acceptable. And any leftover IC gets used on transports and convoys-just a single line, but your gearing bous will take care of it until the 40's. Build capital fire control and radar and SPA brigades for your panzers.
Now that's all well and good but where do you fit in the rest of your armed forces. The opportunity cost of course is the Wehrmacht and Luftwaffe. You will be needing the extra IC gained later in the game to build infantry and upgrade all your tanks and planes as I don't build any infantry until 1938 or so after I have rushed 1939 inf. So much IC is devoted to the navy the Luftwaffe gets bupkiss until 1940 and the Wehrmacht is lucky to get a X5 infantry inf production line by early 38. A single line of 38 artillery rushed is also nice to start building to equip on some of the inf/mil/mil corps you're gonna need as well.
Comapred to a normal German buildup of 200 divisions+airforce, or 150-160 odd with the Plan Z strategy, this one you will have 120-130 odd divisions, of which 25-33% approx is gonna be milita. And 15 panzers. Also not everything will be upgraded by Danzig or War. But you have a huge navy. 70-80 subs, 12 battlecruisers, at least a dozen light cruisers. Yippie. You army is big enough to crush Poland and defend the Siegfried line, and crush France in 39. And Belgium and Luxembourg. You may not want to DoW the Netherlands in a hurry as well and they can wait for a couple of more weeks depending.
At least you have the uber navy. But Battlecruisers suck right? The 12 ships SAG of X6 BC and X6 light cruisers however is very dangerous to the English and compares favourably to the traditional BB based SAG if you have rushed some naval techs, have up to date encryption and have Donitz as your naval minister. and the subs can get in the way of enemy fleets and engage them while your BC SAGs rush to the scene. To an extent they are glass cannons compared to BB. However its not just them, you also have a big pile of submarines. You will also have enough subs to do the Sealane Interdiction strategy as well. Any submarines sunk by the RN odds are a BC SAG won't be to far away and can intercept the English very fast as they are faster than a comparable BB SAG. Also they wil outrange all of the RN ships with the exception of aircraft carriers and they will maul the old English battleships and one SAG can engage a 20+ ship english fleet although you may want to retreat if that fleet has 3 carriers+ BB in it. Your BC SAG's can also do convoy raiding missions and sink any intercepting English fleet. As it turns out they will have crazy positioning bonuses vs English fleets. Kinda like a very hard hitting cruizerg fleet.
After you maul an Eglish fleet its easy to hunt them down and wipe out the survivors. I have never had a naval game as Germany that was so easy, and this strategy can be tweaked . You can also invade England very easy and maul the large fleets England tends to keep near home.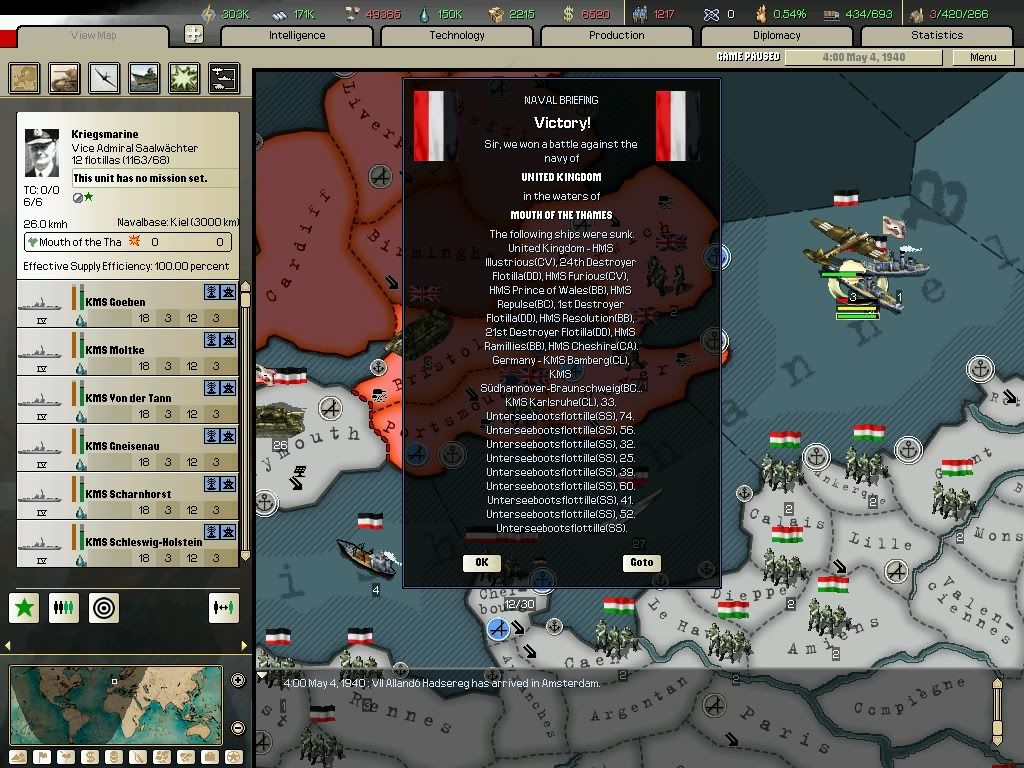 Losing 1/18 BC is a lot nicer than losing 1/12 BB and the sub losses were irrelevent as theyare cheap and by mid 1940 the English won't have much of a merchant fleet left in any event. Any losses here are on top of ships and convoys sunk out in the Atlantic. After England falls odds are not many BB and CVs will survive either if you've bombed Scapa Flow a bit. Compared to my Battleship SAGs its not to unusual to lose 2-3+ BB in Sealion.The IC of Europe+England gives you an year to build up the Wehrmacht in particular for Babarossa.
By the time you want to invade America you can have another 12-18 Battlecruisers ready, plus any additional ones if you want to expand production beyond your initial 6. Try the same trick out of Bermuda to sink the US fleet. Engage at night if you can, and fly naval bombers out of Bermuda with your numerous subs doing suicide runs to get in the way/scout for you. A large stack of subs can by time for marines to seize a beachhead both in the USA and England as it take the AI several hours or days to destroy them. Otherwise after the Bitter Peace you can always switch to Carriers or battleships if you prefer.
Last edited: