In the Game of Chair Things, you either die a hero, or you live long enough to become a villain

-Sean Bean (maybe)
Now before you correct me about the fact that that's almost certainly not the right quote, I suggest you reread the title of the thread.
I have no idea what I'm doing.
I simply decided, on a whim last night, that I would give an AAR of Game of Thrones a try. I then realized that I've never seen Game of Thrones.
I asked Rhett Butler for his suggestion, what I should do and where I should go. He told me he didn't give a damn, and I decided neither did I. So, in the spirit of good old American can-doedness, I am forging on undaunted.
Now, I don't know a lot about Game of Thrones, but what little I do know tells me that it features Sean Bean, and therefore he almost certainly dies. His IMDB page tells me that the character he plays is Eddard "Ned" Stark, who, if internet memes serve me, comes from a long line of weather forecasters.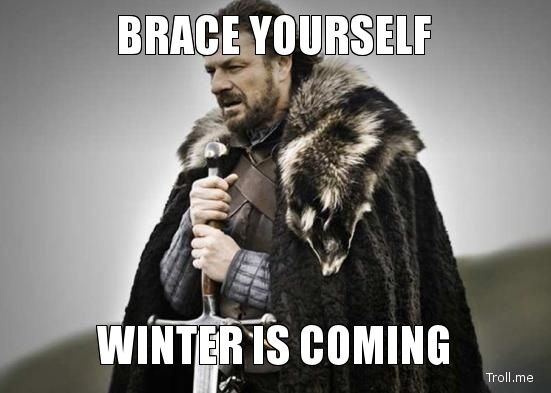 Consulting with an off-hand thing, I determine that the Game of Thrones show takes place "17 Years after Robert's Rebellion."
Okay, sure.
After doing more math than I have any desire to, I decide that 8297 is about a fair time to start, Probably before the series, but whatever. Might even be after! I'm not sure! I'm Sean Bean, I'm going to get killed off anyway, so I might as well do what I want until then.
Okay, so. As I've admitted, I have no clue what's going on here. But I do understand the basics of CK2, and I doubt this game will confuse me too much. Let's try to figure this out.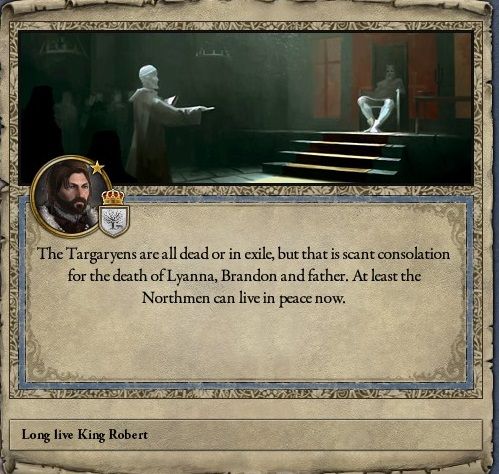 ...
I have no clue who any of these people are...
Okay, so. Poking around, Lyanna was my sister, Brandon my brother, and I'm going out on a limb and thinking father... Is my dad.
That's fair.
Okay, so, now I have to figure out who the king is. I thought I was the king, but it seems that I just have a gold outline. In fact, the king is Robert, who likes me despite our religious and cultural differences. What a cool guy. Brave, gregarious, bearded, possibly Brian Blessed. Everything you could want with a king. Hope nothing bad happens to him, 'cause his heir looks like something of a douche.
I consider raising to Robert the fact that "Ned" "Robert" and "Brandon" don't sound that fantastic when I know for a fact that this setting has a Daenerys in it. I then check our kids, and decide we probably had this conversation already, since I put an extra B in my son's name, and he switched the "e" in Jeffrey to an O. We're taking things slow.
Shame he couldn't do something about the Craven and Cruel... Kid's got troubles. Maybe I can help knock that out of hi-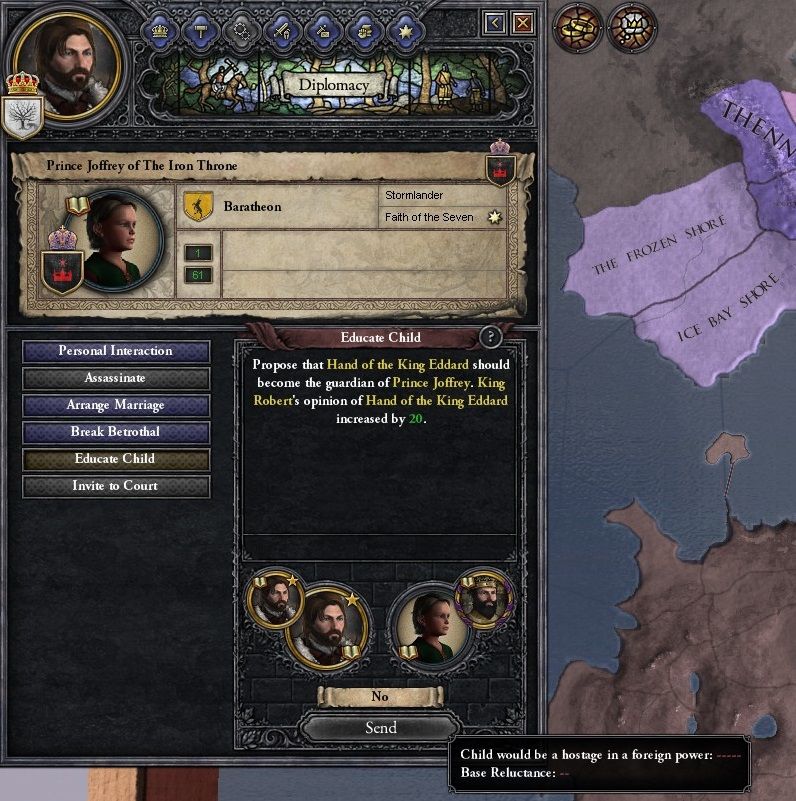 Okay, no.
It looks like Joffrey's dad's afraid he'll be hostage of a foreign power. I'm your friend! I'm even called Hand of the King apparently! That's probably a good thing! You can trust me... Oh, fine, my pleas go unanswered. Guess the kid's just gonna be a dick.
Well, I hit "Long Live King Robert" and am on my way, to a land of adventure!
A week and a day in, and King Robert wants my help to legalize First Night.
Look.
Bobby.
You're 34.
You have 7 kids already.
Perhaps you can give your royal scepter a break, huh?
Anyway... That's kinda skeezy.
You got issues, Bobby... Real issues.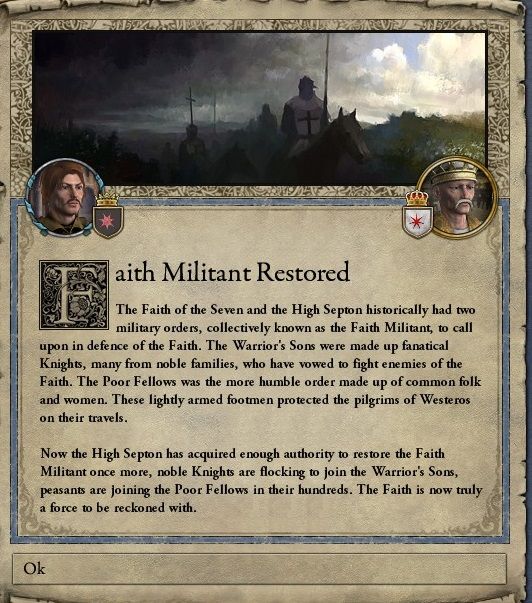 And now, a little later, these two holy orders are restored. I'd say "Huzzah!" but that's not my religion. "Boo?" I don't know. Boo might piss off the king, and I'm played by Sean Bean here.
I'm now given a chance to say "Long Live the King" or "Curse his Name"
Peasant-pouncing aside, he's still my buddy for reasons that I'm sure are elaborated on in the books. Yeah, I don't want anything bad to happen him. I got a bad feeling about that Joffrey kid. If I wasn't so Just and Honorable, I'd look into ways to make sure he takes a long walk off a short balcony, but darnit, I'm committed to roleplaying this guy I know nothing about! And I feel like that's not his style.
Soon, the time comes to look into educating my son Brandon. The King wants me to have him educated by Stannis of the Stormlands. And while I like some good alliteration as much as any nobleman (I'm noble, right?), he won't let me smack some sense into Joff, so I'm not letting him turn my kid into a Stormlander Seven-Worshipper by him. Sorry, Bob. I'm taking this one myself.
Now, my son Robb is also unmarried. And I'm really wanting to have him married off to this girl Daenerys, because she has white hair. And I have a thing for people with white hair. But upon double-checking, it seems she's pissed about my usurping a title. Also, labeled as Princess of the Iron Throne, and I am at least 85% sure that she's not Robert's kid. It may mean giving up on a future of sexy white-haired family members, but Daenerys (mind if I call you Danny?) I've got to pass on this one.
Instead I contact my buddy King Robert. Hey, Bobby. I'm thinking, you got an unmarried daughter named Mya, I've got an unmarried son named Robb. How about we solve each-other's problems.
Well, Bobby seems cool with it, so they swiftly get married.
...
Which I believe causes my son to become chaste.
Well, that wasn't my intention. But whatever. I tell him to go train, maybe it'll get his blood up. Fortunately, this doesn't hurt him or anything, and now he's slightly better at smacking things. Looks like we're doing good so far.
I'm calling this a success, followed by a nap.