After reading lots of other AARs I wanted to give it a go on my own. After reading
"The triumph of the near east"
I saw the MEIOU mod and wanted to give that a go too. While not give both of them a go at the same time? So please be bare me on this journey through AARland and MEIOU.
As this is my first AAR I don't know yet what my style is, probably game play description with more other stuff as I progress and get more experience in it. If you have any tips and/or advice feel free to say/type it in this thread or in a PM to me. I hope I can update weekly, or more.
EU3 is 5.1 and MEIOU is version 5.5.02.
I have played a bit forward already, so in the beginning I will need to use some save games to get the first screenshots (as I forgot to take those, even though I knew I wanted to create an AAR *bangs head on desk*).
You can read more about MEIOU
here
and
here
.
Settings: everything on normal, except lucky nations, which are random. I leave the merchant adventures as the national idea, but don't use a bonus or a handicap at the start of the game.
House rules: Play as less gamey as possible, although at least in the beginning I won't roleplay. No super weird stuff though and I'll try to stay below the infamy limit ( at least I do not want to go over it through peace deal infamy).
So, why Flanders? I don't know really. Usually I start games with Frisia or the Netherlands, just because I know that region so well... Flanders isn't that far away, just a little bit south, but it isn't in the HRE. That makes it less of a nuisance to grab non-core provinces, which means I can be more of an evil overlord who takes all the provinces MUAHAHAHAHA, I'm not evil, honestly.... I just want the name of my country to be as large as possible. Being Flanders does bring the big blue blob close though, but that will be a problem for later on.
Goals for the short term:
- annex Brabant
- get my name on the map
Goals for medium term:
- Form Lotharingia (as it gives more cores than forming the Netherlands)
- Survive the attacks of the Big Blue Blob.
- From above, if possible kick above blob into THE PIT of nothingness.
- The name of Flanders on the map, but now in BIGGER letters.
Goals for long term:
- Conquer as much of the world as possible.
- The name of Flanders on the map even bigger.
- ???
- Profit!
Flanders starts at war with Brabant, this is the Louis de Maele's war and we just want the province of Antwerpen.
This is an excellent start though to just take the whole of Brabant too. I need the room on the map for the name of my (hopefully) glorious country! As seen on the screenshot we have some nice cores too in the neighbourhood, Artois, Calais and Guiness look like nice juicy provinces which should be added to Flanders, don't you think? We have a few holding on the other side of France too though (Nivernés), right next to Burgundy, another potential blobber, which I'd rather take out as soon as possible. Our economy isn't that bad either, we can sustain full maintenance for our army and navy and still make a profit from our census taxes, even though it is a very small profit. Trade income could be better though, so we will need to send some merchants to Brugge. More merchants in Brugge and the final point of stability should bring a larger profit left from the census taxes.
Brugge is our own COT which will be easy to fill with our own merchants. Trade is nice, but usually I'm too much of a bad boy to trade in COTs of other countries. I'll just need to expand to enrich Brugge, I've got no problem with that.
Now, our first Duke, those stats are nice enough. For the advisors, I will probably need a diplomat and some nice guys for my army, these will do for now.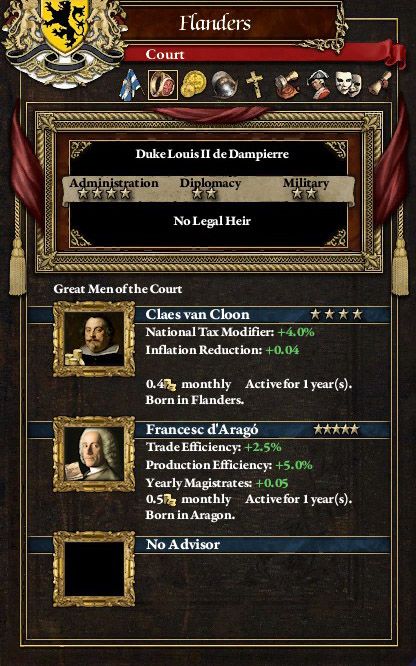 We start with the following sliders and the starting national idea given to Flanders in MEIOU. Some merchant stuff which could prove useful, but probably won't be because I'll be too much of a warmonger.
So, is my name on the map yet?
NO? I will start with that right away, for after this lengthy first post it is time to start. Other overview posts will come every fifty years, or a bit later if we're at a major war.
Last edited: