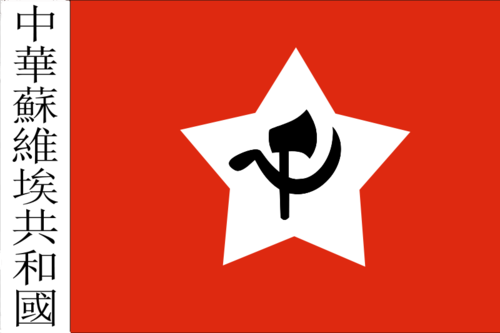 Arise! All who refuse to be slaves!
Let our flesh and blood forge into a great wall!
As the people face there greatest peril,
Every person's forced to expend their very last cry.
Arise! Arise! Arise!
Million hearts beat as one,
Brave the enemy's fire, March on!
Brave the enemy's fire, March on!
March on! March on! On!​
It was seen by several contemporary western authors of the time, particularly Edgar Snow, author of 'Red Star Over China' that it was in China that the seeds of communism which had been sown by the CCCP accross Eursia had taken root most deeply. With the completion of the long march and the consolidation of a defensible position for the Soviet Republic of China, as it was then known, being rightly identified by Snow as the key turning point which would change the face of the political landscape within Asia and then the World throughout the course of the Second Great War.

It was the political acumen and personal drive of Mao Tse-Tung which is most often identified as the most major cause for the success of the Chinese Communists but his actions were ones which can be identified as distinctly non-communist. The largest of these was the bartering and conclusion in late 1936 of the 'Dalian Manifesto', the contents of which are classified even today. I was fortunate enough to meet the man on the 15th anniversary of the foundation of the People's Republic of China, just a year before his death in 1954. Though by that stage Chairman Mao as he was then referred to had lost much of his youthful energy and drive, the evidence of his achievements were clear to see. As such when approaching the history of the early years of the People's Republic I have been forced to attempt to stop what I have seen and know of the PRC as it is today and treat the subject with an unbiased eye.



Dr. Aaron Hughes, BA, MA, PhD
Resident Lecturer at the University of Birmingham
Excerpt from 'The True Unholy Alliance; China in the Second Great War'.​
Last edited: