____________________________________________________________________________________________________
FRESH BLOOD ON ANCIENT SOIL
A Saga of the Scottish Kings of Aquitaine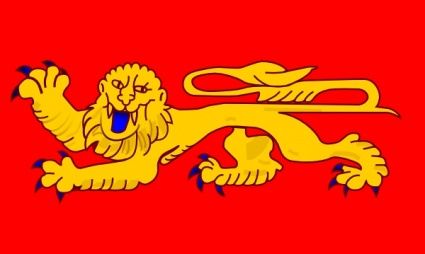 AwAARDs:
Best Character Writer of the Week, January 29th, 2013
​
Intro:
Well, after far too long, I am back in AARland and ready to be an authAAR again. While I am as yet unwilling to officially declare my old AARs as "abandoned" the fact that it has been about 18 months since either was updated leaves me wondering how much interest there could still be in them. And since a wonderful story has created itself, I wish to share it with this wonderful AARland community. And even if my old AARs should make a comeback, this shall remain my primary AAR.
So, a brief background on what led to this AAR and what kind of AAR it will be:
This AAR will pick up 102 years into a game. Basically, my roommate started a game as Scotland in 1100. He used the Ruler Designer to create a new King, "Alistair MacGreggor." He chose the name MacGreggor in honour of his father, whose name is Greg. Unwittingly, this also meant that he chose the perfect clan to fit in with his roleplay for the rise of Alistair. You see, Alistair was a legitimised bastard whose lineage claimed to be the rightful heirs of Kenneth MacAlpin over and against the House of Dunkeld. We later learned this was quite fitting, as the real Clan MacGregor claims descent from a "Prince Griogar," a younger brother to Kenneth MacAlpin.
I shan't delve too much into the history here, I'll save that for the actual tale, but suffice it to say, during the course of his game, Aquitaine fell to a Moslem invasion, and a later Crusade was called to liberate it. Scotland won that Crusade, under the leadership of one of Alistair's descendants: Magnus. Magnus decided that ruling both Scotland
and
Aquitaine was too big a task, so he groomed his eldest son to be King of Scots and his youngest to become King of Aquitaine. And in 1202 he made that son, Kenneth by name, as King of Aquitaine. At this point, I made him save a duplicate of his game. He then continued to play as Scotland and is well into the 1260s now. I took over the duplicate as Kenneth on the day of his coronation, October 24, 1202. This AAR shall be the chronicle of Kenneth and his heirs as Kings of Aquitaine.
What readAARs can expect:
Anyone who has read my Morea AAR will be quite familiar with the format of this new AAR. It will be predominantly nAARative, with some interspersed history posts to bridge the gaps between story arcs.
The main protagonist will almost always be the reigning monarch (or, on rare occasions, his heir apparent), with his heirs and close friends as secondary protagonists.
Tales of wars and campaigns will likely be the most common story arcs, with political intrigues and interpersonal relationships forming subplots; although occasionally the intrigue or relationships will take the forefront with military matters forming the subplots. Either way, one can expect some measure of each to appear in nearly every story arc.
Another thing to expect will be what has grown into a popular and signature mark of my stories: dream sequences. I made the mistake in the Morea of trying to make every dream sequence exceed all previous ones, and quickly peaked, making my job too difficult and stressful. This time, my goal shan't be to top myself at every instance, but merely to provide a quality episode. This, along with keeping them as rare, meaningful events, shall hopefully keep me from getting burnt out.
And finally, this is going to be RPed as much as possible. There will be no world conquest, nor am I going to try to steamroll over the map at any rate. Conquests will happen if an ambitious king sees an opportunity, or if I have a claim on some territory (for instance, I have a de jure claim I can press against France for the County of Poitiers; that may lead to a war someday), but will not happen just for the sake of fighting another war. The primary purposes for which Kenneth was made King of Aquitaine were threefold:
1) to divide the responsibilities of the two MacGreggor Kingdoms between two lines of the Dynasty
2) to support the senior line in Scotland as often as possible
3) to act as a bulwark in defense of Western Europe
Kenneth, at least, will try to live up to these duties. What his heirs do with them is up to fate.
__________________________________________________
AuthAAR's Note:
As I am a Latin teacher, that will have to take priority over writing updates, but I plan to be more regular about my updates than I was as a student (while at college, I was posting maybe once every couple of months at best, and then had no time whatsoever during all of senior year). I anticipate that I shall post one update every week on average (occasionally if I am busy, perhaps every other week; if am unexpectedly free, perhaps twice a week).
Last edited: