Chairman of this board
68 Badges
Disclaimer, read this before you call us xenophobic d*ckwads
: Any stereotyping of slavic or eastern european peoples are done purely in jest and is aimed at the westerners who hold these misconceptions rather than perpetuating them. This is largely inspired by the Jetlag travel book to
Molvania, A land untouched by modern dentistry
. Don't think of these people as Romanian as that is not our intent.
"Foreign policy is like class reunion, it end with shoot out." - Moldavian saying
Great Nation of Moldavia exist on luxcsious plain of east Danube. There great people of Moldavia grew substinence crops such as like Wheat and Apple. Mainly Wheat as Apple go to liqour produce. Much to joy of populace.
In 1836 Great Nation of Moldavia was ruled by Great king of Moldavia, Great King Antoncescu. The Great King was inspire by republican France and instead of merely being King for life, he abolish monarky and make himself President for life. Great improve!
Great People of Moldavia, very proud of main export and it fill every part of daily live. It even adopted as national emblem.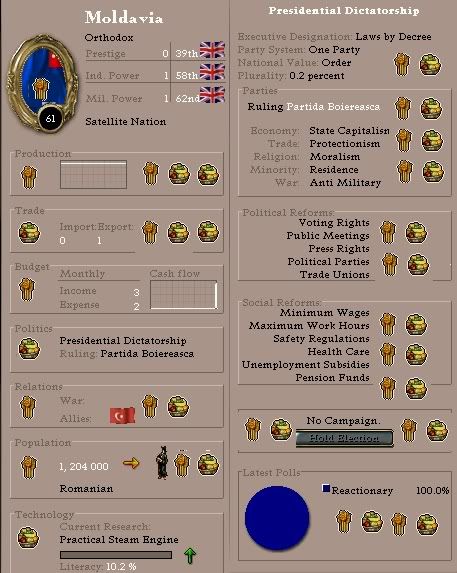 After making more people produce more food. Great President Antoncescu sell for more money. Great economic genius he was remembered as. With newfound money steps against crime were taken. Great president institute death pennalty for all crime. Crime drop fast, population drop faster. Ammunition for army now large part of budget.

note population growth at bottom
At 1841 military coup was organized against Great president. Coup was put down at cost of 503 human lives and 5 gypsies. Ensuing celebration of coup failure cost 647 lives, mainly of alchohol poisoning and gunshot wound. Among them great president, who was shot 37 times in freak celebration accident.
A new president claims seat and steer Moldavia to water not covered in dead fish.
Sourze:
Buscheks History of Moldavia 2nd Edition p.34-36
Last edited: