Master of the Universe
88 Badges
Introduction
January 7th, 1936, Petrograd.
Not two hours had passed from President Kerensky's assassination in the hands of a lone gunman and Pavel was sitting, waiting, thinking. As Prime Minister of the Republic he knew that the austerity measures enacted three days ago were going to increase social discontent, but he never thought it would come to this. All that had been built in the last nineteen years was at stake, and that feeling made him nervous… and desperate. Yet he had a plan, and if Russia was to be saved, he would need help.
"Excuse me Prime Minister, the Grand Duke will see you now. Please, follow me."
He stood up and followed the secretary down the hall. She opened the door and made him a sign to enter the room. "Here we go" he thought.
Beyond a huge desk sat Grand Duke Dmitri Pavlovich Romanov, senator of the Republic and the most prominent member of the Romanov family. He had his attention in some papers and didn't notice Pavel entering the room. After a minute, Pavel coughed.
"Ah, Pavel! Come, please. Sit with me." said Dmitri smiling.
Pavel sat in one of the chairs across the desk and examined Dmitri. He was aristocratic, yes, but also charismatic, which helped him be loved by the common people. He was brilliant in political manoeuvring and had the support of most of rightist politicians. Although he was never close to be Tsar in the line of succession, he was groomed to rule, yet not to govern.
"This is terrible Pavel, the President is dead! Such a tragedy, I remember when I first met h-".
"Sorry for interrupting you Grand Duke, but this is not a social visit. The country is thrown into chaos, once again, and something must be done."
Dmitri frowned, his smile disappearing. He did not like being interrupted. "This storm will pass, the army will take care of that. There's no need to worry."
"With all due respect, I think you don't grasp the urgency of the situation. Right now the Mensheviks are talking with the Left Social-Revolutionaries. If those talks succeed, they will have enough support to form government and Iraklij Tsereteliy will be proclaimed the new Prime Minister."
Dmitri leaned back on his chair, confident. "So? The Constitution allows that. I might be a Romanov, but I support the Republic. You should remember that I supported Tsar Nicholas abdication. Or are you afraid of losing your position in the government?"
Pavel was infuriated, but he managed to hide it. "This has nothing to do with me. If a Left SR-Menshevik coalition secures a majority in the Duma things will not fare well for any of us. Not only we will be one step closer to revolution once again but most reactionary groups won't allow it. Baron Wrangel has been informed of the situation and is planning a coup in the event of a socialist government."
Dmitri's eyes widened in shock. "Pavel, you know I'm a conservative, but Wrangel is beyond all reason! If he were to take power, we would be back where we were half a century ago! Not only that, the socialists would rise in arms and civil war would be unavoidable!"
Pavel sighed. "Yes, that's why I've been contacted by Marshall Denikin. If no better option appears, he will command the army to storm the Duma, dissolve it, and declare martial law. And as soon as thing cool down, return to a constitutional government."
"That's not a bad outcome, but yet, you're here. What's in your mind Pavel?"
"You are a well-known politician, and a republican. You are charismatic, politically able, and above all, a Romanov. We can get the support of the moderate left, the liberals and the conservatives. Together we can save Russia from socialism and the reactionaries. It's in our power to bring order, stability, and finally freedom to the Russian people. But for that, we must be quick, and get the Senate in line."
"Y-You want me to be t-", Dmitri stuttered.
"Yes. I want you to be the next President of the Republic."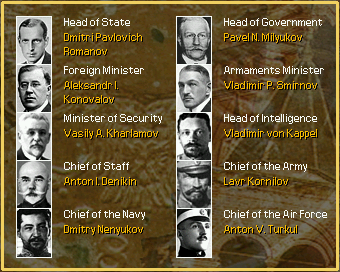 Last edited: