FOR THE EMPEROR?!
The Tale of the Greater Estonian Empire
​
It all began on an unusually hot August morning in the Shibuya district of Tokyo. Now, this is a story about a baltic nation, you didn't read that title incorrectly. However, the man who would rise to lead Estonia to glory was in Shibuya at the time. In fact, he was Japanese, not Estonian. And perhaps rise is too strong of a word. More accurately, he stumbled upon the job opening rather unexpectedly.
Yoneda Takero wasn't in the best of moods that morning in 1935. For starters, he was 23 years old and still lived at home in a small apartment with his mother. She was always nagging him about something, whether it was forgetting to do some trivial cleaning task or to get a better job. That was another thing that had Takero on edge. His job, for lack of a better term, sucked.
Even in high school, he'd daringly grown what little facial hair he could, and his classmates commented that he looked remarkably like Emperor Meiji. So it was that Takero had gotten a job as a Meiji impersonater/lookalike. The agency he worked out of sent him to all the worst places: old military veterans' gatherings, department store openings, elementary school pageants, and by far the worst event of them all - children's birthday parties. He'd just had one of those the day before, and his leg still smarted. What was the world coming to when some uppity 5-year old thought he could kick Emperor Meiji in the shin? All just because the little snot hadn't gotten the exact toy airplane he'd wanted.
Something had to change. Takero knew that he was supposed to report to work for another thankless, sweaty day of pretending to be a dead man. Heavy uniforms weren't something he liked wearing in Tokyo summers. That in mind, he had his head stuck in a newspaper, reading over the classifieds and searching for a new job. If he didn't find one soon, he might well get drafted into the Imperial Army, and that was about the last thing he wanted. Kids kicking your shin was one thing; Chinese trying to kill you with guns was entirely different. He liked to think he was allergic to death, particularly his own.
"Takero!" came the inevitable shout of his formidable mother.
Takero chose to ignore her, continuing to pour over a page titled 'Fergusson's Finds - Jobs for the Ambitious, Mad and Desperate'. That last one sounded about right. He'd just begun scanning Fergusson's Finds when a broom came down on his head.
"Gah!" Takero yelped, then growled, "Mom, you can't just go around hitting people with a broom!"
"I
can
if they're my deadbeat son who doesn't know how to properly arrange our chopsticks!" the woman rumbled.
"I'm kinda busy, mom," Takero sighed, knowing his protests wouldn't do much good.
Sure enough, she continued, "
Anybody
with half a brain could figure out chopstick organization, but by the Kami, not my son!"
Takero tuned out his mother's rant as he went back to scanning Fergusson's Finds. There had to be something he could do there. Unfortunately, a lot of the jobs seemed to require some previous experience. None of that could be provided by his public appearances as an Emperor. Why in the world would you need warehouse experience to be 'Assistant Rubber Stamping Secretary for Lesser Volta'?
".. but no, when I looked in the drawer, there were the black ones right next to the blue and red ones! It's no wonder you can't get a respectable job!" the maternal tirade went on.
He was about to give in to despair and walk down to the Imperial Army recruitment center when an ad caught his eye:
WANTED: Man with no ties at home to travel to Baltic Europe and become Estonian head of state. No previous experience neccessary. Must be willing to live in cold climate, inside a modestly sized palace and accept payment for existing. Apply at your local Estonian embassy or consulate.
It had to be too good to be true! Payment for simply existing? No previous experience needed? Living in a bigger space than their tiny apartment? That was it! He'd get out of this contemptable summer weather, get away from his mother, and get to travel and therefore avoid military conscription. Yes, this had to be a sign.
"Hey mom, I'm gonna go out," he announced, "I found a new job, and I'm going out. Don't wait up for me."
As he headed towards the door, dressed in his Meiji regalia, his mother scoffed, "What new job? Who'd hire a dissapointment like you?"
"I'm going to be Emperor of Estonia!" he declared, then slammed the door and never looked back.
**********
From the Baltic Observer:
TALINN - The Estonian government's search for a new head of state appears to finally be over. With the unexpected announcment of President Konstantin Päts' retirement due to 'unexplained Stalin-related personal issues', the northernmost of the three Baltic republics had begun a worldwide search for a new leader. Their only applicant, apparently, is the man they chose: Takero Yoneda, 23, of Tokyo, Japan will be Estonia's new leader. It appears that the days of an Estonian republic have ended with the hiring, as Mr. Yoneda claims now to be the nation's emperor..
**********
Takero was a bit surprised by the country he'd been hired to rule. In fact, until he'd visited the Estonian embassy in Tokyo, he hadn't even been aware of the nation's existance. On the long series of flights over to Tallinn, he'd studied up on the small Baltic state. You couldn't well be emperor of a country you knew nothing about, could you? It was all provided for him in a handy packet from the embassy titled, 'So You're the Leader of Estonia: Fun Facts About Eesti'.
First, a map. He discovered that Estonia was just above Latvia, and right next to the Soviet Union. Well, at least that was nothing new! Japan was very close to the USSR, so maybe this wouldn't be so different after all. And with access to the sea, there was always a chance of expansion, wasn't there?
Estonia: Convenientally located on the Baltic sea to make flight from Stalin's hordes more expedient.
That was okay. But then came further details. According to the booklet, 'Estonia is a proud, modern European nation with a robust industrial base that is now around one twentieth that of Germany!'. Furthermore, he read: 'The Estonian military is a powerful force to be reckoned with, defending your new state from inevitable invasion by the forces of Bolshevism...'; but the Estonian army apparently consisted of three infantry divisions with old equipment. And a cow. They made very sure to mention that there was a cow in there somewhere, mentioning it several times.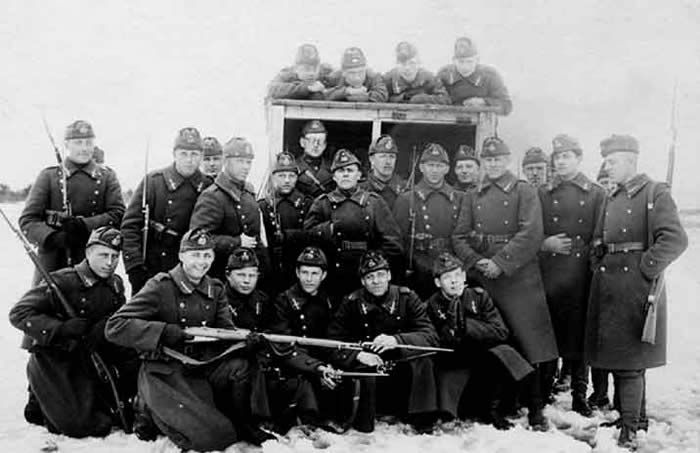 Men of the Imperial Estonian Army, minus the cow.
As for the air forces, the answer was simple enough. They did not exist. And the Estonian Baltic Fleet did exist, which relieved Takero until he discovered its contents. There was only one ship. An old rustbucket of a fishing boat, which seemed to serve only as a signpost in Tallinn harbor, saying 'Estonia - A wonderful place to invade, if you're Russian'.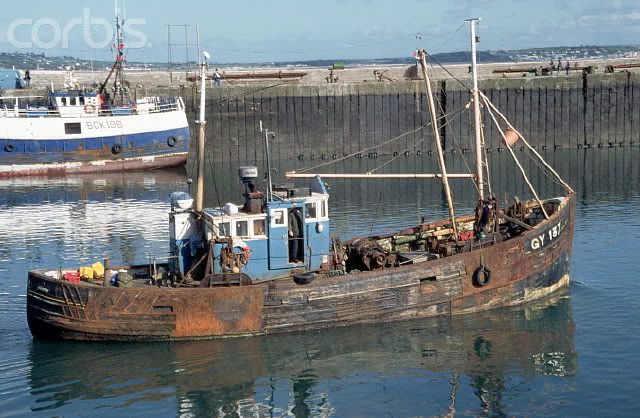 The
Sitting Duck
, the Imperial Estonian Navy's only ship in 1935.
Oh well, you couldn't have everything, could you? It had to be better being Emperor of Estonia than sitting around a kitchen table being struck on the head with a broom. Kadriog Palace, soon to be Takero's Imperial Palace, looked spiffy enough and reportedly had a staff of four. One elderly Welsh butler who didn't speak Estonian. A grumpy Finnish lumberjack who served as the place's maitenance man. A plump maid who bore a disturbing resemblance to England's Queen Victoria. And finally, a gate guardsman who was drunk half the time and didn't have any bullets for his rifle. Wonderful. A new staff would be in order, Takero decided. One that would better suit his imperial majesticness.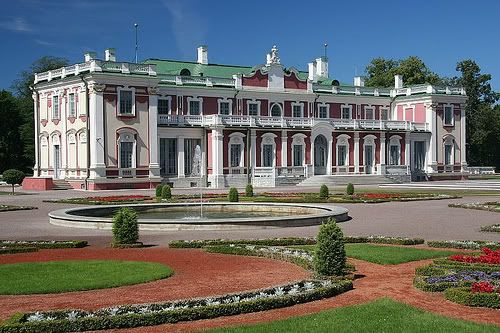 Kadriog Palace in Tallinn, Estonia. The one place in the capital where Estonian was not spoken.
Other things had to be changed too. Takero had decided that in order to legitimize his rule, he would take a page out of the Japanese emperor's book. True, it was harder to explain himself as a European nation's emperor, but he had a plan. It was one thing to be the descendant of the sun goddess, which was cool. However, gods tended to philander quite a bit, so couldn't a couple of them get together and make a love child? Therefore, he was now descended (on his father's side) from two dieties.
His official explanation of this to embassy staff had been, "As imperial sovereign of Estonia, I am given my right to rule by my divine ancestry. My line is descended not only from Amaterasu, the sun goddess,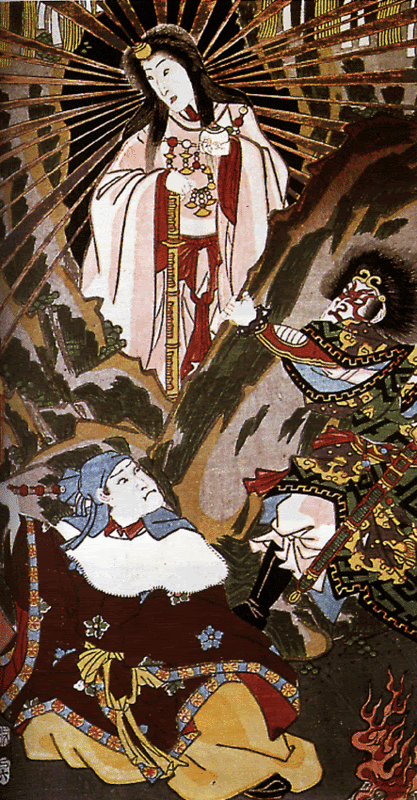 Amaterasu, obviously.
but also.... um.... Thor. Yeah, Thor."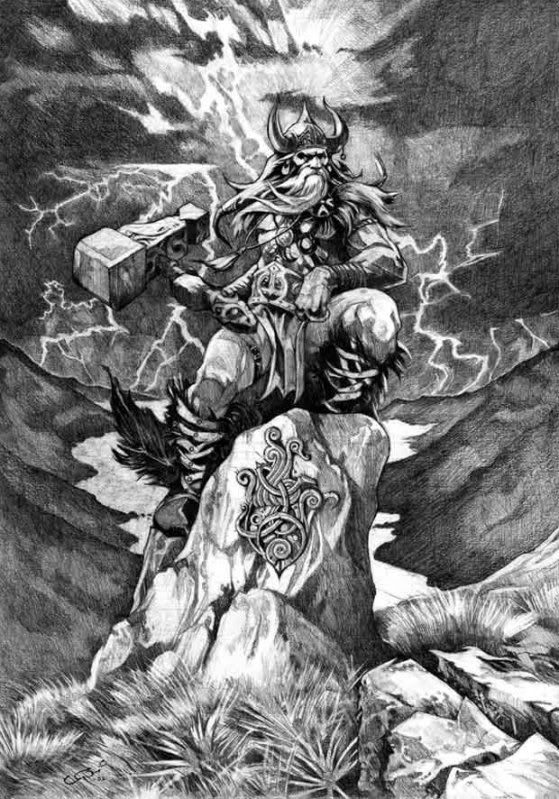 Sun goddess + Thunder god = Yeah, I'm totally a divine god-emperor!
This decided, Takero had also announced that the national flag would be altered. Three horizontal stripes, as Estonia had now, was emulated by far too many countries to make the nation stand out. So what if Latvia, Lithuania, Holland, Yugoslavia, Austria, Spain, Bulgaria, and a bunch of Latin American countries used it? As an empire with a divine monarch, didn't Estonia rate a more unique banner?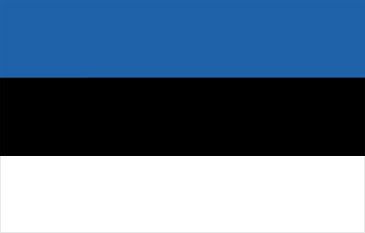 Estonia's old flag, using the tired old tri-color horizontal line pattern.
That in mind, Takero had ordered a combination of his homeland's banner and the Estonian national colors. It seemed a good way to combine his heritage and his position. The result was something he felt was good looking and striking enough to serve as an imperial banner.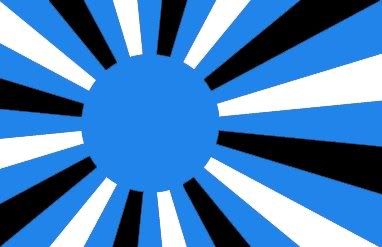 The new imperial Estonian banner: it just screams 'Eesti is the Bestie!'
With all his imperial prerogatives in place, Takero began thinking out other plans. The military would have to be expanded, starting with the Imperial Estonian Navy. A fishing boat would not be sufficient to create a true empire. Also, he wasn't exactly sold on hiring only locals to work in Kadriog Palace. No, he'd have to get some people from back home... girls, he decided. Lots of them. Yes, that would do the trick nicely.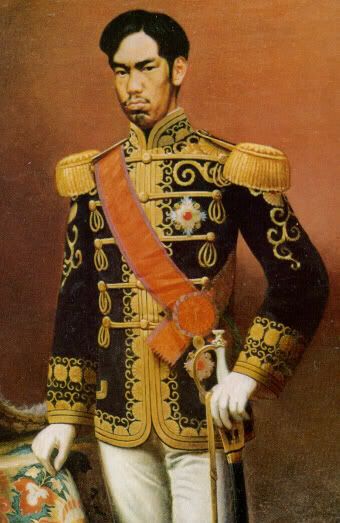 His Imperial Majesty Takero I, Emperor of Estonia
Last edited: