Mademoiselle Gothique (she/her/hers)
Moderator
87 Badges
Flower of the Lilly
A Comprehensive look at the Creation of Modern France
Chapter Four
The Reign of Louis XI and the Centralization of French Imperial Authority
The short Regency Council between 1444 and 1449 would give way to the reign of arguably the greatest French Emperor, Emperor Louis XI d'Albret-Bourgogne. Born in 1440, Louis XI was the oldest son of Charles XI, the first Emperor of France. The Regency Council proved effective at creating a brilliant administrator and diplomat, though only a competent military commander. Emperor Louis XI was notable for his conflicts internally as well as his expansion of Imperial Authority during 1460's and 1470's. Louis XI managed to create two very important friendships. The first was Queen Juana of Castile. Louis XI had sincerely proposed to her before she took the throne, and had been turned down. He tried again, and once again had been turned down. It is assumed, though, that the two were lovers though, outside of marriage. Had the union been successful, history could have been wickedly altered as a France-Castile combination would have shifted the might of Europe away from the Holy Roman Empire and into France.
Religious Tension in Europe
France and Castile break from the Catholic Church
Queen Juana, beyond a lover, proved to be very helpful in Louis XI's fight against the Papacy, and Papal authority in France and Iberia. The Duchy of Valois-Anjou had always guaranteed to the Pope that Papal troops could move between Italy and Avignon through Provence. With the acquisition of both Anjou and Provence into France proper in 1466, the Papacy came to Emperor Louis XI and demanded the same rights that Duke Phillip d'Anjou had given them. This history between the Papacy and France was highly sour, and if it not for the population's support of the Catholic Church, the two would have been completely separate. The Papacy gave several warnings to the Kingdom of France-Albret. These were practically useless; as France-Albret was more worried about uniting France, and the Papal State was at war with the Two Sicilies, bringing much of southern Italy under Papal control. By 1470 both Castile and France were embargoing Papal goods and traders. As Holy Roman Emperor, the actions of Louis XI were revolutionary.
Together, France and Castile were able to hold off Papal demands for two decades between 1455 and 1475. Eventually though, it became obvious to the Emperor and Queen that the Papacy would either have to be met head-on, or they would eventually have to submit to Papal Authority sooner or later. Emperor Louis XI feared that even if he opposed the Pope to his dying breath, it only took one submissive heir later in the line to undo everything he had done. So, he went to Queen Juana I in her capital to speak to her about ending Papal Authority in their countries. This second schism would greatly weaken the Catholic Church, as resistance to its authority was already become wide-spread in Germany.
In June of 1475, Emperor Louis XI declared himself head of the French Church, known as the Gallicanian Church. In August of the same year, Emperor Louis XI personally baptized Queen Juana I into the Gallicanian Church. This sent shock waves to the Pope. The two largest Catholic countries simply left the Catholic Church. The Gallicanian church was named after ancient Gaul, and was initially stronger in Castile than France, but with the work of French missionaries, most of France would eventually join the Emperor's Church (as it was sometimes referred to as). In France, the movement was strongest in Gascony and Normandy, but under Emperor Louis XI and his grandson, Emperor Gaston I the religion was spread throughout France.
Queen Juana, however, took the new religion to its extreme, punishing faithful Catholics alongside Muslims and other non-Christians. This led directly to increased tensions between Gallicanistic nations and Catholic nations. Louis XI would spend much of his time preventing a war, as his own war machine was still being reformed.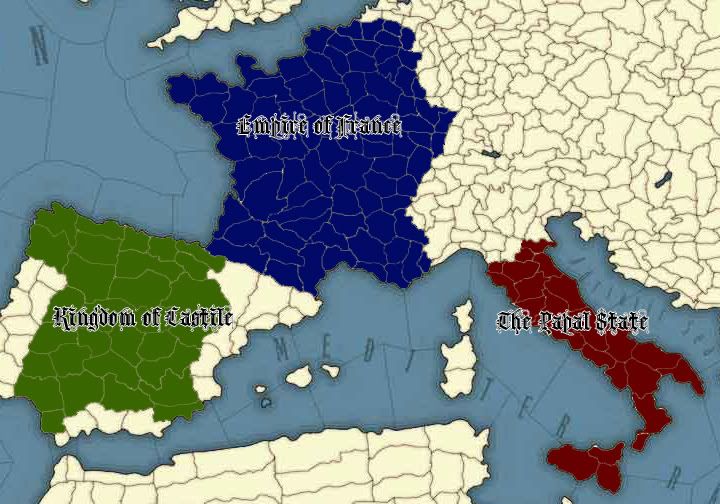 The Legacy of Emperor Louis XI
The Dawn of Modern France
Emperor Louis XI's reign notably divides Medieval France from Modern France. When his reign began in 1449 France was decentralized, Catholic, and feudalistic. At the end of his reign in 1480 France was a centralized, Gallican, and administrative state. Instead of being the personal territory of men it, in many ways, became a functioning country. In 1476 Louis XI had taken control over three surrounding Church lands. The Archbishop of Liege, the Archbishop of Trois-Évêchés and the Bishop of Straßburg all fell under the direct control of Emperor Louis XI and the Gallican faith.
The decentralization left Louis XI as the ultimate power in France. Dukes and Counts were had their personal fiefs removed, and were compensated with palaces and money. This kept them out of the way of Louis XI's other reforms, including the Church reforms, military reforms, and an aggressive new Economic policy. Without question, many of the Dukes would have objected to Louis XI taking direct control over their personal armies and guards. Before Louis assumed direct control over the Imperial Army, the combined armies of France numbered 90,000 men (down from the Succession). Of this, 70,000 were under Louis XI. At Louis XI's death the Imperial Army numbered 160,000. The combined armies of France and her vassals were 175,000.
These reforms extended to Ireland, which was split between the English Sphere of control and the French Sphere. The English Sphere included Dublin and Belfast, but was generally unruly. As Louis XI centralized France, he decentralized his authority over Ireland, putting it back under the control of the Irish while still maintaining some control and influence over it.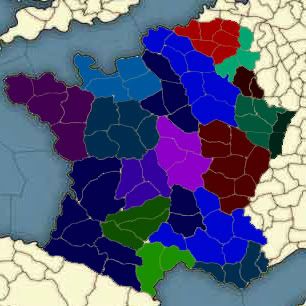 France in 1449
Dark Blue is the Personal lands of the Emperors, Light Blue is state lands.
Others are the different Dukes/Counts of France.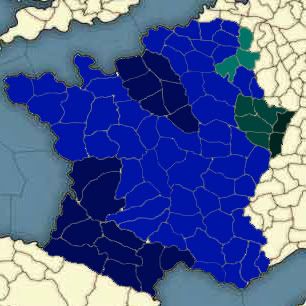 France in 1480
Dark Blue is the Personal lands of the Emperors, Light Blue is state lands. Others are the Bishops and Archbishops of the Holy Roman Empire.​
Religion Boils over the Lowlands
The Dutch War of Succession and the War between Catholics and Gallicans
Between Emperor Louis XI and Emperor Gaston I was Emperor François I. His reign lasted from 1480 to 1482, but in the short amount of time he managed to change history drastically. First, he pushed claims on the Netherlands, especially Holland (vassal) and Gelre (royal marriages). Secondly he began to intensify the conversion of France to Gallicanism. This new attitude, much like Queen Juana's, was the spark of hundreds of revolts throughout France. When he died in 1482, François I had already set the course for his son, Gaston I.
Emperor Gaston I d'Albret-Bourgogne was a powerful personality. Many monarchs in Europe had trouble standing his long stories and rants. Like his grandfather, it is assumed Gaston had an affair with Queen Juana, but when she died in 1484, he married Duchess Margaret of Gelre. In 1485, he brought Gelre into a union with France. This was opposed by Portugal who had much weaker claims on Gelre. It seems, in retrospect, that this was an act perpetrated by the Catholic League. The Catholic League had formed in 1478 to oppose Louis XI. In 1485 it contained England, Portugal, Aragon and the Papal State. The League had been aching for a war with France since its creation. The succession of Gelre gave them an excuse to start this war.
In 1485 the Papal State delivered a Bull to Emperor Gaston I and his wife. The Papacy demanded that the union be dissolved, or war would be declared. Gaston I had the ambassador sent back with a letter that simply said, "The League stands no chance against the might of France." After war was officially declared, Gaston and his generals moved against Calais, Avignon, and across northern Aragon. After seizing Calais, the French fleet battled its way into the English Channel and dropped an invasion army of 40,000 French troops and 20,000 Dutch troops onto England. The English armies, disarrayed from Civil War, and disloyal to their commanders, fled west. This left Canterbury, London, Norwich and Brighton open to attack, and all of them fell before the end of 1486.
The Papacy surrendered in September of 1486, cutting its losses in Avignon and allowing the city to be merged into France. Aragon surrendered in July of 1487, giving Gerona to France just as French soldiers seized Barcelona. England surrendered in December of 1487 after losing Hampton and Plymouth to France. They ceded Calais to France as well as renounced their claims on the French throne.
Portugal surrendered in December of 1488. France's generals marched 50,000 troops across Castile and into a poorly defended Portugal. The occupation of Portugal proper only took the better part of a year. With the end of the war between France and the League, Catholicism as an entity had taken a hard hit. Hungary and Venice was losing to the Ottoman Empire after their initial success in an impromptu crusade. Now the Papal State had lost to schismatic forces. Some saw this as apocalyptic times rising. Some even went as far to call Gaston I the Anti-Christ, a title he would jokingly use from time to time when dealing with members of the League after the war.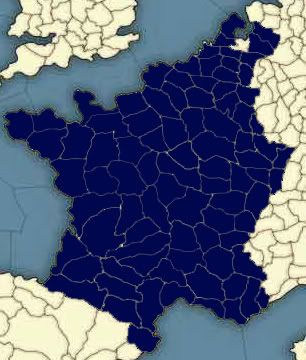 France in 1490
​
Gaston and the Sciences
Freedom of Thought in Fifteenth Century France
Under the Catholic Church, sciences had been repressed. In direct opposition of the Church, Emperor Gaston I supported scientists all across Europe to come to France. As a child, Gaston had been more interested in building and experimenting with his surroundings than Church. Now, as leader of the Gallicanist faith, he could shape the church to his will. Under Gaston "Gallicanism" almost became synonymous with "Science". His Natural Sciences advisor, born to Gnostics in Portugal, Marc des Coulons explained to the curious Emperor that it was his theory that God created the Laws of Science as his way of enforcing his will at all times. Gaston I was happy with this theory, and gave des Coulons grants to continue his research into these 'Laws of Science.' In 1490 des Coulons published "Les Ecritures prolongées sur les Lois de Sciences comme appliqué par notre Dieu de Seigneur" or "Extended Writings on the Laws of Sciences as applied by our Lord God". Emperor Gaston I hailed the book, which had little actual Science, as the first step to a world more "Unified with God". The book, though, did discuss important things such as the Earth rotating around the Sun as well as the possibility of moons around Jupiter, thanks to letters from des Coulon's friends in Papal dominated Tuscany.