As I am from the Balkans i find that this is the region i naturally care and know most about and i feel it is terribly underrepresented in the game. Currently i am please with Serbia and Bosnia and i don't feel too much needs to be done as for most of the game's timeline they were owned by the Ottomans but there are a few things which mainly involve Venice and Hungary
1) Split Dalmatia into 2 provinces. Whilst this may be the least important of my suggestions i feel that Split and Zadar were big enough cities in their own right and Dalmatia is too big and ugly. They weren't highly developed but they were important trade ports. It would look something like this: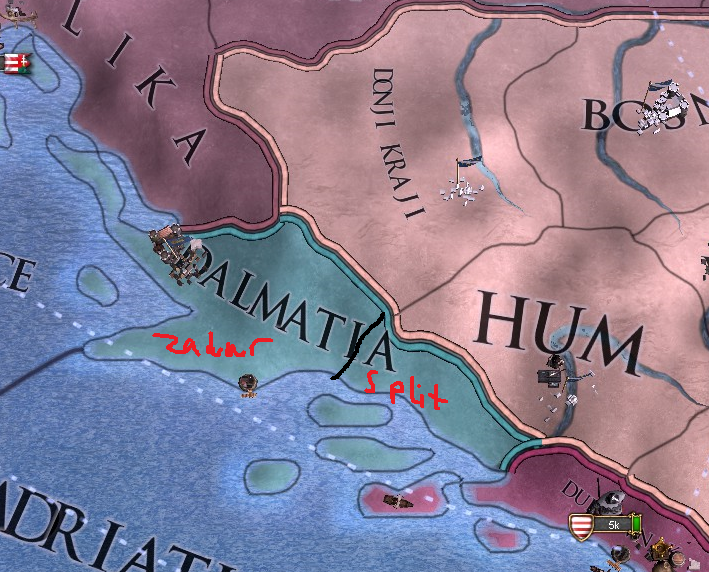 2)My second suggestion is to take the sea away from Serbia. Atm Serbia has cost with Zeta and whilst Serbia did have some access to the sea this was very minor and frankly its too small to incorporate. The Venetians owned most of the coast of Zeta and this should be given to them and renamed Kotor and should be a Serbian and Zetan core. As a Serb it pains me to take away our precious sea but for historical accuracy and better representation of Venice's power in the Balkans it makes sense.
3) Finally this is the one that is most important to me. One of the biggest and most important cities in the Balkans - Belgrade - is completely ignored in the game. I understand that this is because its awkward because it was owned by Hungary and right on the border with Serbia but this is no excuse to not include it. Unfortunately the only way is to make it a micro/city province as it simply didn't have any land but the city itself and surrounding villages. Also Smederevo (Serbia's capital) it in completely the wrong location and i have fixed that. My solution is below:
It should be of Serbian culture, orthodox and a Serbian core. I'd give it development of between 16-20 and a level 3 fort (Belgrade Fortress) as it kept the Ottomans out for ages and was known for being very defensible. Belgrade should also be made a CoT because of the confluence of the Sava and Danube and considering the Ragusa node only has 1 it makes a lot of sense. This will also help buff Hungary. An added bonus would be to give serbia decision to make Belgrade the capital but i think this is asking for too much
. Any suggestions or pointers would be greatly appreciated and i hope the devs consider this for the game as it would make Venice and Hungary more interesting as well as the mighty Serbia.