Duca di Firenze
27 Badges

Note: Much of this introduction is outdated and will be updated soon, but the overall idea/mission of the mod is still accurate
​
What the heck is this?
A general overhaul of HIP, primarily focused on revamping histories, provinces, de jure titles, title creation, and creating events and other features to overhaul the SWMH (and PB to some extent) module of HIP, for the purpose of increasing historicity and historically plausible gameplay.
Right now, only France, the HRE, and the Italian peninsula have been majorly overhauled, though I plan to expand the scope to Spain, Eastern Europe, Scandinavia, and possibly Britain in the near future.
Also, it should be noted that the mod is designed to be played from a 1066 start and all effort has been put into that start, though other start dates may be perfectly playable.
So if it's much more than Florence, why is it called "the Firenze SubMod"?
My very first real mod was a submod for the Magna Mundi Ultimate mod of EU3. It originally entailed adding Florence and some Tuscan flavor and a few other features, but quickly became a general overhaul and the Magna Mundi team unofficially endorsed it as they had quit developing the mod to work on their commercial venture. Despite my attempt to name it "SubUltimate", fans of my submod continued to call it "the Firenze submod" so it stuck. Seeing as I add the Duchy of Florence as a creatable title in this submod, I figure: why not call it "Firenze version CK2.0"?
Alright, so what do you got to show me?
(Note: some of these screenshots are currently outdated)
First of all, de jure titles and provinces throughout the currently developed areas have been redesigned.
Modified PB's Remove Ahistorical Empires Decision, which is highly recommended.
You can become Tsar of all the Russias, but you actually have to become.... Tsar... of
all
.... the Russias....
Kingdoms have been reworked a bit.
Particularly in the HRE. The Emperor will hold the title King of Germany, as well as Burgundy and Italy unless the latter two are usurped from the Empire. There is a special little event chain that transfers these titles to the next Emperor, and it works very smoothly. At the same time, care has been made to ensure that Burgundian and Italian nobles will still seek independence, not create lots of annoying claimant factions to those respective titles, and that the HRE will not conquer the capitals of Pisa and Genoa by county claim.
Note: Lotharingia is still formable, as are some other titles that have been removed from de jure SWMH, and in future versions an event will make it de jure when it is created.
Speaking of kingdoms, de jure drift has also been shaken up, so that only a duchy that borders a de jure kingdom will de jure drift. So, for example, Italy will begin assimilating Spoleto under the HRE, not Germany. It will take 200 years of rule for the far south of Languedoc to be de jure France, Normandy will never be a de jure duchy of England, republics won't de jure drift Sicily into their realm and Leon can't assimilate Navarre while leaving Castille in-between. De jure drift of kingdoms into empires now takes 200 years.
Meanwhile, the Papal States are a de jure entity, as the Pope has claimed these areas for centuries, and historically gained jurisdiction over them as a result. A planned future feature will be to make sure that an orthodox/ERE conquest of the Papal States will result in the SWMH de jure "Exarchate of Ravenna" gradually taking the Papal States' place.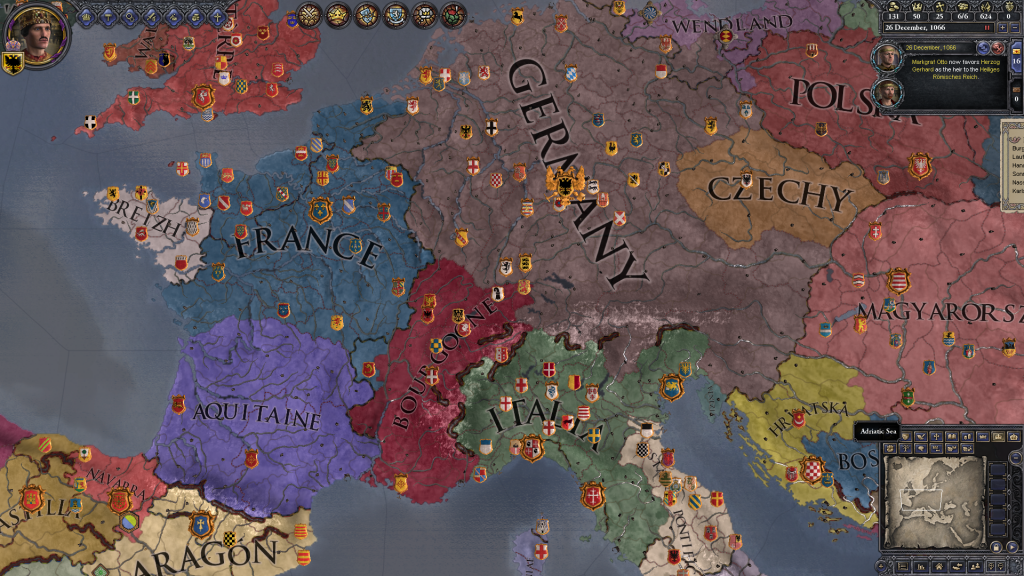 Then there are duchies as well.
Aside from reorganization, there are new requirements. Almost all duchies now require a creator/usurper to directly own at least 1 (usually the capital) province, and at least 51% of provinces, which annihilates usurper ping-pong. This also prevents kings and emperors from creating billions of anachronistic titles within the first decade and handing them out, and better represents vassals being elevated (by paying their liege for the privilege) rather than a king/emperor spending money to create himself a duke, giving him prestige, and immediately dishing out to whatever vassal he wants. "New" (as in not existing on or before 1066) duchies also require creators to be fairly prestigious. Currently under development are mechanisms for the stem duchies to dissolve under certain conditions into smaller duchies.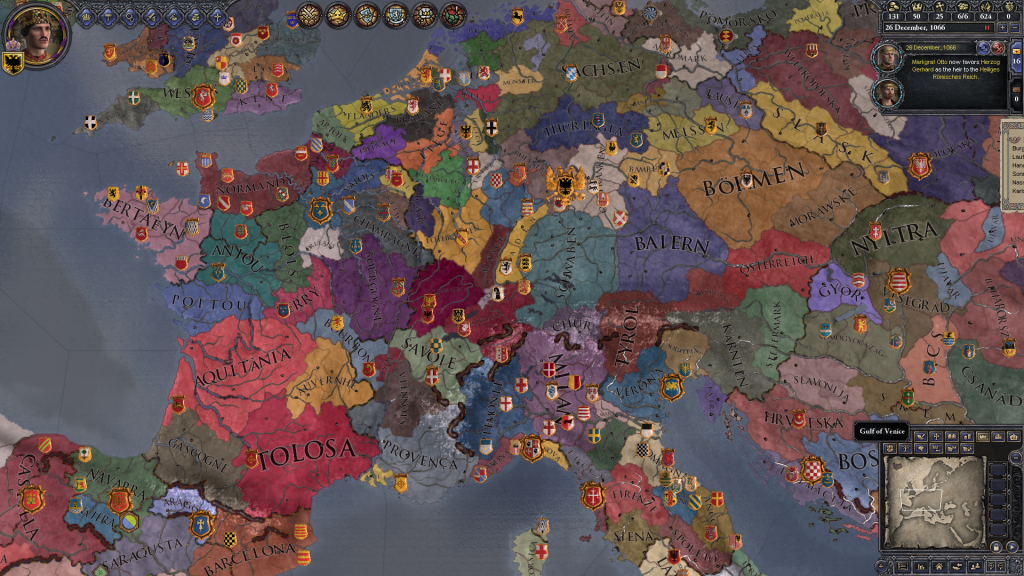 As you can see, some duchies have simple requirements...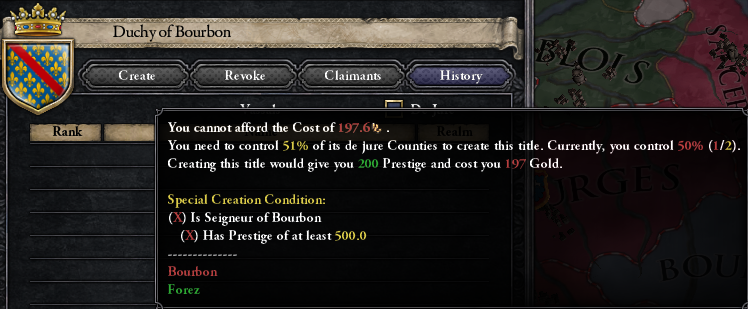 ...and others are a bit more sophisticated. But they have bigger rewards as well!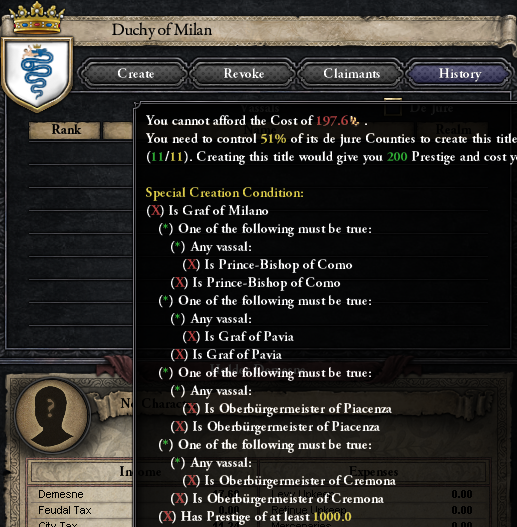 ...and a few duchies are not to be created at all. These are more to represent regions that were never vassals of any particular duchy-type entity for a particular reason, such as the French royal domain in the Ile de France.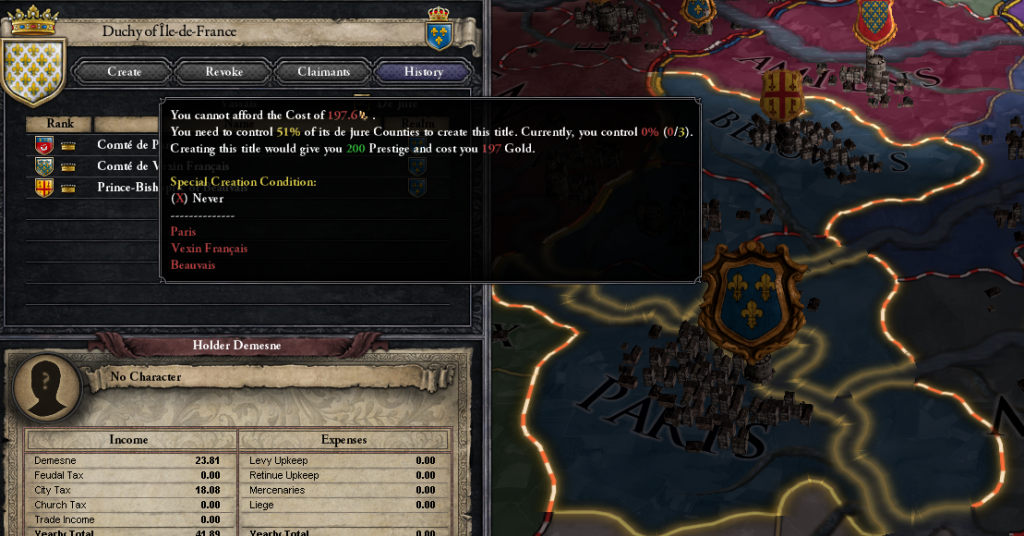 There are
new and more accurate provinces
in Germany/Netherlands and Florence.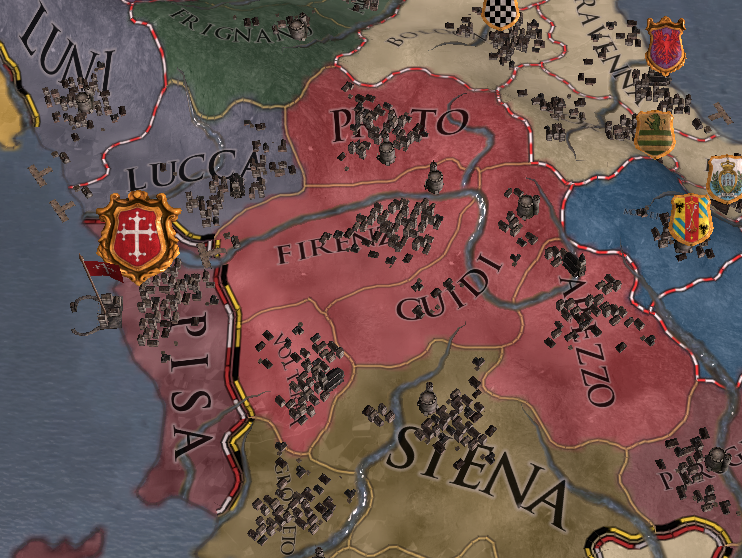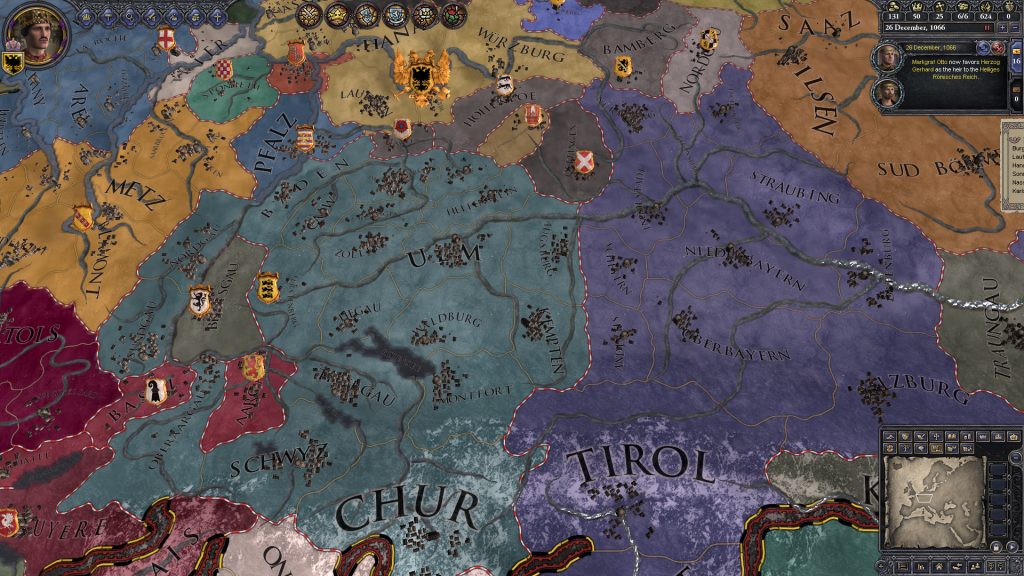 There are
new playable historical dynasties
; these were all sitting in vanilla files, actually, just waiting to be placed in titles that didn't exist in vanilla.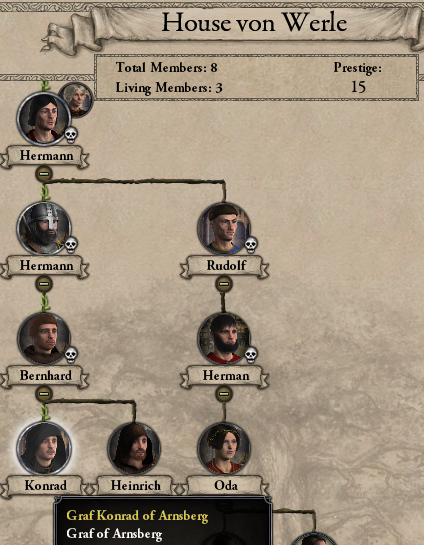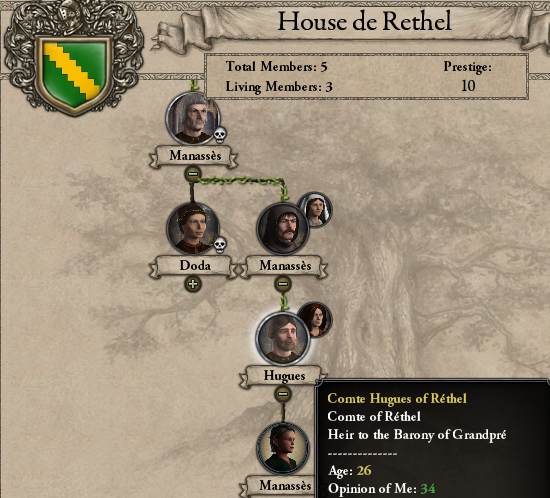 Welf, who held a barony in Schwyz, is now playable as well. He had actually inherited the castle of Ebersburg in Bavaria from his uncle: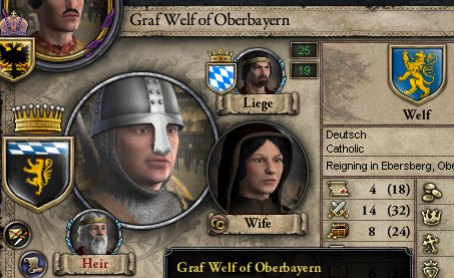 *One note here: The House of Wurttemburg has been made Counts of Wurttemburg in 1066 in order to make them playable, and also since there was no Count of Wurttemburg until Konrad arrived in 1083.
In addition to
new duchies
, there are also
new titles
; here is just one example, the Dauphine of Viennois. Others include Seigneur of Bourbon, Rector of Ancona, and Prince of Anhalt. New duchies include Anhalt, Westphalia(WIP), Florence, Siena, Romagna, and others.
Some other small features include:
Florence has a port (will be able to become Merchant Republic-WIP)
events that elevate the Savoy and Lombardia titular County and Margraviate to de jure Duchies after creation,
event that gives Paris to the king of France if the kingdom is usurped
WIP (Work in Progress) features include:
events that dissolve the stem duchies into smaller duchies under certain conditions
other "Dynamic" duchies that change de jure titles/lands similar to The Winter King mod
event that dissolves Matilda's realm and gives rise to city-states if she dies without an heir
Florence Merchant Republic
expanding duchy creation requirements to Iberia, Britain, N. and E. Europe, etc...
Required mods:
HIP with SWMH and PB+EMF installed
Highly Recommended:
All HIP modules
All DLC (except, of course, Sunset Invasion, though it is compatible)
Download:
Version 2.3 - for HIP update 2014-10-04
NOTE: there are still missing histories and localisations to be done; some one province counties, mostly in Swabia and Bavaria, are currently unplayable at start.
Credits:
Sol717 - Armenia+
Cormac91 - Historical Succession Laws Submod
This submod stands on the shoulders of giants: Aasmul and the SWMH team, Meneth, and all other Historical Immersion Project modders and contributors. It is obviously not possible without their work.
The SWMH team and other HIP modders are free to use any of my modifications in their official releases if they so desire.
The changes I have made to the SWMH map are not in any way meant to insult the way SWMH had designed it; only to make it more accurate according to my own interpretation.
Other modders may not use any files contained within without requesting my permission first; I will give it, but what you request may very well include the work of HIP modders and you will have to ask them as well in that case.
Last edited: