EDITED IN: Yeah this is just a little note to tell you that it gets better. The opening posts are somewhat short but I get better, at least I think so.
"I (name) do solemnly swear true faith and allegiance to the Constitution of the Irish Dominion as by law established, and that I will be faithful to H.M. King William IV, his heirs and successors by law in virtue of the common citizenship of Ireland with Great Britain."
- Irish Government Oath of Allegiance, 1836
​
In the year of our Lord 1836 a remarkable thing happened in the Emerald Isle. The Irish politician and activist Daniel O'Connell managed during secret talks with the Prime Minister of the British Government, William Lamb, 2nd Viscount Melbourne, arranged for the revoking of the Acts of Union. He managed to successfully negotiate a deal that would see Ireland ,while still subservient to Britain, the Crown and Westminster, become an independent entity.
This was an unprecedented move and many feel that if it were not for a whim of King William IV to support the Irish cause such a deal would not have passed the House of Lords, never mind that it had somehow slipped through the Commons. The Dominion of Ireland Act allowed Ireland to go in it's own direction so long as it wasn't viewed as counter-productive to the wills of Britain. It called for the swearing of an Oath of Allegiance to the ruling monarch of the British throne to be taken by Irish politicians so they wouldn't forget it.
It was under these circumstances that Ireland became an Independent entity on the stroke of midnight 1st January 1836.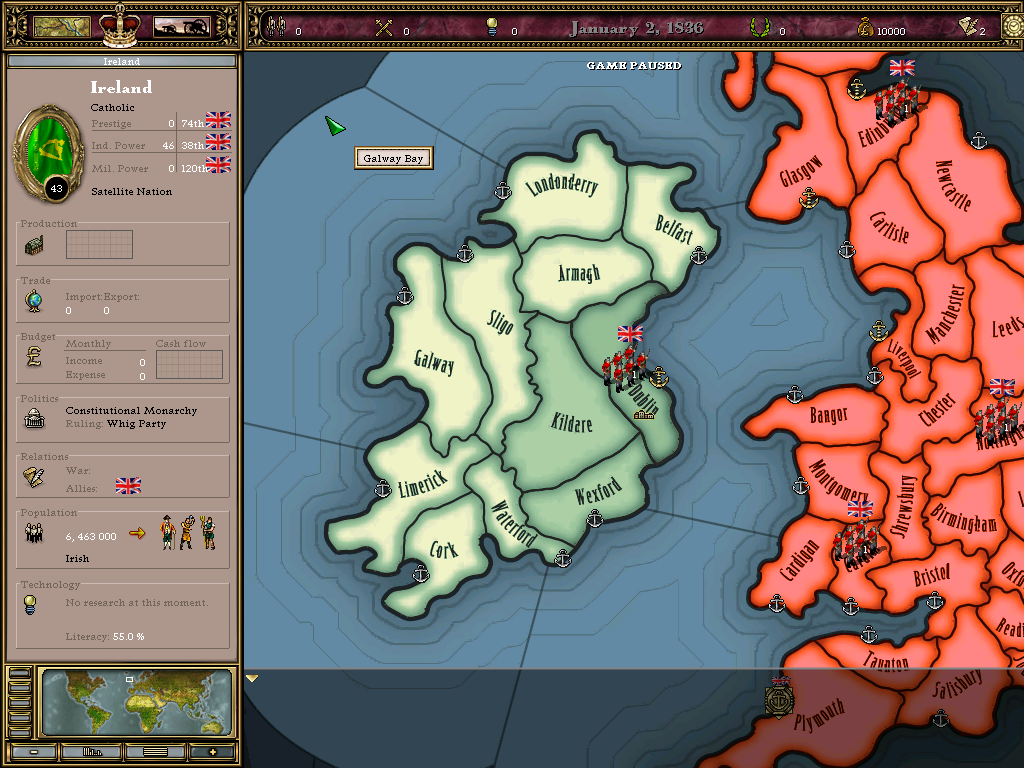 * Right so here I go. First off some quick info. I have never done an AAR before and have been on these forums only a short while. I will be playing this through Vanilla Ricky and I think I will be trying to stick to a History book style but I can't guarantee what will happen as I go along. I have some custom events made but nothing too Gamey. If all goes well, and I didn't make a joke of myself with the opening, I hope to play this through to the end.
Also please ignore where it says Satellite nation. This was before I edited that part out
*
Last edited: