Hail and well met, gentles all!
Welcome once again to the world of the Dungeons and Dragons Forgotten Realms setting.
Thank you all for your patience and enthusiasm. We are proud to announce that our second
full open beta version (0.4.1)
[GitHub] is out now (18 June 2021) and is
also on Steam
. Our team has changed a lot since our alpha release, so we thought it prudent to create a new thread for version 0.3.0 and subsequent releases.
We have made many improvements since our alpha release. For a start, the
whole map,
except for wild monster territory and one theocratic title, is now
playable on any start date from 1360 to 1385
. As of 0.4.1, much of the western and central part of the map is playable starting any time from
1357 to 1496
! Beyond that, our changes tend towards quality of life improvements, making the mod more immersive, playable, and stable. To that end, the magic system is currently a work in progress, and not all spellcasting classes can use it yet. Where you'll see the biggest improvements are in game play for humanoid characters, with a full range of classes available, and several custom governments. We have newly-adapted graphics for existing playable species such as yuan-ti and giants, and fresh graphics never before used in CK2 for newly added playable species. There's also a tutorial which introduces the new mechanics, and several other new decisions:
Version 0.4.0 added the southern continent of Zakhara, home to a powerful religious orthodoxy and a diverse range of cultures. Zakhara is still under development - subsequent versions will have more playable characters and story events for it. We've also added numerous societies, including several knightly orders, and two societies that are specific to Zakhara. Along with the new Zakharan religious group, we've overhauled the rest of the mod's religions - now you can pledge yourself to Tyr as a member of the Triadic faith, worship the sun in Elturel, make dark sacrifices to Thasmudyan in the Ruined Kingdoms, or join the Mercantile faith to make profits in the name of Waukeen.
I'd say we have succeeded in our basic goal of transporting the Forgotten Realms, and especially their central continent of Faerûn, into Crusader Kings 2. Please take and enjoy this beta release - it's intended as a fully playable game in its own right. But there's also a way to go before we can say we have fully reproduced the Forgotten Realms and D&D experience, so we welcome all bug reports, and all reasonable suggestions for enhancements.
Moving forward, we intend to create more of our own events and systems, to really make players feel like they're a ruler in the Forgotten Realms. This includes events to represent both specific and general happenings and challenges within the world of the game, a magic system that makes spellcasting characters rewarding and distinctive to play without overwhelming the core game elements, and more appropriate events and decisions for non-humanoid rulers. We're also creating magic items, and continuing to deepen and diversify our portrayal of the setting's religions.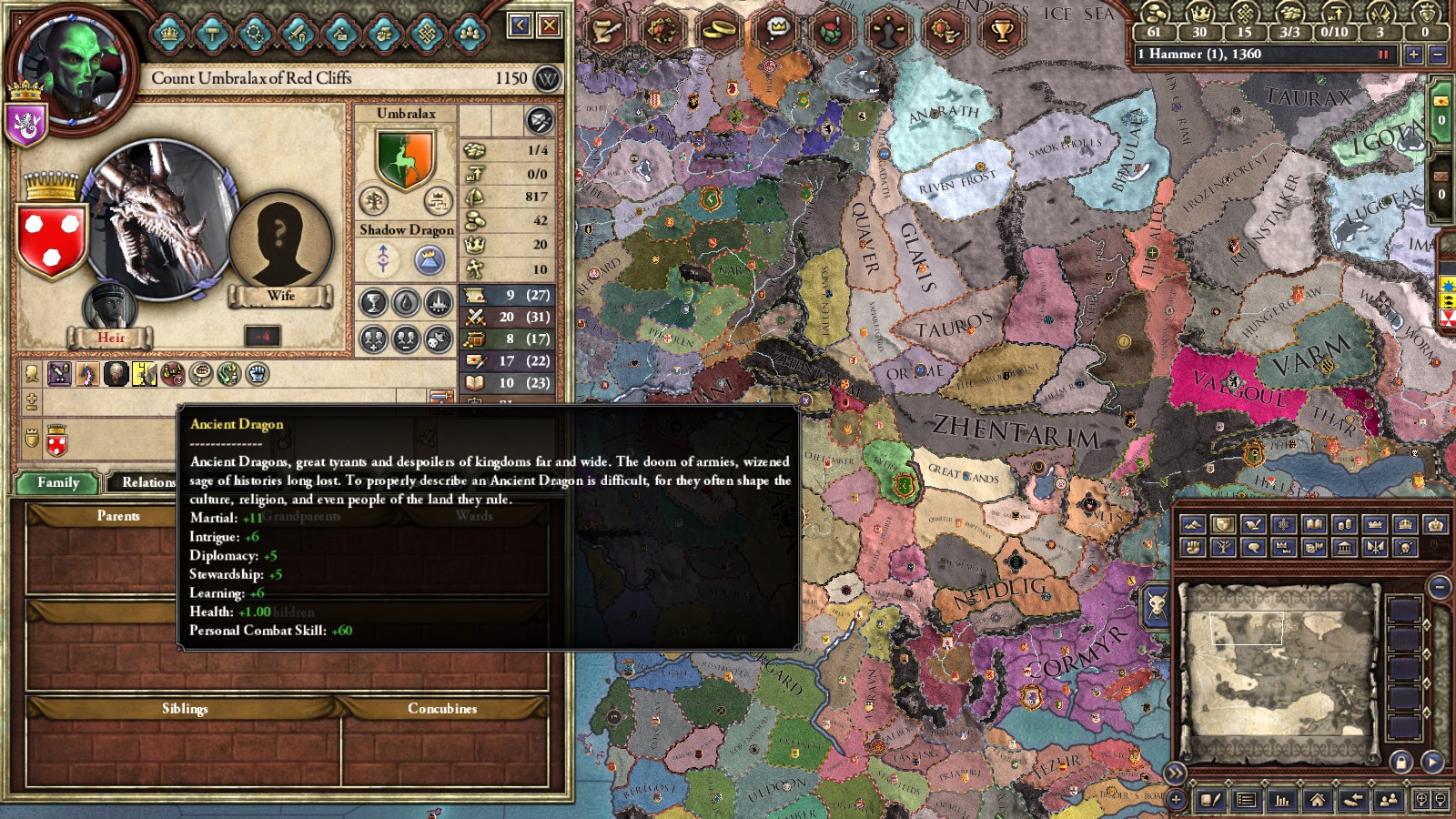 But for now, we are excited to share this release with you, a collective project of many passionate people.
Thanks again for your support, we hope you enjoy the mod.
NeutronDecay
BoneLorde/Shadeos
Dwarfnator/Teneb
EvilCatInTheHat
Nendur
Olrox
PeculiarJard
PyroDork
tsf4
Most of the non-vanilla dynamic character graphics are by Silfae from the Warhammer: Geheimnisnacht team, and are used with permission. I've based most of my edits on his originals, for which I'm very grateful. We also have some assets provided with the permission of the Project Middle Earth team and Mythos 2, and some statics by CrackdToothGrin.
The Faerûn mod would not be possible without its talented team of modders and testers.
We rely on the wonderful Crusader Kings 2 community and have be graciously allowed to use various creations from various mods.
All are presented here and thanked in alphabetical order.

Project Manager
neutrondecay

Many thanks to:

Modders:
Dwarfnator/Teneb
EvilCatInTheHat
Nendur
Olrox
PyroDork
Shadeos
tsf4

Past Modders:
Anrominder
Blood Royal
Zarathustra
Kekvit Irae
Taurenhe
Kellen

Testers:
FruityDrongo
manis12
Mattheus21
nearfuture
ramblymanguthrie
Srip
Tanrihan
Taurenhe
Thanatos
Tinitus
Xandervm

Other CK2 Mods:
Enoofu for creating the very first Forgotten Realms mod
The Middle Earth Project
Warhammer: Geheimnisnacht
Mythos 2

Other thanks
Thank you to Ed Greenwood, Gary Gygax, Wizards of the Coast, and every author who has worked on the Forgotten Realms
and Paradox Interactive for their lovely game.
PS: And you can also
come and chat with us on Discord
!
PPS: The Ruler Designer is available, but is not fully supported yet. Some options, such as lizardfolk, may cause crashes in the designer. Similarly, the Random World option is not yet fully supported.
Last edited:
14

5

4
Reactions: