So, first things first, we have a lot of threads about espionage and intel (with primary espionage focus topics), codebreaking/encrypten and so on since Nemesis release. I would suggest to collect everything in one place because it's all about the same primary topic. And the Stellaris forum know a good way to do so: A Megathread.
Most of us would like to see some improvements or at least changes (in the one or other direction) for the espionage system, so maybe this could help the devs to read opinions and experiences as well as suggestions more easy.
To the topic:
The ones of you that read my posts in the past know, that i'm a huge fan of espionage mechanics and that is why i've used the time since release to make a lot of tests with the system as a whole and each operation in particular. I've testet all of them against ai and players. And my conclusion is despite of the mechanic for the base system a kind of mediocre... I know from the other espionage threads in this forum that i'm not alone with my opinion.
What i want to do first is a review about the things that are actualy existing in the game. A later part is about some improvements for operations.
Warning: Textwall Incoming!
Passive Espionage and Intel
I'll start with a look on the intel system as a transition to espionage. Since 3.0 intel is a part oft he base game and can be collected in multiple ways ranging from base intel coming from embassies, techs, psi-ascension, edicts, megastructures and galactic Custodian/Emperor . With all of them you know already a lot about other empires without doing anything else.
Another big part of intel does come from all kind agreements. And more important: Trust! I don't want to go to deep into diplomacy but it's sometimes quite hard to find a friendly ai since the hard nerf of envoys in case of relation improvement and the refusal of unfriendly ai's to accept embassys. Especially in the early game this is a pain in the ***. So getting intel by deals and trust is of course only possible with empires you have a good relation with.
The final option for collecting intel is the core topic: Espionage. It is a safe option to gain intel over time and since intel is this important for the game and how the galaxy look to you it's part of the free patch.
It has a lot of advantages but it stands out that it isn't neccessary to use Espionage for intel. In fact, it's completely optional if you don't want to use it!
Establishing a spy network is very usefull on the other hand. It passively generates intel and is especially good against more unfriendly empires like xenophobes or militarist.
In my opinion the passive intel part of espionage is quite good and don't need much changes. And most likely it's the least controversal one too. Some of you think that espionage should only be used to collect intel and and hiding/faking your own. I don't blame anyone for that, but of course i disagree.
Now to the basic espionage mechanic. Establishing spy networks by using envoys was a good decision. It give envoys a lot of value and that boost in addition the civic "Diplomatic Corps" and of course all degrees of xenophiles. The changed Ascension Perk "Shared Destiny" now give two envoys in additon and for that, the AP is sometimes worth it. The limitation of spy networks is quite welcome, so the ability to focus on that still exists in a way.
After establishing a spy network you infiltration level and with it the intel starting to increase. At first quite fast, later on more slowly. But this is a fitting and welcome mechanic.
It's harder to get informations about the more secret parts of an empire, so more knowledge need time.
The seperation of intel in cathegories (Government, Diplomacy, Military, Technology, Economy) and the different knowledge levels of them is another cool aspect of he mechanic. The more vital the information, the harder is it to get. This is another point i for myself really like.
A side not to this: It is not possible to establish a spy network in a fallen empire. That is a real shame. Even if the lore would be, that an espionage team would be immediately uncovered inside their borders, that could change with advanced Espionage technologys. Even awakened empires are still no legit targets.
So, this is it about the intel part of espionage and the passive aspect of the mechanic.
Active Espionage
The active part is much more…delicate i would say. The espionage system has undergone some changes during the development process. It removed spy power and counter espionage as well as bandwidth.
Those who remember, i was fighting claw and tooth to get bandwith back before the release. After playing with the system for some time, i don't think it's that is neccessary anymore, but not because of mental burden. I just don't think it wouldn't actually make a difference.
Counter espionage and spy power are integrated in the two remaining stats, Encryption and Codebreaking. Both of them where passive stats and after testing, it really doesn't make a difference if there are four stats or two, the result is still the same.
Codebreaking and encryption determine the difficulty of an operation. For each point difference, the complexity changes in a range from -40% to +40%. A bigger difference isn't counted anymore even if the range from Codebreaking to Encryption is higher.
Thats ok in my opinion, it doesn't really matter if you've reached one side of this limit. You can increase both values with techs, civics, edicts and Ascension Perks. The tech is located in physics.
Now to the espionage Operation mechanic. The basic system is a extension oft he archeology mechanic. And that is maybe the coolest part of it. Each operation has a difficulty that is modified by Codebreaking, Assets and Edicts.
In addition there are a lot of side events depending on your operation difficulty and infiltration level. This can be good and bad
You even get some additional options if you still have network capacity left. Sometimes you can save an asset or get additional advantages. Locating additional resources to the operation can help too if your spymaster ask for them.
This system is at least from my point of view incredible fun to use and i thank the dev team for going this way!
The next part are Assets.That is another brilliant addition to the system. Each Asset increase the maximum infiltration Level by five. But you never can get above 100.
It's important to note, that even civics like "Shadow Council" that give +10 max Infiltration Level don't extend the maximum capacity over 100. That is the first point i really dislike. The base cap should be improvable if you sacrifice a civic slot for that!
Each Asset has two Cathegories they excel, what is a good idea, so you may try to collect assets until you have one, that fits both cathegories of your planned operation. The first cathegory always come from one oft he operation types (Manipulation, Sabotage, Subterfuge and Provocation). The second is one of the intel types (Government, Diplomacy, Military, Technology, Economy). It's notible that i never could manage to get an Asset with a specilization in "Provocations". Maybe they don't exist (most likely) or are very rare.
There are two ways to get an asset. The first, the main way, is to use the operation "Aquire Asset" (more on this later on) and the second is by events during operations.
Assigning an Asset to an operation can make it significant more easy because oft he skill bonus that comes with fitting operation qualitys!
Each fitting quality increases the skill bonus by +4. So if both are correct it's +8.
The Asset system massively spi(c)es up your Espionage operations. And it's really fun to collect them to get each possible combination. The randomness of the Asset you get is absolut fitting and part of the fun. You want to do something exceptional and don't get caught? Prepare it!
Operations
There are nine basic operations in the game and three special ones, that depend on the situation. Each operation require a certain infiltration level and in addition have a Difficulty attached to it. The lower the difficulty, the better the chance for a success.
Each Operation have one of the four obove named cathegories and all of them except "Gather Information" have a second (intel) cathegorie.
Each operation has a energy cost to start it, as well an upkeep during the mission. The idea behind that is clear and logical. But the costs aren't balanced in any way!
Especially in the early game it's very hard to do espionage because the start cost is exceptional high compared to your energy income. And the upkeep can ruin you too if you're not carefull. This really needs to be adjusted. The main reason is, that espionage operations with the actual system loose value the further your game advances. At the time where espionage actions are cheep compared to your income, you most likely don't need them anymore except for some rare exceptions.
So, let's have a look at the operations one by one. I want to seperate them in three cathegories: Good, Decent and Bad, give an conclusion fromm y point of view and a Tier rank ranging from S to F.
The good ones:
Gather Information (Subterfuge):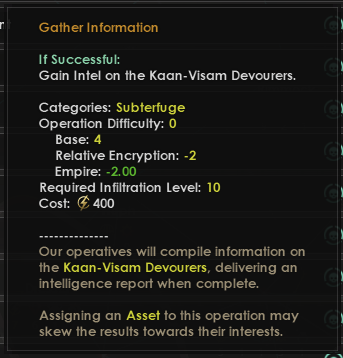 This operation is depending on the goal of the operation quite good! Even if you have only a low intel on the target, this operation give you some insight. It advances you intel in one or more cathegories for a cetain time. The amount and time depends on your operation difficulty and asset. The Asset can even determine what kind of intel you get (depending on it's intel cathegory). Very nice! This is the only operation that not require Nemesis.
Conclusion: A good operation that do exactly what i expected.
Rank: A
Aquire Asset (Subterfuge, Government):
This one is huge! It's by far the coolest and most usefull operation in the stock. An Asset is always valuable and can prepare other operations as well increasing max Infiltration level. The only operation that is worth it's energy credits.
Conclusion: Exactly how it should be!
Rank: S
Extort Favors (Manipulation, Government):
This one is really good too! Later on, favors can get wuite expensive and whats more important you can get them from empires that really don't like you normally. With a fitting Asset and some advantage in Codebreaking you even get more than one favor!
Conclusion: A good operation, especially later on.
Rank: A
Steal Technology (Subterfuge, Technology):
This one is quite usefull. You get progress in a tech that you actually don't own and depending on your Codebreaking and Asset it can be a good amount! Actually i didn't manage to get a complete tech, but i think this is maybe possible. The biggest benefit: That tech show up permanently in your research area and can be researched anytime!
Conclusion: Good, but loosing value if you're the most advanced empire (endgame).
Rank: A-
Prepare Sleeper Cells (Subterfuge, Government):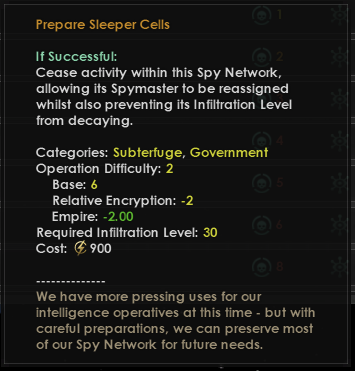 You're envoys are limited and maybe you need to switch them to your federaten, the GC or another empire. Do this operation and your spy network doesn't break down. Normaly you get 180 month before your network decays. If you sacrifice an asset, you can double that time. In addition it increases the skill level by +1. But only one sleeper cell can be established. The sleeper cell is not consumed during operations.
Conclusion: Absolutely fulfill it's purpose. The skill bonus is quite nice too.
Rank: A+
Notably here: None of these operations up to here has any direct impact to the target empire but give you some advantages. The closest thing to harm your target is Extort Favor. All of these don't need a change, they are good at the moment and fullfil their purpose.
The decent ones:
Smear Campaign (Manipulation, Government):
The one operation where i put all my trust in…and got heavy disapointed… Without a good advantage in Codebreaking and a fitting asset, the target of your smear campaign can't be chosen. So it's random. As soon you get that advantage you can choose. But only between the three targets with the best relations to that empire. And thats a real shame! Most of the time i wan't to target a neighbour empire to spark a war. But as soon the relations aren't the best it's no target option anymore. So it's hard to archieve anything. If you get the correct target, the relations can decrease by a good amout (~80). But the problem is, even if the operation is successfull, the target has still a choice! I've tried it against a player and the result was a screen to denounce the empire (relations -80) or keep quiet watch. In the last case, nothing happens…
Conclusion: Sometimes usefull, but far to easy to avoid and much to few targets selectable.
Rank: C
Spark Diplomatic Incident (Manipulation, Diplomacy):
This one is similar to the Smear Campaign. The difference is only in the target selection and a slightly smaller opinion loss if successfull. And it has the same problem like smear campaign, a player can choose to sacrifice 10 Influence to avoid the opinion loss. Always. The ai will most likely have a similar chance to loose opinion here (around 50%). And it doesn't seem to work against Gestalts.
Conclusion: Good idea but far to easy to avoid…
Rank: C
Crisis Beacon (Provocation, Technology):
The idea behind this is good. It's situational because it requires a running endgame crisis (the Khan can't be hooked
). It's a expensive and hard operation that cost you a lot of energy and much of your spy network. That could be ok. If it would work. I activated three beacons in my last game against the unbidden. I selected different targets and even different factions (unbidden, abberant). And in all three cases, the crisis didn't move despite the fact that i got a confirmation that it worked. I think thats a bug in the crisis and not of the operation. But not sure.
Conclusion: Good idea and quite powerfull, if it would work.
Rank: B (potentially)
Arm Privateers (Provocation, Economy):
First: Don't know why this is a economy and not a military operation, but ok. This one could be a very good distraction if you want someone stab in the back or get the attention off from another thing. The problem: The operation don't work! The last step is frozen. It says that the privateers are armed and ready, but they don't appear and i don't get an confirmation. I'll upgrade this text as soon that bug is fixed.
Conclusion: Potentially good distraction (?)
Rank: B (potentially)
The operations in this cathegory are mediocre at best and need some upgrades to be usefull. Notably is that all these are operations that could potentially have some real impact against an empire and my fear is, that they are weakened by intent. Some are boring to use now because of the random (against ai) and worthless (against player) outcome, the others are actually bugged.
The bad one:
Sabotage Starbase (Sabotage, Military):
This one is…just bad. Yes you can select the starbase you want (from all of them, not only three)! But what is does is rediculous. I've tried it three times and at least for me the result was always one building. Even with an perfect asset. Maybe i had bad luck. But as long this doesn't deactivate the entire starbase it's never worth it's money. On the other hand against a player this is annoying as hell. Everyone feared that something like that could happen and even me as espionage enthusiast was skeptical. If it would do something usefull, then it would be ok. I'm even willing to be target of that. At least it's only a starbase and thats a mediocre defense in the late game at best.
Conclusion: This need a major overhaul. It's not worth it's credits and just annoying actually.
Rank: F
This operation could be a major way to interact with a target empire in preparation of a war. But it seems the more impact an operation could have, the heavier was the nerf before release. We will see if there are changes in the future.
Special operations:
There are two special operations availlable after establishing the galactic empire. The one is for spark a rebellion, the other for stop a empire to undermine the imperial authority. Both are situational and of course quite usefull. I don't want to give them a rank or a conclusion because they do exactly what to expect.
Tip:
What some players have missed is the small menue at the right side of the espionage screen:
This one show you all your intel on other empires and you can see if there is a established spy network or not. A nice quality of life feature that anhances the intel galaxy map mode.
Question: Actually it seems that the espionage bonus on codebraking and encryption for the galactic emperor is missing. A bug or intended?
So, this was the review. Now to some small improvement ideas at the end:
Like i said, the base system is fine. Even my wish for parallel operations isn't that present anymore. What i would like to see is an option to keep the final step of a ready to commence operation and store them up to maybe three. This would give the parallel effect without running the primary operation simultaniously and could be a kind of alpha strike for some operations. That is the only change to the base system i would make.
The rest is about the operations. Of course i have a lot lof ideas for more of them and i make a mod actually for that, but i want to focus on the existing ones.
-The operations in the "good" cathegory don't need any change from my point of view. They are fun to use and fit the flavor.
The Decent cathegory is a different task. The idea of these operations is really good, but most of them don't have enough impact.
Especially the smear campaign and the diplomatic incident actions are far to weak. There should be always a opinion loss involved even if you try to mitigate this (it could halve the impact but should be modified by difficulty and asset).
The Crisis Beacon and the Arm Privateers operation are maybe good, but the actual bugs don't let me test that completely.
And in the end there is Sabotage starbase. This one should be reworked in "Deactivate Starbase" and shut it down similar to a destruction during a war with increased reactivation time. Normally it's a 30 days cooldown, not enough for a good planned attack. I would set this to 300 days and we are fine! Of course not destructions of a building anymore.
Maybe a implementation of a espionage focused Ascension perk would be the right way. Gate some improved/additional operations behind this and espionage could become the system i really was looking for!
I hope you liked the review and some of my improvement ideas.
Thanks for reading!
Last edited:
28

11

3
Reactions: