I looked at Polandball, and decided to adapt it into an AAR. This week will be low on updates(just this one, really), but the next week shall be much more active. The major explanation will be below the comics themselves.
Rules/Settings:
-No cheatin'
-No exploitin'
-Nothing majorly unfair
- DW, 5.0
- All default settings except Lucky Nations(OFF), as of Chapter 8 I have lowered the graphics, however.
- Switching to another nation every 100 years.
- 1399 start
-Table of Contents-
1 - "Teutoniiiiiiics!": This one here, lazy.
2 -
"France is Delicious"
3 -
"Everybody Point and Laugh"
4 -
"ASSIMILATE"
5 -
"Exhaustion"
6 -
"A bad omen!"
7 -
"Thievery and Betrayal"
When are updates?
8 -
"The Return!"
I update the comic 1-3 times between Thursday and Sunday. Depending on the situation, more may come out during the week itself if things work out well.
And with that, here are the first three comics.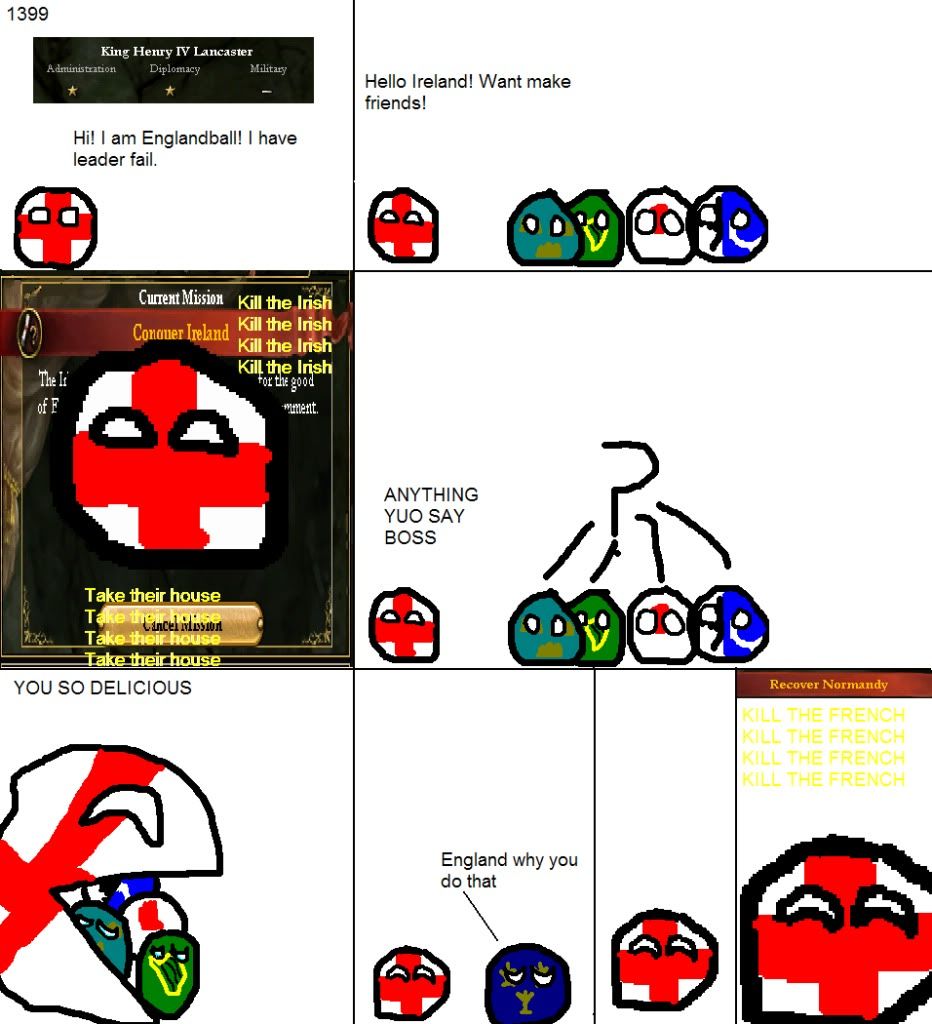 -What happen: I started the game, immediately got an offer from Teutonic Order(didn't fit in right), and then God told me to kill all the Irish people. It was great fun. Moved 1 towards Offense(-1), and put my money into Production and Land.-
-What happen: Remember that alliance I mentioned? It fit here in a perfect example of how Cascading alliances get ridiculous.-
-What happen: I was just about to attack France while they were preoccupied with Bohemia(the usual), then Denmark/All of Scandinavia attacked the Teutonic Order over a useless island. I was just going to demolish their navy. Instead, they beat mine with a measly 11 ships then TOOK 2 ships. I'm going to use my rage on France now.
Oh, and Sweden routinely attempts to invade me.-
Author Note: Now, you might be wondering "why is this so blurry". The answer is that Imageshack doesn't work for crap, and Photobucket decided it would be HILARIOUS to convert everything to a jpg file.
Last edited: