Alluccate: "Viva 'o Rre!!!"
84 Badges
Hello everyone! Yesterday I completed the last Monarch Journey with gold in all challenges and I would like to share pictures of my empires for all the Journeys. I find this a good way to celebrate the great game that CK2 is, just before the release of its successor! These screenshots are taken from my last savegames for each Journey; I tried to consolidate a savegame when I got sexy enough borders. Some of these savegames are worth to be played further; as I said in another thread, it would be great if the savegame files could still be accessed even if the Challenges are taken down.
Even if I played bronzeman, I almost never reloaded the game before getting gold in each challenge (after this was done, I took some more liberty). Exceptions are the Liao challenge, where I reloaded on occasion in order to get the 200 provinces mark (I am not that expert of nomads) and when I did clerical mistakes, such as selecting the wrong CB or the wrong option in an event. In such cases, I would reload the last autosave on January 1st.
Without further ado, here are the screenshots.
1. Konan de Rennes
, and descendants. The very first challenge, I concluded it as soon as I got the very sexy borders from the 15 provinces mission. It is also one of two challenges where I did not create an empire. Natural continuations of this game would aim to the creation of the empires of Francia or Britannia, but I would find it cooler to culture-shift to Norman, win a crusade, and attempt the creation of the Empire of Outremer.
2. Llywelyn Aberffraw
, and descendants. In this challenge I successfully invaded England with the first character. The rest of the game was spent consolidating the Empire of Prydain and trying to get those nine dynastic dukes in order. I tried to inherit France/Aquitaine, but to no avail.
3. Saad Mordechai Al-Dawla
, and descendants. An extremely fun game, played as a Jewish vassal of the Ilkhanate most of the time. Lots of intra-dynasty intrigue; the Plague transferred the kingdom between agnatic branches of the dynasty. With the last character I managed to create Israel, make it an Empire, and win Egypt for a vassal in a Great Holy War, even if lacking some provinces.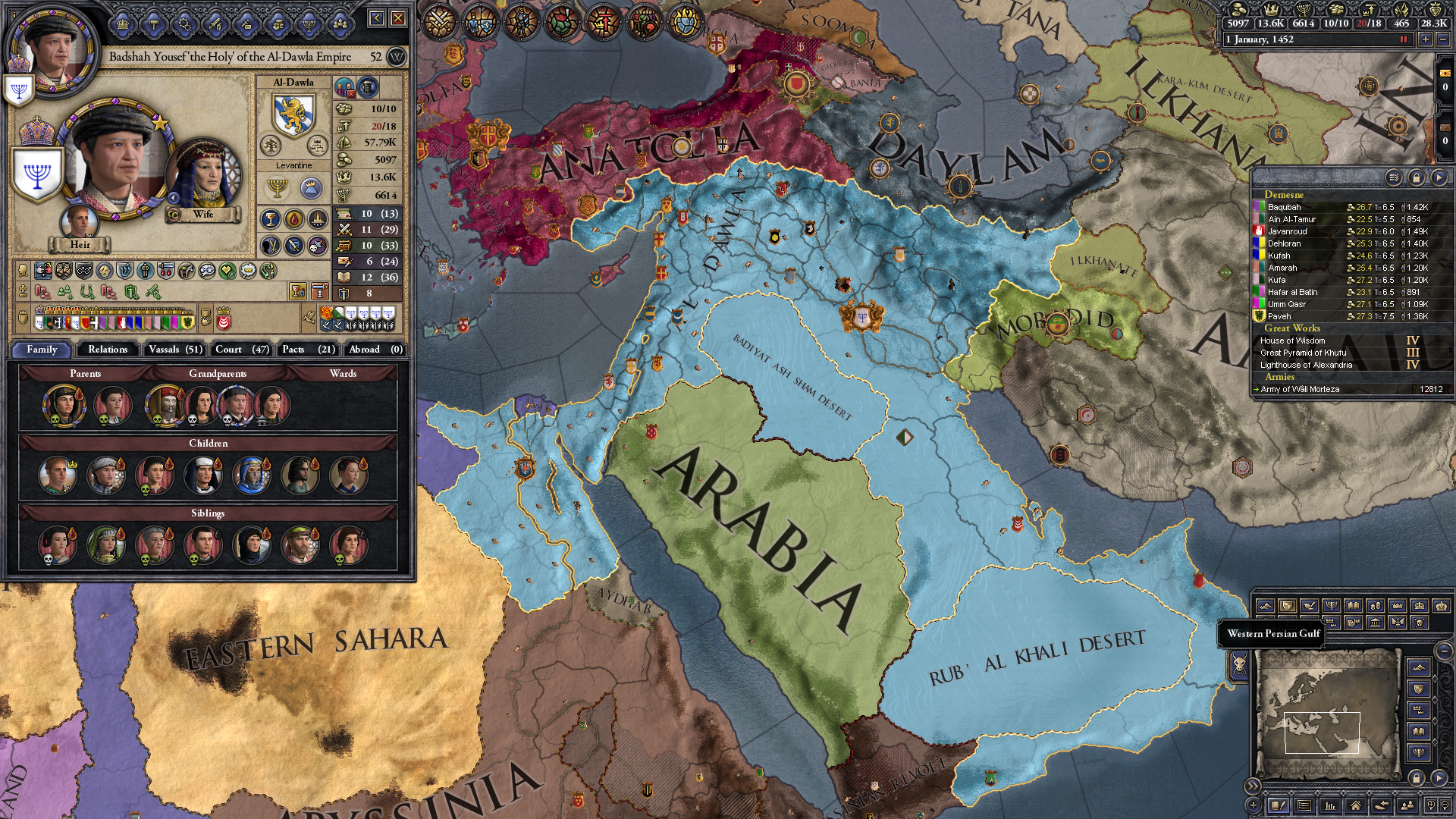 4. Konstantinos Angelos
, and descendants. A typical long Byzantine-into-Roman game. I shifted to Roman culture (but not Hellenic religion, for roleplay reasons) only when I managed to re-create Justinian's borders. Would it be possible to get the classical Roman borders by 1453 in this savegame? Perhaps, if one manages to get a claim on that huge Britannia...
5. Louis Karling
, and descendants. This is also a classical Karling game, and so one that can quickly get boring. If I were to continue this game further, I would culture-shift to German, create the HRE, shifting it to Primogeniture, and attempt a world conquest. The current eastern borders are not so sexy, but it is a mess of an empire to control.
6. Shajar al-Durr Bahri
, and descendants. After the first character it became a typical (male) Sunni middle eastern game. It was fun to repeal the first couple of crusades, but it got tiring afterwards. It took me ages to eradicate the Abbasids and usurp the Caliphate. After Jihads are accessed, the game becomes too easy.
7. Pavao Subic
, and descendants. This was a fun game, but I had to restart it several times in order to get a good opening. I managed to inherit Hungary when I was already established in the Balkans. Note that all duchies in the empire of Carpathia are viceroyalties. Solid empire.
8. Arwa Sulayhid
, and descendants. I also restarted this one several times as I tried to actually convert Hindus (with restricted diplomatic range!) before realizing how futile that was. After I had become big enough and created the Shia caliphate, the game got too similar to the Sunni Bahri game from two challenges before and I stopped it. A natural continuation would aim at neutralizing the crusader states that have emerged in the Levant following the collapse of the Sunni religion.
Last edited:
3
Reactions: