The Election of 1784​
The election of 1784 was a hotly contested one, but one that ultimately saw all the parties grow their position at the expense of the Independents. The war against Malwa swayed a few votes to both sides, with those glad at the expansion of the Indian colonies drifting towards the Imperials or Reconquista, while the more pacifist voters who saw it as a waste of lives tended to vote for the Phoenix party. A similar trend occurred in regards to the war against Austria, but the numbers did not sway that much. The Parta Marina saw a steady influx of votes due to the increasing number of voters favouring trade as a key issue, as well as the passing of the Elementary Education Act. The Cortz saw a similar trend, but in fewer numbers. The Crown Prince coming of age meant that he took his seat in the Cortz. Perhaps not that knowledgeable of politics, he did not side with any party at the outset. Most surprising of all though was the first Phoenix Cortz member. One of the more left-leaning nobles had taken up their cause. What this meant for the future of the Cortz was yet to be determined.
Assembly
Independent (Appointed) - 74 (0)
Independent - 49 (-28)
Imperial - 38 (+3)
Reconquista - 23 (+6)
Marina - 40 (+11)
Los Campos - 45 (+2)
Phoenix - 31 (+6)
Cortz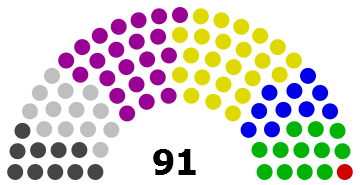 Independent (Crown) - 10 (+1)
Independent - 13 (-8)
Imperial - 22 (+2)
Reconquista - 23 (+2)
Marina - 10 (+3)
Los Campos - 12 (0)
Phoenix - 1 (+1)​
((I'm having some difficulties getting the images for the elections posted. First the parliament seating site went down, and after it finally started working imgur decided to refuse to upload any image. Had to go back to photobucket just for these. What a nuisance.
As for the 1788 Election, that shall come later. Just need to work on the numbers.))
Last edited: