The War was over. Germany had lost. The last desparate push for victory had smashed against the trenches of the Allies. Bolstered by their new American friends, the British and French had held firm, and Germany had fallen, exhausted.
1919 was the year. The shrunken Austria declared itself part of Germany. After much deliberation and (humiliatingly) outright pleading from the interim government of Germany to the Americans, the Anschluss was approved. Germans welcomed the news, unsuspecting of the outrages to come.
France was enraged by the American concession, and demanded a reversal of the Anschluss and the harshest possible terms placed on the Germans, perhaps even going as far as tearing the German state asunder.
The American influence could only go so far. The Treaty signed in the Palace of Versailles was brutal to Germany. Her colonies were ripped away, lands that had been German for three hundred years given to a Frankenstein Poland, Elsass-Lothringen was lost to the French again. The once-proud German Army was reduced to 100,000 men, the Navy abolished. Germany was forced to pay war indemnities to the French for an undetermined amount of time.
Germany accepted these terms. What else could she do? But anger rose up in the Fatherland...
France signed an alliance with Italy in June of 1919. The enlarged Serbia joined shortly afterwards. The bastard French even went so far as to sign an alliance with the Bolshevik Communists in the East. Germany was surrounded.
Other nations realized the plight of the Germans, however. Hungary, also shrunken after the Great War, signed a Defensive Alliance with Germany. Sweden went further, declaring a full alliance with the German Republic. The most welcome news came in December, however. The United States guaranteed the new borders of Germany, and declared she would protect Germany in cases of aggression.
It is now January 2, 1920. The German Republic has had its first election, and the new
Reichspräsident
stands by the windows in his office, casting a cold look over the city of Berlin.
Suddenly, a realization.
"
Mein Gott
, I have no idea what I'm doing!"
The German Republic
(Those extra troops? Oh, they're...um...'Border Defense Patrols'... from Austria. <_< >_>)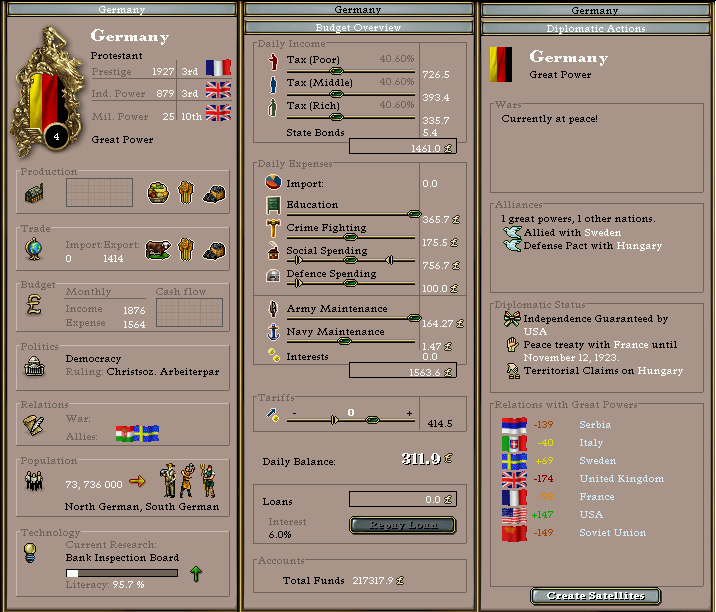 Stats of the German Republic.
---------
I'm using the 1919-1933 Scenario mod, with my own special events for a 1919 Anschluss (self-determination!) and the No Time Limit. Since it's NTL, I dunno when it'll end. Maybe when GERMANY ALONE STANDS, AS THE SUPREME OVERLORD OF THE ENTIRE UNIVERSE! AHAHAHAHAHAHA*cough*
Now, since NTL is involved, this will pass through the 1933-1945 years. Please abide by the forum rules in your comments, as I will in my AAR. Also, the Nazis will not win, I can tell you that right now. So, let's speak of this subject no more.
Last edited: