Rallying the Troops
Rallying the Troops​
February 5th, 1556
Imperial Villa, Athens




Zimisces, King of Hellas, sat on his throne, eagerly trying to listen to the words of the chattering priests around him. They shouted 'We need to raise our armies' and 'No, we must create a great uprising with our Greek brothers in the north', and some 'We need support from other nations to fight the Turks'.

A revolutionary ran up to the throne "King Zimisces! There is a man here who wishes to to see you! We were not told that he was arriving, and the guards tried to force him back but-"

"Greetings, King Zimisces!" smiled Vasili Demakis. He was holding a Venetian arquebus in hands pointing the trail of five guards in front of him. "Keep moving boys."

Zimisces laughed. "I'm impressed, Vasili. You managed to fend off five guards and hold them at gunpoint. Perhaps you need to whip them into shape?"

Vasili and Zimisces laughed. Vasili put down his gun and patted Zimisces on the back. "Very good to see you again, King of Hellas."

"I've learned that a visit from you isn't always the best thing to happen. What news to you bring?" Zimisces said.

Vasili's face went from happy to solemn. "My associates in Crete inform me about the Venetians' plans. The Doge has declared war on us and will try to strike at Athens."

"War? Damn those Venetians. You can never trust the Dodge of Venice!" agrily said Zimisces, his teeth now gritted. "Wait a minute, I though the Venetians were at war with the Ottoman Empire?"

"Yes, that's right." answered Vasili.

"So we are at war with Venice and the Ottomans, who are fighting each other as well," he contemplated. "Perhaps their war against each other can let us off the hook. Fathers, what do you reason?"

"A war with Venice can be a very dangerous thing!" shouted Father Kouli, an Athens native. "Perhaps if we give them the lands they claim, then our war with them will be over. We need only grant them Morea and Ionia-"

"Only Morea and Ionia?" sarcastically remarked Father Panagiotis. "This is most of our country that you speak so lightly about!"

"But the Venetians are not the cruel oppressors like the Ottoman Sultan. In Cyprus, the people were permitted to keep there religion, and many Greeks on the island have prospered as merchants," responded Father Kouli.

"I think we should fight," said the frail Father Thanasis. Everyone looked at him. One of the oldest men they had ever known, Father Thanasis was a priest from the island of Samos. He was the representative of the island's priests in the Assembly of Nauplion, and even the soldiers attentively listened to his words. "Are we so afraid that we would give up a war that has not yet been fought. This Doge of Venice, he is a treacherous one. The Doges took Constantinople by betrayal, and ended the Empire's chance of survival against the Turks. And now look at them. They are forced to fight the Turks! I say we raise our armies, and raid the Venetian coast! But we cannot afford a battle. We shall play dirty, like Venice did three hundred years ago."

"Very good words, father. Vasili, I am eager to hear your opinion?" asked the King.

"My opinion, King Zimisces? It does not matter what I think. I will lead armies against the Turks if that is your wish. I will send a letter of surrender to the Venetians. I will even lead the men in open battle against Venice. It is your decision, and I am afriad I cannot give you my counsel," humbly said Vasili, bowing to the King.

"Very well, Vasili. We shall fight both of our enemies. We shall wage war against the Turks who seek to rule us once again and against the greedy Venetians who claim our lands so they can gain wealth from them. Fathers, go and tell the people of my decision. Vasili, I need you to and recruit as many men as possible. We are to raise an army to free the Greeks in the north and east. Long live Hellas!" cheered the King.

The priests nodded their heads in support and the soldiers raised their swords in ceremony. The room filled with the phrase "Long live Hellas!"
__________

February 10th, 1556
Korinthia (Corinth)

"Siko Pano! Siko Pano! Dimitri! SIKO PANO!"

Dimitri groaned in his bed. "... no... it's too early..."

"Dimitri, get out of bed now! There's a meeting in the town square at noon! Hurry, you'll be late!" yelled hus mother.

Dimitri closed his eyes again. "... big deal... how much time till noon..."

"It's already noon!" scolded his mother.

"Already noon!" he exclaimed, jumping out of bed. He frantically tried to put on his clothes, while his mother went into the hallway. He ran into the kitchen, to find his mother baking some bread. "Mother, why didn't you wake me up sooner?" he complained.

"I did," she smiled. "Hours ago. You said you would get up on your own."

"And you believed me?" he said.

His mother smiled again. "Take some fruit. You'll be hungry." Dimitri crammed an apple into mouth and waved goodbye.
__________

February 10th, 1556
Town Square, Korinthia (Corinth)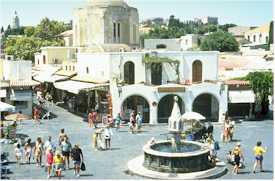 Dimitri was running as fast as he could now. He could make out the church at the south side of the town square. A large crowd of men were gathered at the front of it. He ran faster trying to get to the meeting quickly now. He could now make out the voice of the speaker.

"People of Korinthia, I bring word from the King!" he began. "Long have your people been a great influence on Greece and on Europe. Was it not you who flourished as a people and founded the great cities in Asia Minor?"

He heard the people cheer.

"Was it not you who joined with Sparta and defeated Athens in battle?"

The people began to cheer much louder. Dimitri finally made his way to the back of the crowd. He couldn't make out the speaker on the church steps, so he tried to inch his way up to the front of the crowd.

"People of Corinth, was it not you who lived under the rule of the greedy French knights and eventually ousted them out?"

The people cheerd even louder than before.

"Then people of Corinth, spearheaders of Western culture, fierce warriors, and brave souls, your fellow Greeks call upon you now to defend your country from the oppressive Turks and treachurous Venetians! Do you accept the call to arms?"

The crowd cheered uncontrollably and bagan to shout 'Long live King Zimisces!' and 'Long live Hellas!' Then they shouted 'Long live Vasili Demakis!' Vasili Demakis? thought Dimitri. Was this the great leader of Greek troops that he had heard tales about. He was here in Korinthia to lead the men to victory and safeguard the Greek nation. Dimitri was ready, for he was going to war!
Last edited: