First Lieutenant
74 Badges
I would just like to start off by saying this AAR was approved by Myth.
If you would like to read the first part of the AAR please pop over to:
http://forum.paradoxplaza.com/forum...ign(may-be-pic-heavy)&p=16156774#post16156774
For a quick summary of the first part of the AAR, as the Salian dynasty I slowly rose from count to Emperor of the HRE and converted northern France and Poland to a Germanic culture. Russia became Muslim along with Spain, and the Norse reformed and conquered the British Isles. I would recommend reading at least the final update of Part I.
So finally now that that's out of the way. Hello! Welcome to the AAR, as stated in the title this AAR is "mildly interactive" what this means is occasionally you, the audience, will be presented with a few specifics options you may choose between and cast a vote. There will be a set time period to vote so make sure you're in that time period. Also, you may state in your voting post why you are choosing a certain option in an effort to persuade other players but please to not rebut or debate options with other players in thread as it spirals quickly out of control. If you would like to recast your vote, and it is still within in the time frame please signify in bold that you are revoting and what you voted for initially, this way I can properly tally the votes.
Now to begin!
Chapter One: A Changed World
The Treaty of Genoa sent tidal waves across European politics. The decentralization and weakening of the Holy Roman Empire led to uprisings of oppressed people who felt they no longer needed overlords to protect them, leading to a major balkanization of the world.
Russia specifically experienced large scale turmoil. Without a powerful German threat a strong Islamic Russian Kingdom, Muscovy, was able to rise up,throw off mongol overlordship and reinstate the Seversky family that formerly ruled Rus before the arrival of the Il-Khanate as Monarchs. While isolated from any potential Muslims allies Muscovy has nigh unlimited room for expansion and could become a major power.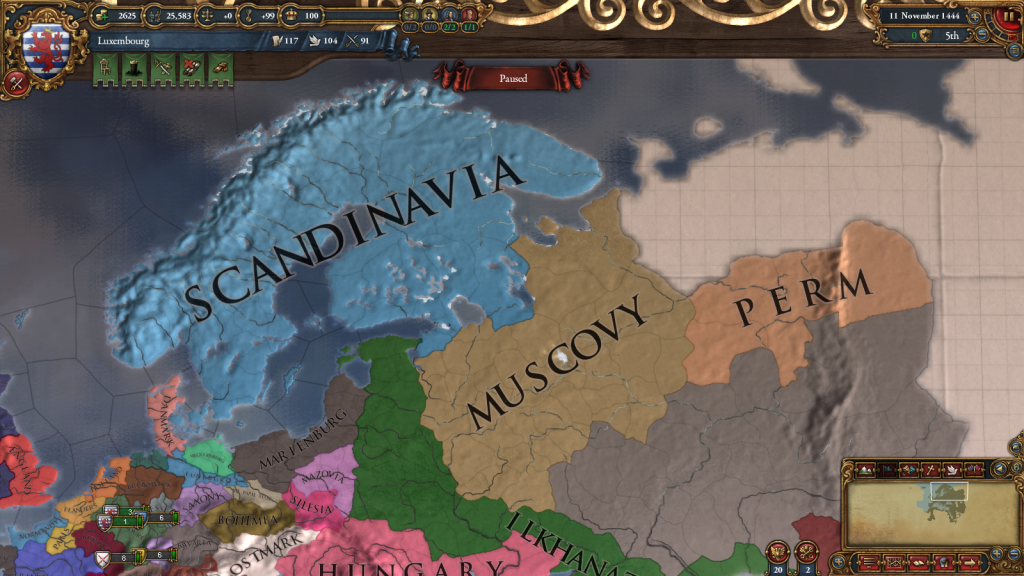 In the Near East and the lands of the Greeks, Byzantium has successfully weathered the crisis of revolts and emerged fairly intact. Mesopotamia has been joined in a personal union with Byzantium proper, while its Italian possessions and Serbia have been granted independence and allied to the Empire. Even without its Italian lands and Serbia, Byzantium still fields the largest army known to Europe and brings in the most income.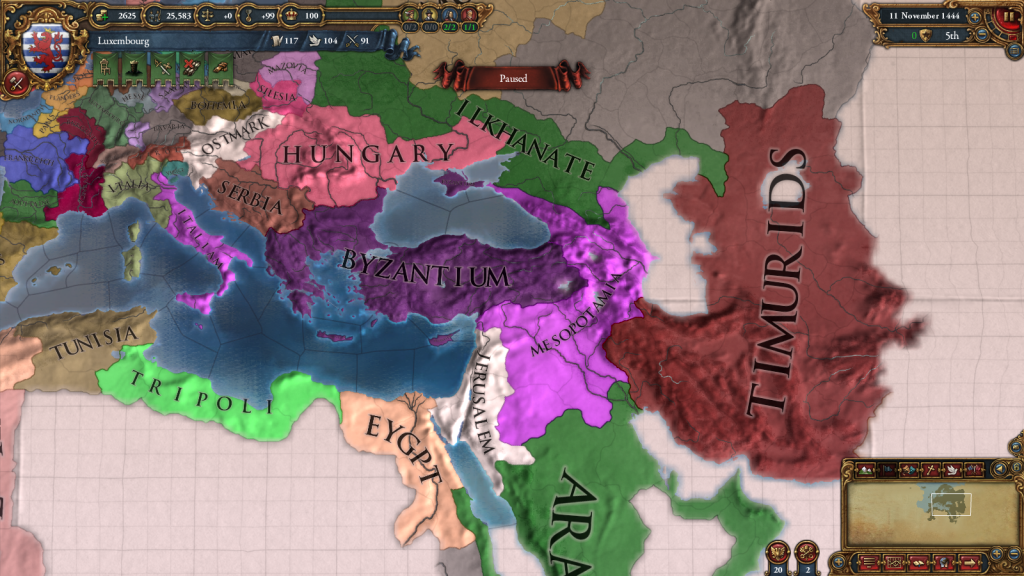 The British Isles are in a state of constant tension. England was reconquered some time ago by Italian Crusaders, its population has embraced Christ but is still very Norse and would likely not mind a return to Norse overlordship. Skotland by contrast remains Norse in culture and religion and is eager to absorb England. Scandinavia ambitiously monitors both nations and seeks to reclaim the Isles in their entirety.
The Italian peninsula is also in a constant state of cold war. Italia, a confederation of the former Italian states that united under the Treaty of Genoa to resist Byzantium, is ludicrously wealthy and populated. Italiam, by contrast is poorer and underpopulated, but has the force of Byzantium behind it while still remaining a mid tier power on its lonesome. Venice is an odd man out. conquered hundreds of years ago by the Holy Roman Empire, it is Germanic in culture and a part of the Empire, it seeks to avoid Italian wars and expand inland.
Iberia is in a completely opposite situation. After centuries of back and forth, the Muslims of Al-Andalus have emerged near victorious and need only to annex Navarra to assure complete domination of the peninsula.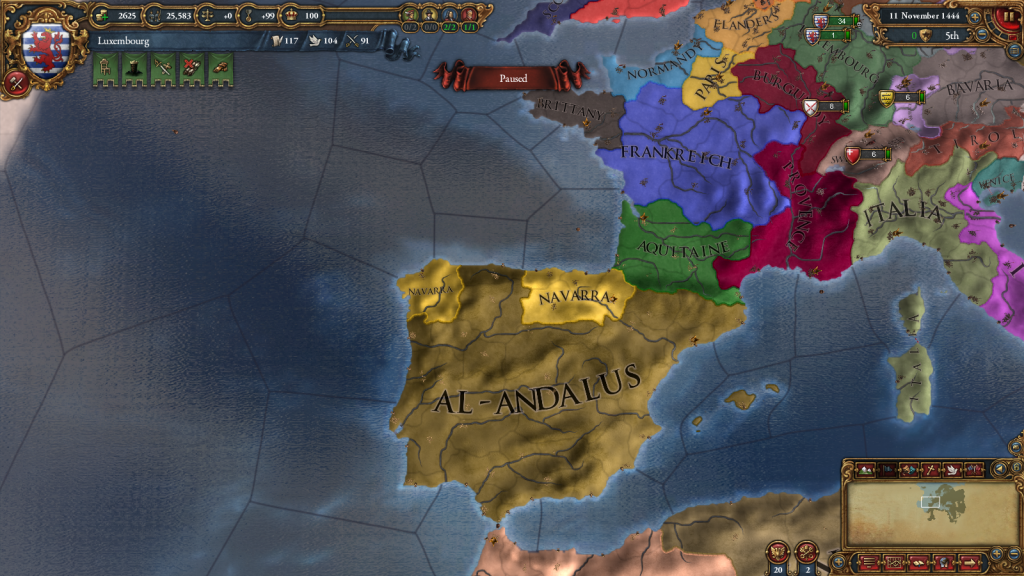 The Holy Roman Empire itself is relatively stable, if fractured. Four major German powers currently vy for influence and power over the lesser states.
1: Luxembourg
, the domain of the Salian dynasty and the thus far rulers of the Empire, known for great wealth and disciplined soldiers the major challenge for the dynasty will be expanding while surrounded on all sides. They do possess some advantages however, such as owning Aachen which after centuries as the Imperial capital boasts a massive population near the equal of Constantinople and one of the best universities in Europe.
2: Frankreich
, the strongest of the "Frankish" or French/Germanic Kingdoms is known mostly for its recently risen status and large population. The ambitious von Valence rulers of Frankreich will likely seek to absorb the other Frankish Kingdoms of Normandy and Paris before expanding south into Muslim held Occitania.
3: Marienburg
, a large Prussian realm in the East with its capital at Danzig. Known for a highly disciplined army and large income from Baltic Sea tolls(although not necessarily a large treasury as it is a spendthrift Kingdom). Marienburg seeks to absorb the other Prussian states of Mazovia and Silesia as well as securing the Emperor-ship.
4: Ostmark
, a stout stable Kingdom known for its tough citizens and ability to endure hardship. It has many a time served as the defensive frontier of the Empire against the Greeks and has taken this defensive tradition to heart.
The ethnic make-up of the Holy Roman Empire is, complex. Many different German dialects exist and intermingle but generally major ethnic groups can be pinpointed and have their areas delineated.
Frankish
dominates the former French realms of Frankreich, the Free City of Paris, Normandy, and Brittany. It is a mixture of primarily German grammar and pronunciation with some lending of French vocabulary.
Rheinlaender
the variety of German endorsed by the Salian dynasty is prominent along the Rheinland(of course) as well as in Burgundy, Switzerland, and Provence.
Hanoverian
is most concentrated in North Central Germany and up through the Jutland peninsula.
Dutch
rules the Low Countries as centuries of encouragement of Germanic over Romance languages led to its domination of Flemish.
Hessen
is only prominent in Hesse proper but enjoys some influence do to it being the dialect of the powerful city of Frankfurt.
Bavarian
is only spoken in Bavaria, but universally so lending it some weight as a dialect.
Austrian
is the dialect of Ostmark as well as Venice and Southern Bohemia.
Saxon
is spoken in all of Saxony, most of Luneburg, and a majority of Bohemia.
Pomeranian
is the tongue of Mecklenburg and of Pomerania, it is likely the "weakest" dialect.
Prussian
holds sway over a massive territory, including the rising Kingdom of Marienburg as well as the former Polish realms. Its large range is likely due to the ability of it to incorporate new speakers from newly settling German populations.
Luxembourg, the realm of the Emperor, is currently ruled by Emperor Widukind I. Having led the Emperor personally through a massive Norse invasion and raised during the greatest invasion of the Empire in history he is a tough, iron hearted man, but also one who wishes to see the Empire expanded and made greater. He is bitter over being forced to accept the Treaty of Genoa and views all other electors with distrust. Widukind is very old however, and will soon pass on. His son, Ludwig, is a wondrous prodigy who the peasants speak of with near reverence, his reign will likely be a prosperous one. Many other realms are ruled by the Salian dynasty, mostly through land granted to far off relatives after its conquest. The most important of these is Bohemia, which is ruled by a man even older than Widukind and would be a prime target to inherit.
Widukind spends time immediately after the implementation of the Treaty of Genoa wheeling and dealing. Signing alliances and arranging important marriages with the Empire's powerful players. After nearly a year of this he has yielded notable results. His primary success is the securing of an alliance with Italia, with Italian support Widukind can run roughshod over the Empire and with German support, the Italian peninsula may be reclaimed from the Greeks. Other notable events include a marriage with Bohemia and the cultivation of Tyrol for potential vassalage.
Tyrol, small and unlikely to foster its own ambitions, is granted an electorate right by Widukind in the hopes that it will help support Salian claims to the Empire.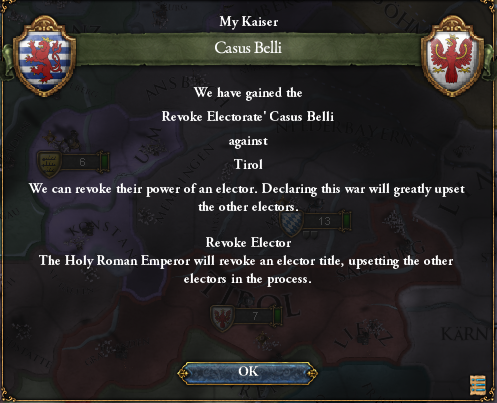 Seeking Secure access to the Sea as well as revenge, Widukind bribes bards learned men and notable men of middling power to support his lordship over Breda, it will take some time but once complete it is likely he may take the county as his own.
Later in the year, a curious event happens, Frankreich, one of the greatest supporters of the Treaty of Genoa offers Widukind an alliance. It appears the von Valence family is fond of Realpolitik, luckily for them, Widukind shares this perspective, he views access to the Sea and the destruction of Holland as a better near term goal than opposing the Franks. Thus the alliance is accepted.
Soon after, the King of Bohemia dies! Widukind is the selected heir to Bohemia. However, Salian relatives in Silesia dispute this claim, and say that Bohemia is rightfully theirs. The answer of course, may be decided by war.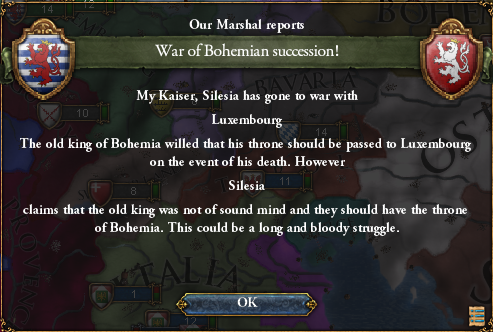 The war for Bohemia does not appear to be shaping up to be a challenge. Because of this, Widukind has his forces remain in Luxembourg and has his allies and Bohemian forces do the fighting.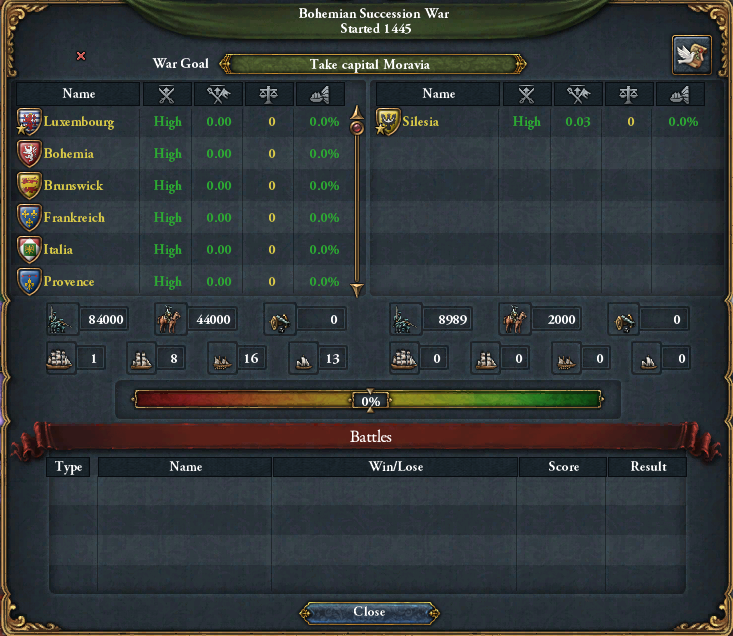 Mid way through the war, Widukind passes away peacefully in his sleep. His reign was long and stable, his legacy is positive yet stern. Ludwig ascends the throne to the cheers of the common people and is immediately elected Emperor with three votes, Luxembourg, Tyrol and surprisingly, Frankreich.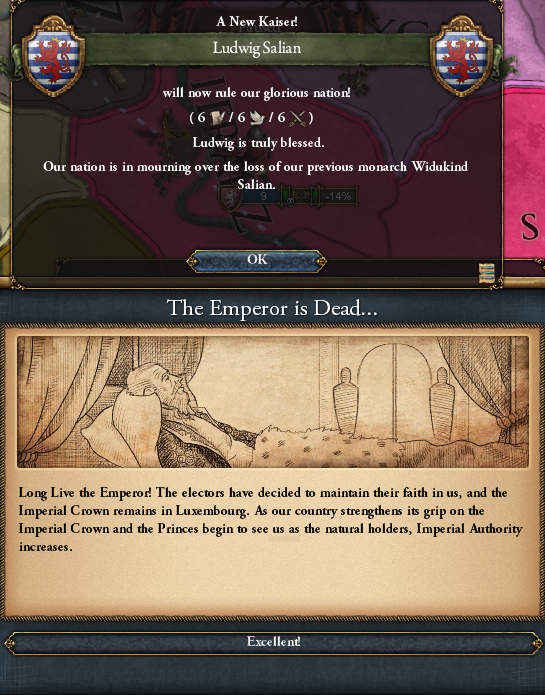 Soon after Ludwig's ascension, he is informed by his chancellor that his father's covert work in Breda has succeeded, he could declare war for the province but he chooses to wait for the Bohemian war to come to a close.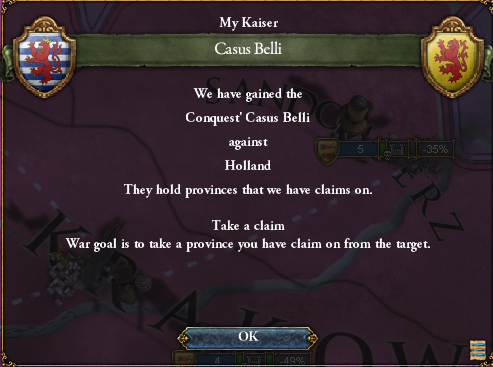 Although Ludwig is beloved by the common people, this is one entity that despises him. The Church, this is due to a number of criticisms he made against the Papacy after reaching majority. As the Papacy lost Rome and all major fiefs it owned, one of Ludwig's ancestors was forced to cede familial land in Saxony to the Papacy. Ludwig viewed this as unjust and sought to regain the land. Because of this he is hated by the Church hierarchy. In order to deal with this and solidify his rule. Ludwig raises himself as the final ecclesiastical authority of his realm.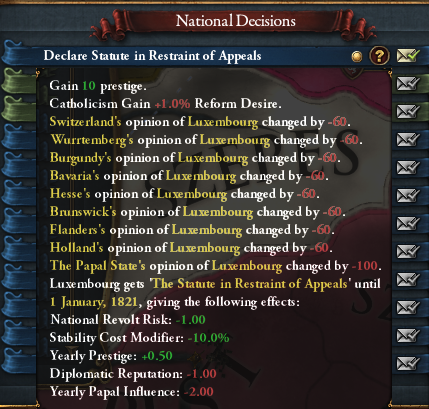 Two months later, Silesia surrenders and Bohemia joins Luxembourg in a personal union.
Overall the early years immediately after the Treaty of Genoa have progressed splendidly, perhaps the conspirators were right and the Empire need not be solidified immediately, after all, what could go wrong?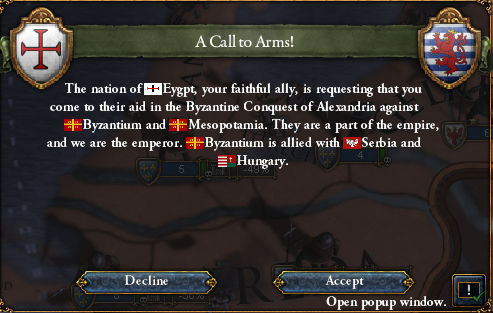 oh......
Last edited: