Debased coinage
35 Badges
Drunk on Burgundy
Chapter 4: The Water In Menorca Don't Taste How It Oughta (1078-1082)
Late in 1077, Helie de Bourgogne completed her education, becoming a martial cleric. She gained the nickname "The Unwilling Nun", though no one said it to her face (lest she should get martial). Early in 1078, Helie married the third son of the Duke of Champagne, very much unwillingly.
August 17th 1078: Duke Henri is in council with his advisors:
Henri: To be honest, folks, I'm a bit bored. Being Duke isn't all it's cracked up to be.
Chancellor Robert: Well, how about a marriage? For me, say? Hint, hint?
Henri: Nah!
Robert: Uh, a war?
Henri: Yes, yes, that's just what I need! A war! Ah, fond memories of my days as the marshal… (cut to daydream. Henri is at the training grounds…)
Robert: My Lord? Hello?
Henri: Oh, sorry yes. Umm, how about the Emirate of Mallorca?
Robert: Sounds good.
So, later that day a declaration of war was sent to the sheikdom of Menorca, which resulted in the Emirate of Mallorca declaring war on the Duchy of Bourgogne. Unfortunately, France also joined the war on the side of Bourgogne…
The war aim was to gain as many provinces as possible before the French king stole the sieges. Troops were first sent to the island of Menorca where the initial battle was a total rout.
The first battle
While the armies of Bourgogne besieged Menorca, the Kings forces set to work on the mainland provinces. Within three months, the island was near to falling. However, at this point a Mallorcan force came to relieve the siege, thus commencing the second battle of Menorca.
The second battle
The island finally fell in March of 1078. The next stop was the island of Mallorca. The siege was commencing nicely, and for two months it looked as though Mallorca would be added to the Duchy's demesne. However, in May the king turned up:
King: Hey ho, a nice siege you've got going here Duke Henri!
Henri: Thank you my liege. However, while your presence is a great honour I can assure you that your great big army is completely unnecessary.
King: (smiles evilly) That's what you think!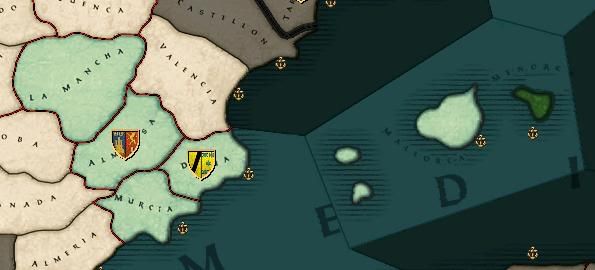 Lands taken by French forces in Spain
As it turned out, the Mallorcan War was pretty much the only interesting thing to happen under the rule of Duke Henri, for he died of old age in the summer of 1080, to be succeeded by his second son Eudes, who inherited 750 gold of debt left over from the war (mostly from exorbitant transport costs. Damn beta!). The first problem that faced Eudes (or "Old Glass-Eye" as he became known) was the matter of matrimony. He had grieved heavily after the death of Agnes, but felt now it was time to move on. However, this was not to be easy as he had reluctantly agreed to adopt Leounora, the only daughter of Robert II and Agnes. She was quickly growing up, and was displaying all indications of becoming as great a beauty as her mother.
January 17th 1081: Eudes is in conversation with his brother, Chancellor Robert:
Eudes: So, any eligible young maidens who would make a good wife for Old Glass-Eye?
Robert: Well, there is Ide-Raimonde de Forez, eldest daughter of the count of Forez. He has no sons, so it is definitely worth considering…
Ide-Raimonde
One week later, Robert had worked his magic and the wedding was held.
October 4th 1081: Local Merchant Houses appear in Menorca. They had to travel
miles
before.
October 24th: Clergymen unhappy with the new merchant houses develop a battering ram, and use it to good effect.
November 6th: The sudden tech rush continues with the development of stonepit in Charolais.
June 27th 1082: Duke Eudes was out walking in his realm. In history, there have been rulers who went out about there lands dressed as merchants or peasants. Not Eudes, though. He figured that people were generally more impressed if he went out in full ducal regalia. He had just entered a village when there was a sudden noise, causing his horse to bolt and his glass eye to fly out from his resting place:
Eudes: Aargh, my eye. Ye God, I'll never find it now!
Pretty Wench: Uh, my Lord, this thing just flew at me. Luckily I have quick reflexes and was able to get hold of it.
Eudes: Wow, a pretty wench caught my eye. You know what this means…
And thus, a bastard was born to Duke Eudes named Henri, after his grandfather who Eudes also considered a bastard.
December 1082: Eudes and Ide-Raimonde have a daughter, who is named Sybilla after her grandmother.
Last edited: