Debased coinage
35 Badges
Part 11 - Peace and Consolidation​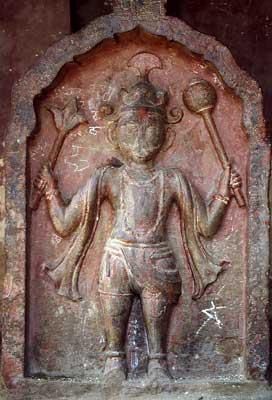 1458
Early in the year a tax collector was promoted in Awadh province, and a royal marriage was entered into with Jodhpur and Oman.
1459
Another royal marriage, this time with Gujarat.
1461
A tax collector in Gondwana and a royal marriage with Mataram.
1462
"Good evening, my Emperor, what can I-"
"You! Hurry up and barracade the palace, they're coming!"
"Uh, what?"
"Are you deaf, man? Come on, they're not much time. They'll be here soon."
"But-"
"Don't just stand their dithering, you fool! We need to be prepared for when they come."
"
For when what come
?!" Devesh screamed. The Emperor looked at him as if he was a simpleton.
"The cabbages, of course. They're everywhere, they can hear me think, you know!"
"O-kay."
Thankfully, the monarch's insanity was only to last for a year exactly.
1462
In July there was a revolt in Tirhut, amazingly the first since Devesh had arrived back in 1419. The ringleader was a Muslim cleric whose zealotry inciting rebellion among the provinces Muslim populace. The army was sent in, and in mid-August the revolt was crushed with the capture and execution of the cleric.
1464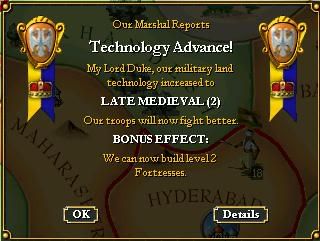 1465
Early in the year the Mallikarjuna fell ill with fever, and quickly passed away. He was without sons, and so instead the throne fell to his nephew Virupaksha, the second of that name.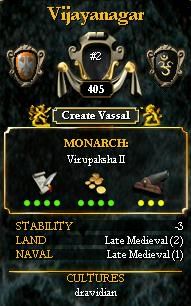 Virupaksha II's first act as Emperor was to send the army south to crush the natives of Madurai and Trivandrum.
1466
In January a tax collector was promoted in Raipur, and in April a boundary dispute with neighbouring Arakan was brought to Virupaksha's attention.
"We should declare war immediately! Is it not true that Arakan has Hinud subjects under their tyrannical heel?"
"Yes, but-"
"And is it not true that by taking land from Arakan we could connect Calcutta with the rest of the country."
"Indeed, but-"
"So what's stopping you, Devesh? Why aren't we at war. I want to go to war!"
"My emperor, we currently have rebellious peasants and nobles being assassinated in the streets of the City of Victory to deal with, a war would only make the situation even more unstable. This issue with Arakan isn't going to go away. I advise we wait."
"Hmm, well, all right," Virupaksha II mumbled.
1467
In January cantonments were established in the City of Victory, and in March the last areas in the south were finally colonised.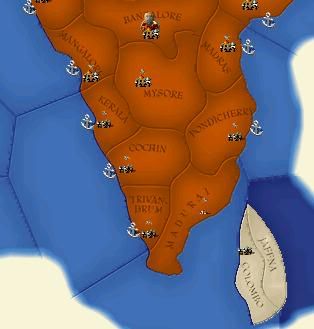 In April a new alliance was created with Orissa, after the previous one expired.
1468
"My lord, I have good news. You remember the feud between the Pakshma and Gaujani families?"
"Ah yes, because at a gathering their Jodha Pakshma said that Kiran Gaujani looked fat, which was overheard by Kiran's brother Deepak, who then punched Jodha in the mouth, which caused everyone on both sides of the family to stop speaking to one another."
Devesh nodded, slightly stunned. "Um, yeah, that. How do you know all that?"
"Oh, I love following the antics of our dear nobles families. It's often more interesting than politics!"
"Um yeah, well, apparently the feud has been resolved."
"Ooh, excellent, let's send them a gift!"
Devesh frowned. "But my Emperor, the treasury is empty-"
"Which part of "send them a gift" did you fail to comprehend, Devesh?" Virupaksha II responded, menacingly.
"Uh, fine."
And thus, Vijayanangar was forced to take out a loan.
1470
In February Malwa joined the alliance, and only four months later Delhi delcared war on them, bringing along their ally the Sultanate of Bengal. Vijayanagar sprung to her vassal's defence, and immediately attacked into Delhi's territory. Bundelkhand was put under siege in early October, and later in the month Delhi was too. Bengal attacked into Koch, while Delhi concentrated their efforts on Malwa.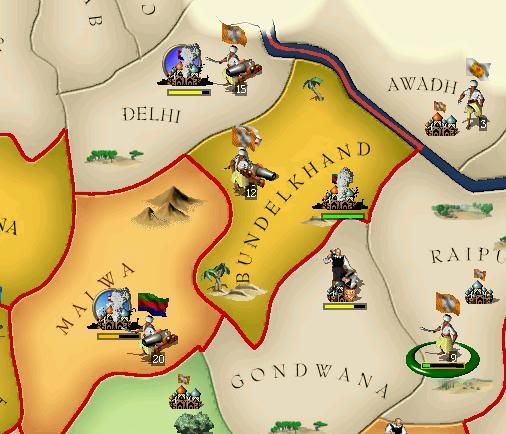 1472
In April Delhi attacked and relieved the siege of their capital, and later in the year captured Malwa.
1473
This was not a war that Vijayanangar had particularly wanted, and after a year and a half was a stalemate. In January they offered Delhi a white peace, which was accepted. Meanwhile, another war had been taking place in the east. Some time before the Timurid Empire had attacked Gujarat, and not long after Jodhpur also invaded. The result was the Gujarat lost their two western provinces to the Timurids, but were able to defeat and annex Jodhpur.
This greatly worried Devesh. He knew that it would not be long before the Mughal Empire emerged from Afghanistan, and feared that a strong Timurid Empire would lead to a strengthened Mughal Empire when the time came. But there was still several decades before any of that would come to pass.
The year of 1473 saw a bumper harvest due to favourable climate conditions, and later in the year the loan was repayed. The excess cash was spent on raising more cavalry.