East vs West developer<br>CORE Minister of Propaga
97 Badges
The CORE team proudly presents you:
The C.O.R.E. travel guide for Arsenal of Democracy
Always wondered what Germany looked like, before 'Bomber Harris' paid his respects? What pre-war Warsaw or Bucharest looked like? What a gentleman in the 1930s would have seen, traveling around the globe?
Well here's your chance to step back in time, into the shoes of Phileas Fogg, and experience the world as it used to be 70 years ago!
Download the CORE travel guide
version 6.0, April 14th, 2014
Alternate download (Rapidshare)
AoD patch 1.06b2 or above and CORE 0.5.0 or higher are required to run. Feedback is very much appreciated!
Current coverage:
Norway - full
Sweden - full
Finland - full
Denmark - full
Germany - full
Netherlands - full, including DEI
Belgium - full, excluding overseas
Luxembourg - full
France - full, overseas partial
Great Britain, full, overseas partial
Ireland - full
Czechoslovakia - full
Poland - full
Italy - full, including overseas
Spain - full, including overseas
Portugal - full, overseas partial
Yugoslavia - partial
Romania - full
Bulgaria - partial
South Africa - full
USA, including pacific rim - full
Canada - full
Japan - full
The Philippines - full
New Zealand - full
Australia - full
Malaya - full
Chili - full
Burma - full
India - full
Thailand - full
Indochina - full
China - almost full
Plus odds and ends elsewhere around the globe.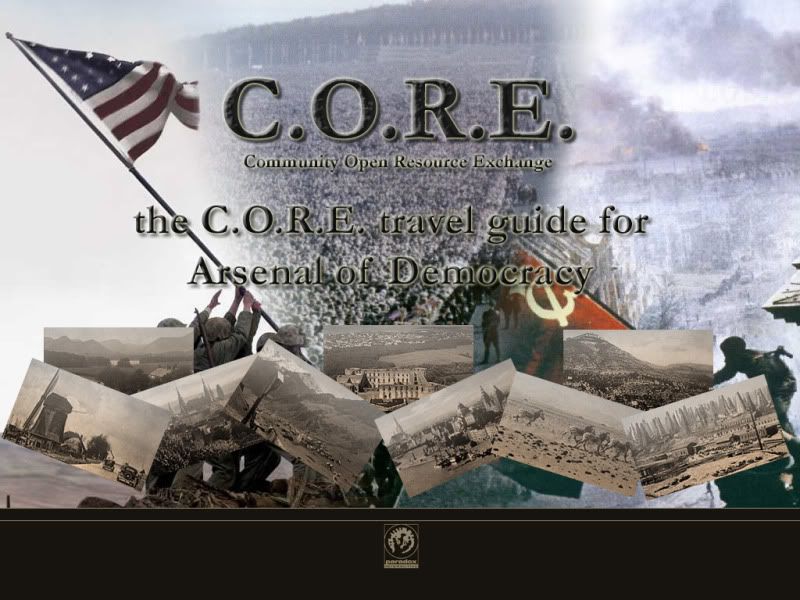 Last edited: