Generalfeldmarschall
8 Badges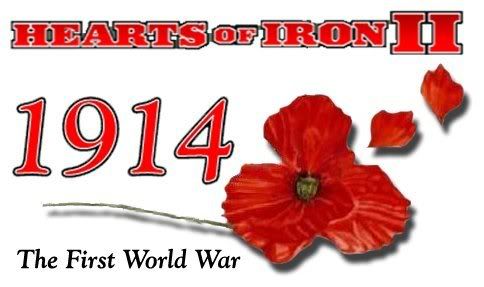 1914 Version 0.43
After weeks of intensive development, the 1914 mod-team is proud to announce the latest version of our First World-War modification.
This modification is compatible with HOI II and Doomsday and Armageddon.
Download
1914 for HoI
Download
1914 for DD
Note to Armageddon-Users:
Please use the Doomsday-Version of 1914 and download the
Armageddon-Patch
Optional:
New music for 1914
For more information including an install-guide see
1914.thomas-ney.com
What's new in 0.43?
Code:
AI
+ Japan won't launch amphebious assaults on the German Coast
+ Improved AI for all Balkan-War Countries
+ Ottomans will not focus that much on Britain any longer
+ Improved Naval-builing AI for all mayor powers
+ reduced expeditionary forces spam

MAP
+ Some new ressources in Korea and Serbia to allow both countries running IC
+ "removed" Metz. Most Ressources from Metz where moved to Strassbourg and Metz got a new name
+ moved some ressources in Triest/Venice area
+ Corrected ownership of some pacific islands
+ Ahaggar removed
+ Dominions were made puppets seperated from England
+ Improved Victory-Points
+ Some new sprites

EVENTS
+ Second Balkan War included
+ New defeat-events
+ Morocco crisis event series
+ Nicaragua canal event series
+ Ahistoric Boers-War events
+ Dominion-release events
+ Tons of new minister events
+ Fixed/Improved some events to avoid some CTDs

LEADERS
+ New/Improved leaders for Anfu Clique, Argentina, Austria-Hungary, Brazil, Chile, China, Costa Rica, Ecuador Fengtien Clique, Kuomintang Clique, Mecixo, Revolutionary Mexico, Paraguay, Portugal, Rumania, Siam, Tibet, Yunnan

MINISTERS
+ New/Improved Ministers for ARG, BRA, BUL, CHC, CHI, CHL, COL, COS, CYN, ECU, FRA, MAN, MEX, MON, NIC, NZL, PAR, POR, PRK, PRU, ROM, SCH, SIA, SWE, TIB, U07, U11, U12, VEN

TECHTREES
+ New Naval-Techtree
+ New Industrial Techtree
+ New Naval-Doctrine techtree

TECHTEAMS
+ New/improved Techteams for Australia, France, Romania and Austria-Hungary

UNITS
+ Changed Building-time for each Ship-type
Last edited: