Second Lieutenant
73 Badges
Spanish Civil War in HPP version 1.9.2​
Welcome to follow Spain through few
very
demanding years! Personally I find playing with minors rather satisfying, since I feel game tends to be too easy and impersonal with majors. Anyway, playing with underdogs is always fun! Spain is historically interesting pick and since HPP team (thank you nice people!) has made some truly outstanding changes about how Spanish Civil War (SCW)unfolds, it is a shame to miss it! I have never done AAR before and actually I learned only yesterday how to upload images here, so go easy on me. Anyway I hope I'm familiar with basic rules around LibrAARy. But HPP 1.9.2 was such a nice experience I felt heroic and try my luck, so here goes.
Modification Notes:
I'm playing with normal difficulty Hpp 1.9.2 with hotfix. I modified events slightly to give SCW more random staring dates, but otherwise game is perfectly normal. If I'm trying to enter WW2 with Republican Spain I think I have to cheat my neutrality down, but we'll see about it.
Goals:
To survive! Meaning both as writer and as a nation. I've never done AAR before so I'll see how it feels. I'm going to tell the story of SCW and if I feel heroic enough after than I might go further. We'll see. My Reb-Spain has no territorial ambitions so I'm not going to invade Brazil or anything.
Style
I'll try to write easygoing fiction mixed with game events. Occasionally I'll write off-narrative chapters/game observations/guru meditations in
italics
just to keep it off the main narrative. I'll post-n-play so feel free to shout strategic advice etc. I think I'll need to split the story in multiple chapters to keep things organized. By the way I'm using Steam to take screen shot and I'm generally too lazy to crop them, at least yet.
Enough talking so
vamos!
It is 1st of January 1936....
Chapter 1; Opening tunes​
January 1 1936
- Setup! Here we see the magnificent fighting machines at our disposal in 1.9.2 version. Also, Spain does not have strategic bombers. Terrible! We have leadership at 4.66 and we set officers and diplomacy at zero, and focus our spies into internal work. Diplomatically we begin to ally ourselves toward Allies (ally to Allies? sounds so clever...) but of course it's just a joke, there is not going to be any war....
Our army is around 70000 men in peace-time strength, most with obsolete equipment. Also we have so brave cavalry and few...'tanks'. We can update our educational policy but first we need more money!
Historical background: Even by standards of 30s Europe Spain was backward, poor and deeply divided country with history of violence. Unsolved social questions, poverty and lack of reforms were tearing the country apart, not much helped by violence from both extreme left and right. Spain had particularly powerful conservative cliques that were hostile to any reforms, such as Catholics, Royalists, rich landowners and the army. Spanish society found it difficult to adapt to democracy, and coups, rebellions and political violence were all too common. Second Republic (that's me in the game) was formed in 1931 after the latest military coup faded, and ended in Spanish Civil War. Against this background I'm fortunate that country is as powerful as it is! Anyway, back to business and let's see if I can do better...
Let's see about our technology first. Tissue paper ready, there might be tears...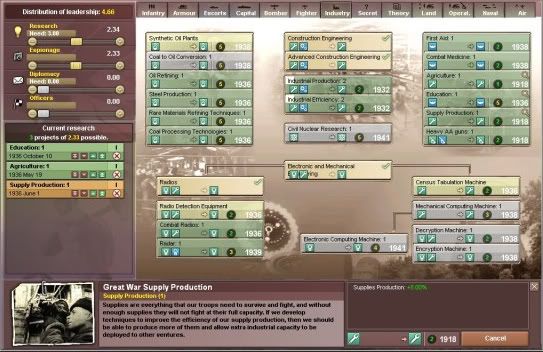 Hmm, we really
are
in stone age! Prime minister puts some effort into improving our situation as he weeps at this sight, but let's turn another page and check the naval tech...
Caramba
! What a difference from vanilla SF! Now we almost have a real navy. Unfortunately it's almost all the tech we have. Anyway, let's improve industry first. In doctrines we go for Firepower and Human Wave, since we are so brave. Yarr! Our national unity is amazing 50% so let's put our famous intelligence services to improve that. That's pretty much everything we can do in day one. Let's trade away our Rare Materials and wait for money...
January 10
- Finally enough money to improve our education policy! Now we have amazing 6.66 (science from hell?) LS. Look out world! Since we have so much LS to waste let's research something
really
useful...
There we go. Spain is traditional stronghold of rocket science, declares Prime Minister!
January 18
- Enough money to switch to Consumer Products. Now our industry churns out toothpaste, soap and other such expensive luxury goods. A popular policy!
January 20
- Dogs! Opposition accuses us about rigged elections and we lose unity:
Caramba!
Luckily our spies bribe people into line soon.
February 2
- Germany re-occupies Rhineland. We have enough problems of our own, besides we did not even take part in WW1!
February 28
- General Elections in Spain. Through wonders of Democracy even the poorest (male) can take part in politics of our great nation. Lets see...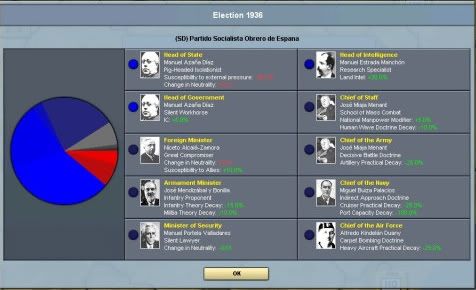 Partido Socialista Obrero de España (the SD party)wins not-so surprising landslide victory. Viva la Libertad! The poorer part of Spanish population celebrate time of new hope and equality. However, army and conservatives are not happy...
Anyway, let's change some new faces into the Cabinet.
So here are our heroes! Manuel Azaña Diaz can be our official hero since we cannot replace him anyway. By the way he is both Head of Government (HOG) and Head of State at same time. Is this even legal? Anyway, we'll just call him PM or HOG from now. At least he gives us +5% IC, which amounts to very little.
Some other important changes are also made. Toribio Martinez Cabrera is appointed Chief of Staff because of his impressive mustache. José Yanguas Messía is appointed Armament Minister "because he looks so funny….HAR HAR HAR!" commented newly appointed Chief of Staff in press conference. PM suspects his new CoS might be trouble...
March 26
- Second London Conference. They are signing some bloody naval documents in London and nobody even asked
us
! Government is outraged! Well, we did not have time for your silly treaties
anyway
! Though we note that Italy did not sign...
April 1
Death of King George V shakes the Commonwealth! Well, that's what you get from having kings and such decadence! Here in Spain we have real democracy that...functions. Almost.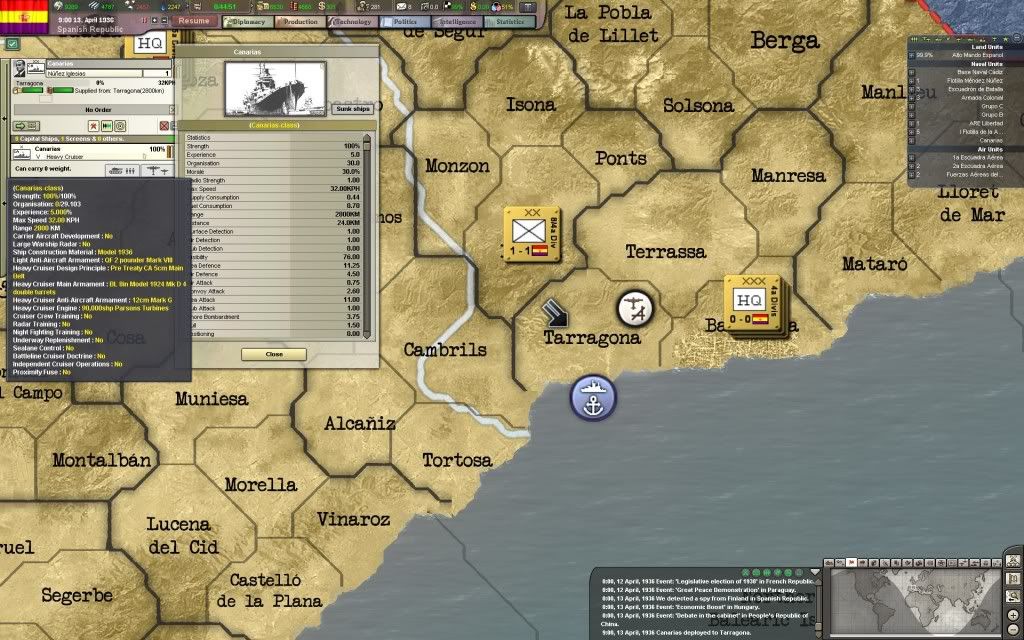 April 13
- Our shiniest new warship Canarias is ready for high seas! Government takes 24h bender to celebrate! There are some rumors that army is planning coup but we naturally ignore such.
April 26
- Italy conquers Ethiopia. Spanish government hopes that they choke on that worthless piece of land! This is what we did on 16th century and it did not end so well... Anyway, Italian aggression is something to keep eye upon.
Note; I somehow misplaced the saved game about May, and had to take that last mont again! Dates of my narrative are thus little wrong now. Sorry guys, this is what happens when you write AAR first time....
May 8
- What is this! Government is take by surprise by spiraling situation is Spain! Masses are finally fed up with poverty, oppression and cheap toothpaste! The wings of liberty flutter above Spain! Or maybe it's just rabble looting shops. We send cavalry for rescue (literally) and hope for the best... PM has a curious feeling that this is
not
going to turn out well. Nonetheless our forces disperse the rebels without difficulty.
May 14
-
Spanish Civil War breaks out!
A most fateful day for our country! Luckily a reporter was present as Minister of Security, Manuel Portela Valaderes rushed the urgent new for PM, and we can fully report the meeting;
"Sire, the soldiers are revolting!" Cried the Minister of Security as he rushed in the office.
"I know." Replied Prime Minister calmly. "And their feet stink."
"No sir, they are supporting conservatives and are rebelling against the legal government!"
"Poor guys! Who is that, by the way?"
"Us!"
"Oh dear, where is the police?"
"I
am
the police." Cried Minister of Security. "That is not much help now!"
'
Que Diablo!
Those dogs! Well, we must muster our forces against this threat!' Cried Prime Minister. 'How bad is it?'
'
Bad
sir, they are
already
selling T-shirts!'
'No!'
'Yes, street vendors here in Madrid are already selling shirts that read 'KISS ME, I LOST THE SPANISH CIVIL WAR!' with your portrait on it!'
'We must counter this threat immediately! Print T-shirts with slogan 'REPUBLICANS ARE BETTER LOVERS' with my portrait on it! That should send them packing all the way to Seville!'
'Excellent plan sir, but we need soldiers! Only two divisions stayed loyal!'
'What? This is not the way it should go! Many important garrisons were supposed to stay loyal...' PM muttered as he packed his suitcase and searched for his six passports and stash of foreign currency. Suddenly door opened and tall, lanky man walked in. He was wearing a T-shirt that read "I'M NOT ONLY PERFECT. I'M BRITISH."
'
Caramba
! What do
you
want?' cried both men at same time.
'I came here to fight against fascism.' Englishman said calmly.
'Miracle! Then you are an angel!' Both ministers cried simultaneously.
'Almost.' Englishman answered laconically. 'I'm writer Eric Arthur Blair, known as George Orwell. I came here to fight against fascism and write a celebrated account of my experiences "Homage to Catalonia." My experiences in Spain will leave be bitter and disillusioned, but also determined to fight for social justice and equality. After the war I'll proceed to become a ruthless critique of authoritarian regimes everywhere. But now I suggest we fight this war first.'
'But
señor
, we have no troops except two unfortunate divisions in wrong places!' explained surprised PM.
'That was true five minutes ago.' continued placid Englishman. 'However, it seems that I accidentally arrived with four full divisions of armed volunteers, totaling 36000 men at your command. Most remarkable, I must say, since I met no queues in airport. Now could I suggest that we take a look at the situation map to see where those victory locations are...'
So PM takes a look at the situation map. His eyes bulge with terror....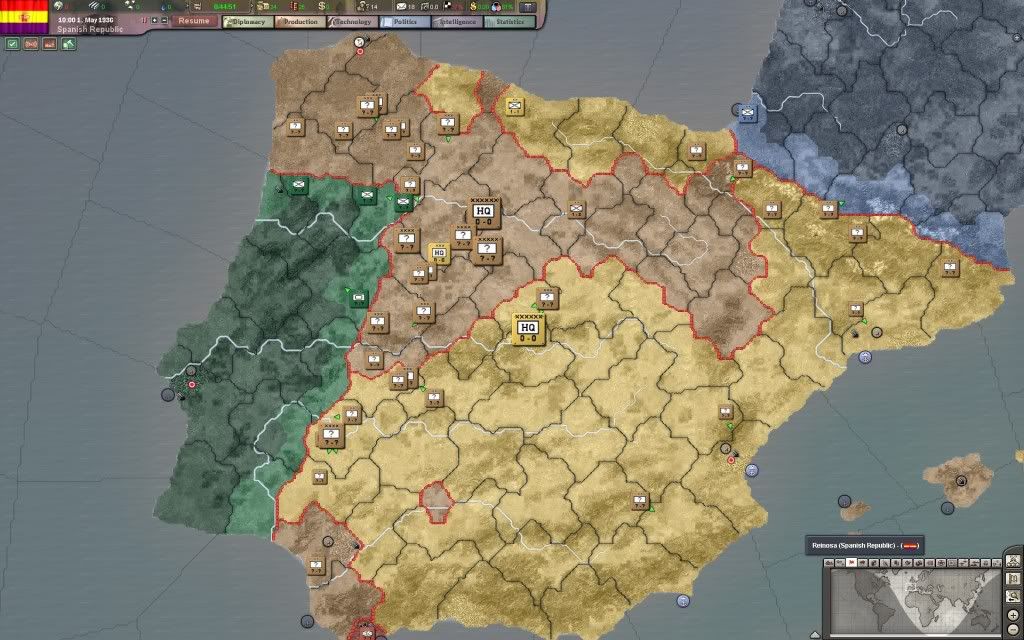 T-shirt was immediately printed (but with pin-up of PM's mistress instead of his portrait. This bold move attracted wide international support for our cause, but very little support from his wife) and "When José comes marching home again" becomes new national anthem for Republican Spain. The war is on!
So this is the situation! We have 4 divisions of militia in Madrid, one random infantry division and one HQ who is in deep trouble, against all the combined forces of Spanish army turned Nationalist. Can Republican Spain win? Can Orwell
ever
write a happy ending in
any
of his books?
Anyway, next post; Action! Finally!
Last edited: