Preface


Since this is my first EU III AAR, I view it as an experiment – whether successful or futile remains to be seen. Certainly, it will be written with 'training wheels on.' Also, for me, European history of this epoch remains a fledgling interest– I am much more comfortable with ancient Rome or the American Civil War. So if I stray into gross historical inaccuracy, you will understand. The main thing for me is to have fun with the writing. I am also a comparative novice when it comes to EU III itself – although my initial foray as Portugal (vanilla) was pretty much a colonial cakewalk. This time, I am using the splendid Magna Mundi III mod (1.5), normal difficulty.

My goals:

 Develop landlocked Saxony into a powerful trading nation and ultimately, a trading empire;
 Maintain the integrity of her borders and expand them judiciously;
 Become Emperor-Elect of the HRE and ultimately gain the title of 'King of the Romans' by the hand of the Pope;
 Defend the political and religious integrity of the Holy Roman Empire (Saxony's historical conversion to Protestantism may or may not take place), expanding its influence where possible;
 Unify the German nation under the enlightened leadership of Saxony;
 Disregard any temptation for early colonisation. We will remain focused on Europe and our relationships with European states.

The sweet song of empire beckons and much may be indeed be possible, even from minor landlocked dukedoms. Should we, like Odysseus, lash ourself to the mast and plug our ears? I think not. And so, we take up the chronicle of Saxony - whether it will be a long story or a short one is not for us to know. At least not yet.
Chapter One - Beginnings:
Future reader, let me introduce myself to you. My name is Luca Pitti of Venezia. This part of my diary - which I begin in early June of the Year 1453 - is written in my family's secret code. The cipher is unbreakable. Therefore, I allow myself to be frank without fear of punishment or royal censure. Before my death, God willing, I will indicate to a trusted friend or relative where the key to the cipher can be found.
I have travelled far abroad in my life and have now washed up on the shores of a new kingdom, Saxony. 'Washed up' is of course a misnomer. My little joke. For this is a landlocked kingdom with not a seagull or a lighthouse to be seen. As I am adept at strategies to realise the competitive advantages of commerce, my advocates have secured me a most prestigious post. I have been retained to advise Saxony's ruler himself – Friedrich II 'The Gentle' - on matters of trade. Truly, I am a most fortunate man in this always dangerous world.
How dangerous must appear obvious. Old certainties are dead. Constantinople's walls have fallen, its defenders have perished. The 1,000-year-old Byzantine Empire is history and dust. The Ottoman Empire now comes knocking at the gates of Europe. And all around landlocked Saxony are powerful potential enemies: Brandenburg to the north, Austria to the south, Poland, Lithuania and Muscovy to the east, Burgundy and France to the west. How is a four-province Saxon state to survive in such a world? And I answer: with trade. And agile diplomacy. And luck. Our economy is not yet strong enough to support a military solution to Saxony's plight. We must lay the bedrock first and that requires economic strength. For that, ultimately, we must expand north, to the sea. Because trade will underwrite Saxony's future and trade without the sea is like the wind without the rain. This vision I have communicated to My King who is a man of reason if not one of great intellect. Friedrich II is no thinker. And unlike his father, Friedrich the Warlike, nor is he a fighter. He is, however, quite sensible to rational argument. At least I found him so.

As a first step, I convinced the King to retain two other advisors, both giants in their respective fields. The first, Gilles Binchois, was a celebrated artist and thinker – his works would electrify, inspire and pacify Saxony's growing merchant class. As for my second recommendation, Friedrich frankly thought me mad at first. Magnus Hamann was a renowned Naval Reformer, one of Europe's foremost thinkers on naval technology and tactics. My King asked, why should landlocked Saxony hire a naval expert? My answer was simple: it would not be too long before Saxony's shores were indeed lapped by the sea and when that day came, we would need a modern navy to protect our merchant fleets. In the interim, why let other nations enjoy the advantage of Hamann's expertise?
My advice could be summed up as follows: Saxony must expand to the north to reach the sea; Saxony must forge friendly relationships and marriages with strategic near neighbours while she develops her economic base; Saxony, in her present weakened state, must avoid costly military adventures and rely on diplomacy to win strategic territory if possible; within the HRE, Saxony must try to use its influence as an Elector to wrest the prestigious position of Emperor-Elect from Austria, our powerful and predatory rival to the south.
Naturally, I could only outline for My King the general tenets of my strategy – it would be for wiser tactical heads than myself to undertake the task. Fortunately, in July of 1454, a 'Mastermind' from Dresden literally knocked on our castle doors. I am pledged until death never to reveal his name but his brilliant scheming ensured that the opening stages of Saxony's ascendancy would succeed along lines outlined above. Within the space of a year, Saxony had embarked on a series of overtures to its neighbours. The daughters of royalty were married off with unseemly haste to royal families in states such as Brandenburg, Anhalt, Bohemia, Austria, Hesse, Lubeck and the like. Gifts were sent in an effort to improve relations or assuage dangerous rivals. Many gifts. Sometimes they bore fruit. Often they did not.
The main diplomatic thrust, as mentioned, would be to the north. Anhalt and Brandenburg were the initial targets. Our aim would be to persuade them to join our kingdom as loyal vassels, cemented by royal marriage and alliance.
But on the 13th day of November 1454, in the midst of all this diplomatic largesse, our sovereign – may God rest his immortal soul – quite suddenly died. I was not in his presence but I am told that he clutched once at his chest and fell over never to awaken. My King was a good man and Saxony was in mourning for many weeks. I took a prominent role in the Regency Council that governed Saxony during the ensuing period until the King's heir was deemed mature enough to take up his reign.
In January 1456, the first fruit of our diplomatic push to the north was realised. After many months of refusals and haggling, Brandenburg accepted the wisdom of our offer to join Greater Saxony as our loyal vassel.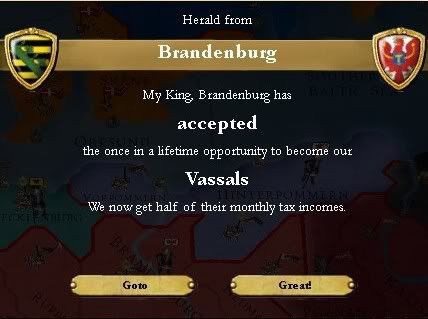 All did not, of course, go precisely to plan. Anhalt continued to resist our attempts to entice her into vasseldom, despite a royal marriage, a solid alliance and many, many gifts. Lingering Hussite tensions caused some minor unrest in Meissen. Dangers also lurked just outside our borders, with prickly Bohemia – only a nominal friend – defending itself against the forces of Lithuania, led in a Personal Union by Poland. Greedy Austria, at the helm of the HRE, was fortunately preoccupied by wars in Hispania.
In May of 1457, Saxony's stability was excellent. I deemed it appropriate to suggest a new type of National Idea, which I modestly termed 'Shrewd Commerce' to replace our current reliance on national conscription as an underlying philosophy. I carried the day in Council and despite an initial blow to national stability, the fruits of the policy began to bear fruit. Within months, our merchants – trained personally by myself - had secured three places in Europe's most lucrative Centre of Trade, Vlaanderen. Within the space of a few years we would have five merchants there with others securing places in Venezia and Lubeck.
Then, on 17 September 1458, Saxony crowned a new king. And what a King he would be!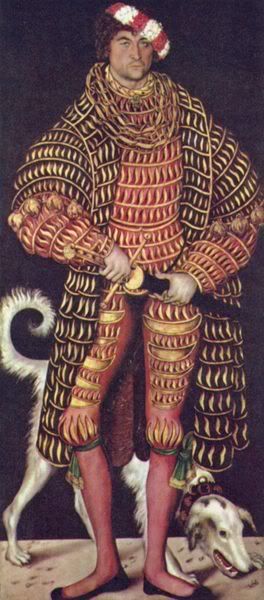 They say that Friedrich August I could charm the skin off a snake and having known the man, I am not one to argue with the assessment. He had no skill in warfare but his guile, his encyclopaedic memory, his wit and his humanity made him the consummate statesman and diplomat. He was also a superb administrator. As evidence of his skill, within four months of his accession, Anhalt finally accepted our invitation to become our vassal.
Last edited: