DIVIDED WE STAND
An Austrian Puppeteer AAR​
Welcome to my second AAR, and my first one in the Victoria 2 forums. After trying my hand at comedy with
Can European Swallows Carry Coconuts?[
and realizing how difficult it can be at times to write good comedy on a regular basis, still maintain a cohesive storyline, and, well, be entertaining even when you're generously ripping off some of the most famous comedic groups...well, I've decided this time to try a gameplay AAR.
But why just do a "boring" AAR with the standard setup with a tiny country and conquer the world, or play as the CSA and win the Civil War, or play as France and only get overthrown 12 times, when you can spice things up a bit? I've decided to take on Austria, but it's a vastly different Austria than the one you're accustomed to: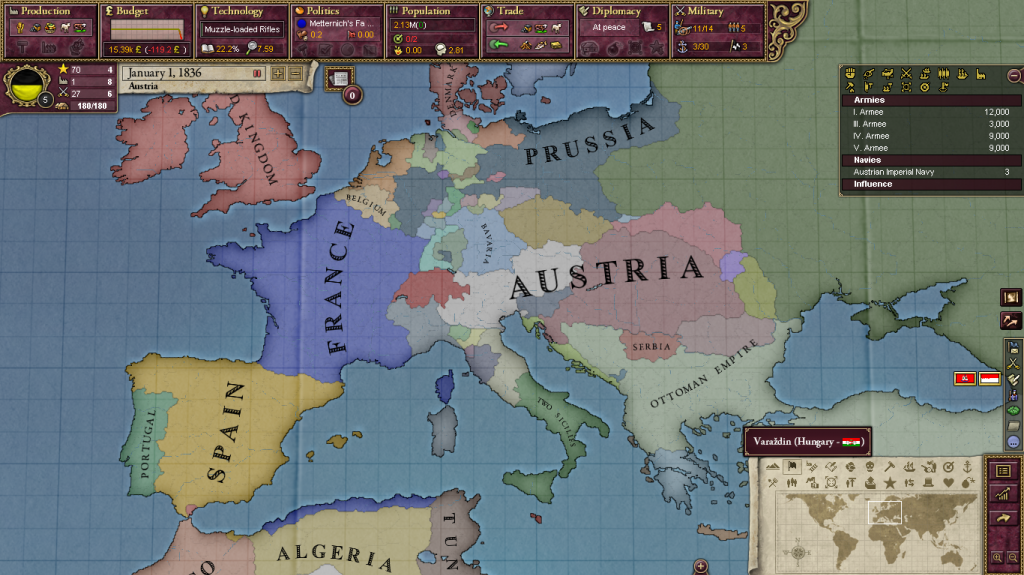 ​
In
Divided We Stand
, we assume control of the Austrian Empire, overlord to the kingdoms of Hungary, Poland, Ruthenia, Croatia, and Bohemia-Moravia, with direct control over North Italy (hey, I needed something, I'm not that good :happy
as we journey through history and attempt to avoid Austria's canonical fate - utter destruction at the hands of the Allies and ultimate absorption into the German Reich, division by the Americans and Soviets, and ultimately its current role as uninteresting generic nation #74.
Just some goals on what I'd like to accomplish:
1. Stay a Great Power as much as possible. Seriously, with little land comparatively, I'm relying on puppets and spheres of influence. I'd rather not lose the SOI.
2. Realpolitik - if it helps me, good, but the moment it doesn't, see ya later alligator. Probably will relate to my relations with France, Prussia, and Russia the most, in order to keep them all in check.
3. Try to help China/Japan become Great Powers, to help reduce the risk of one of my puppets becoming GP-worthy. (IDK if it helps, but, meh, I'll try anyway).
4. Have fun, and learn more about the economic mechanics as well.
Unfortunately, updates will not be as regular as I like thanks to real life and school, but I'll do what I can. I'll get my first update up ASAP though.
Last edited: