Im going to show a few provinces and changes I would really like to see in the next update. Most of these are going to add some flavour, historical accuracy and attempt to show improvements to the Maps shown off in the Dev Diaries.
I'll be taking many of the maps from the dev diaries and showing improvements both in shape and trying to add in new provinces which I feel would really add to the current iterations and hopefully will inspire the current devs to improve their current iteration.
Im personally most familiar with the Low Countries and Germany so im going to start there.
Here is the current showcase of the Dev Diary about France.
Im going to show how for example Beyond Typus did their Low Countries, which I think gives a really interesting take on it and a far more historically correct one for that matter.
Now one major thing Im seeing as a difference is the take on the border between Groningen and Drenthe.
Now whether or not the province of Drenthe is added, I think its vital to keep the Oversticht shape together with it.
This is my rough drawing of how I would change the current map:
One really important province to add here is the Province of Limburg, which should be owned by Brabant, like it used to be.
There is room for the province and the importance of Maastricht was quite significant.
3 Optional provinces to add would be Drenthe, which was not as poor as people keep claiming, if someone is interested in some reasoning behind it I can post a explanation I gave in a previous dev diary.
Another would be the province of Westfriesland. While small, it was one of the more rich areas in Holland in 1444.
Amsterdam needs a massive nerf as it was of little importance in that era and the only real city with any significance in 1444 was Haarlem.
Utrecht should really have some more land in the West which has been part of Utrecht since forever.
This would leave room to connect Holland and Gelre together in the Betuwe.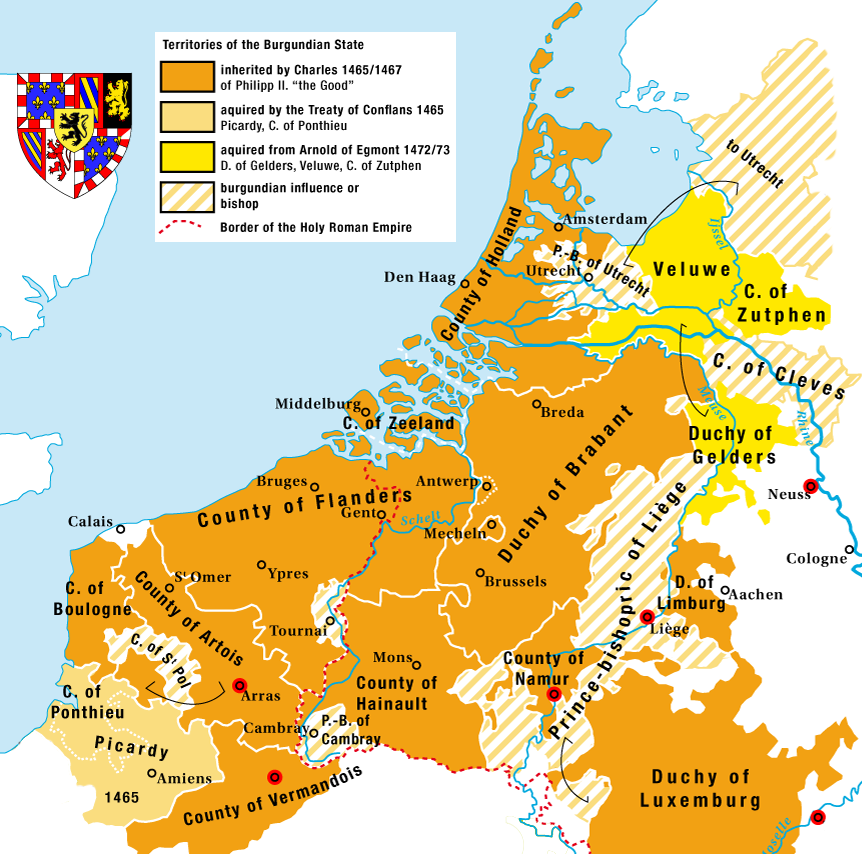 Zeeland needs to be an island province which is historical. The land now added to Zeeland are only a modern change and seem to contain Bergen op Zoom which is part of Breda at this era.
The last optional province would be the Westhoek as shown in Beyond Typus as well. It contained important cities like Ypers and Kortrijk and in the past also had the cities of Dunkirk and Cassel.
Now to move east to Germany.
There are many mistakes still lingering here, which really need fixing before we move on.
Münster is the big thing here. Its quite wrong with the placement of Meppen and Munster.
As we see here in Beyond Typus we can see how it makes more sense:
Now this isnt perfect either, but it atleast shows Meppen to be the Northern province of Meppen instead of a Western divide.
Here is a historical map of the HRE as a sidenote:
https://external-preview.redd.it/2I...bp&s=737ff0f75a103292315804aa88784d762ccf525a
Another thing is the rectangular shapes of East Frisia and Oldenburg which simply looks weird and isnt historical.
They were much more like two triangles shaped.
I added many fixes, reshapes and added a few new OPMS i feel would really add to the current North German map.
Starting from Left to Right, the first I would add would be Tecklenburg, in between Upper and Lower Munster.
Second, I would rename Meppen to Lower Munster, Munster itself can stay that way or be known as Upper Munster.
The White stripes represent a possible nation of Osnabruck which was its own seperate Prince Bishopric in Personal Union with Munster.
I would also add a new nation for Hoya as it was not owned by Brunswick either.
I would also really add a new province for Mark, between Westfalen and Berg and give Kleves its second province back.
Furthermore Westphalen/Arnsberg needs to be much further North than it is now.
Paderborn could be similar to Osnabruck as a PU between Koln and Paderborn and an option would be to add the vassal of Waldeck to Hesse, shown with the dotted lines.
In the North, Verden Stade could be split between the Archbishopric of Bremen and Bishopric of Verden, but this might be needed as they would be united later on.
While it was announced that Jutland would not gain any changes, I personally think Schleswig could really be split in two or three, one showing the current divide between the current Danish and German schleswig, other divisions are possible, but this would be on cultural lines.
A third option for further cultural lines would be North Frisia, with Frisian Culture. I also decided to make Dithmarshen smaller and convine it to the river in the north and give some of its eastern part to Holstein.
Going east now, we see the needed split between Ruppin and Priegnitz. Priegnitz needs to stay with Brandenburg and Ruppin could really be its own OPM or a vassal of Brandenburg.
Wittenberg needs to be extend more north past Dessau, while I tried to add wittenberg on the map, i now realise its in a wrong location.
I also attempted a proper shape for Sternberg, but this is less neccesary.
Now in Hinterpommern I would add in the Bishopric of Kammin/Kolberg as well.
Central Germany:
I really attempted to get the shapes of 1444 correct in this map below:
The First suggestion I would make is adding in a province between Aschaffenburg and Mainz and moving Mainz a bit more south to signify it was south of the river.
This province would represent Darmstadt, in history first owned by Katzelenbogen but later inherited by Hesse, so I gave it to Hesse from the start as its Darmstadt area.
Darmstadt would remain part of Hesse for a long time and I think it makes sense to add it.
I also redid some shapes and showed off a few cities on the map with white.
That being Wiesbaden and Siegen and Marburg, Giessen and Kassel and Fulda.
Fulda should be its own state.
Siegen is a difficult thing. I personally would add a second Nassau province, with the new province representing the city of Siegen and possibly even the smaller counties in the west of this new province. So maybe a Noble estate makes sense here. Now its just a possibility, Nassau can stay as one province, but I do suggest properly showing the shapes.
I included the smaller counties to the west to Nassau, but Sayn for example was technically a fief of Trier. So its really up to the developers to show how they want to do this.
I also attempted to the get shape of the Burggrafschaft of Nurnberg (Ansbach) more like the way it is presented in the lower picture and decided to move Rothenburg north of it.
Next up Bohemia:
I am personally an outsider and dont have the full knowledge of Bohemia, but I have some maps that I feel help a lot with showing the possible ways to do Bohemia.
I really wanted to make some chances and many others have already suggested lots of them as well.
But for me, I think there are a few necessary provinces that need to be included in the next update and many changes to the current onces would be nice as well.
A big thing I never see mention is the possibility of Eger/Cheb. Eger was an imperial city for a long time until it was given as a fief to Bohemia. I feel to add some new tags in the Bohemia region it would be nice to see Eger have a Eger core on it which could be released. Its culture remained Germany for a long time.
Other important provinces to add are splitting up Brno into the western provinces of Znojmosko (Znojmo) and Jihlavsko (Jihlava).
Opava is the first province I feel is needed in SIlesia and splitting Liegnitz into Swidnice.
Now come possible provinces to add in:
I considered splitting Rudihori into Zatec and Litomerice.
Making room for Prachen.
And possibly adding in Boleslav.
I dont have any info on if this makes sense in historical context, but I feel it would add some more room for conquest.
So I would love info from Bohemians, Moravians or Silesians.
Now in the South I would add some changes, mostly in the shape of the provinces, which I feel were odd to say the least.
Augsburg needs to be confined by the River to the east and Ulm should really be north of the River, cause it looks odd having it so far south fo the river.
Donauwörth should also not go South of the Donau.
In the South of Memmingen and Augsburg I would add in Kempten as its own prince abbey in yellow.
Above Wurttenberg and west of Rothenburg, I think it makes sense to add in Heilbronn. I also confined Heidelberg to the Neckar river in the east.
Lastly in the North I suggest giving Zweibrucken to the Saarbrucken dynasty of Nassau in Blue.
Now to move down to the Blue Blob.
There are lots of things to change here and I'll just be showing off Beyond Typus its France just to compare it
All across I would add many more provinces, to really cut down on some of the big ones.
Here is a rough draft of things I would change semi-based off of Beyond Typus.
In the North Vermandois would add a nice new province for Burgundy, which used to exist for them, but was removed.
Next to that I would add Laon to the north of Reims to start with the first split for Reims.
In Luxembourgh, Arlon (Arel) should really be added as a province of French Culture in Luxembourgh, which would only go to Belgium in 1830 when it joined the revolution.
To split up Caen I added in Evreux. To the west of Paris I would add in Montfort, as Île de France was a very rich and high population area, which should really have a high density in provinces.
A possible other province in Champagne would be Meaux/Brie in the west, but this would be optional, as I think a more important province to be added would be Chalons in the East.
Auxerre should be moved to the North above Nevers and the current province should be given the name Semur.
To allow for Dijon to be in the Burgundy area instead of Franche Comte, France Comte would need a third Province which needs to encompass Vesoul/Luxeuil.
Nemours would be better confined to the River and Blois needs to be south of Orleans instead of to the west of it, creating two rough diamond shapes. To the west of Blois there could be the province of Dunois or Vendome.
Anjou needs to be further north and not confined by the Loire river.
In Bretagne splitting Finistre is really needed to have both Leon and Kernev/Cornouille
Angouleme could also use a more defined shaped.
Going to Aquitaine, Albret would split the huge province of Aquitaine at the moment and to its east the province of Agenais should be added as well.
Auvergne should also be split into Aurrillac to deal with the huge size of it.
Dauphine also should be split to deal with the huge size of it, I propose a similar split as in Beyond Typus.
---------
Now im done with all the changes I propose, I understand not everything can make it in. But if even 50% of the proposed changes were added, this would really improve the current game.
Please consider looking into the areas oncemore and taking a time to allow for more provinces, new OPMS and other changes.
@neondt
Last edited: