Det er typisk norsk å være best: A Norwegian AAR​
​

Hello. This is my first AAR. I noticed that there weren't any Norwegian AARs here (according to the LibrAARy at least) so I decided to do one. I haven't really played any Vicky for months and have just installed version 1.04, so we'll see how this goes.
Version: 1.04
Difficulty: Hard/Aggressive
Personal rules:
1) No cheating
2) No exploits
3) No changing of government whatsoever
Goals:
1) Restore Norway to its original territories (Greenland, Iceland, Bohus (Karlstad province), Jämtland and maybe Vinland, Dublin, Cork, Limerick, Waterford and Normandie if I feel lucky)
2) Satellite Denmark and Sweden. Let them suffer the yoke of oppression for once.
3) As the title suggests, win the game.
Historical justification of Norway being an independent country, also called a very brief history lection:
On May 17, 1814 the Norwegian constitution is signed and Norway declares herself an independent country with the Danish crown prince Christian Fredrik as king, but the great powers started to meddle as Norway had been promised to Sweden for their part in the war against Napoleon. In November the Norwegians gave up and accepted Swedish sovereignty. Carl Johan (the soon to be king of Sweden, and the leader of the campaign in Norway) didn't go so far as to annex the country, but instead changed the constitution a bit, making (among other things) the king of Sweden also the king of Norway.
During this period Norway was largely independent. The only institution not existent was the foreign one (I believe this is the only thing satellites lack in Vicky). They did have the right to have consulates in other countries in the constitution, but Stortinget didn't use it to save money.
Norway January 1, 1836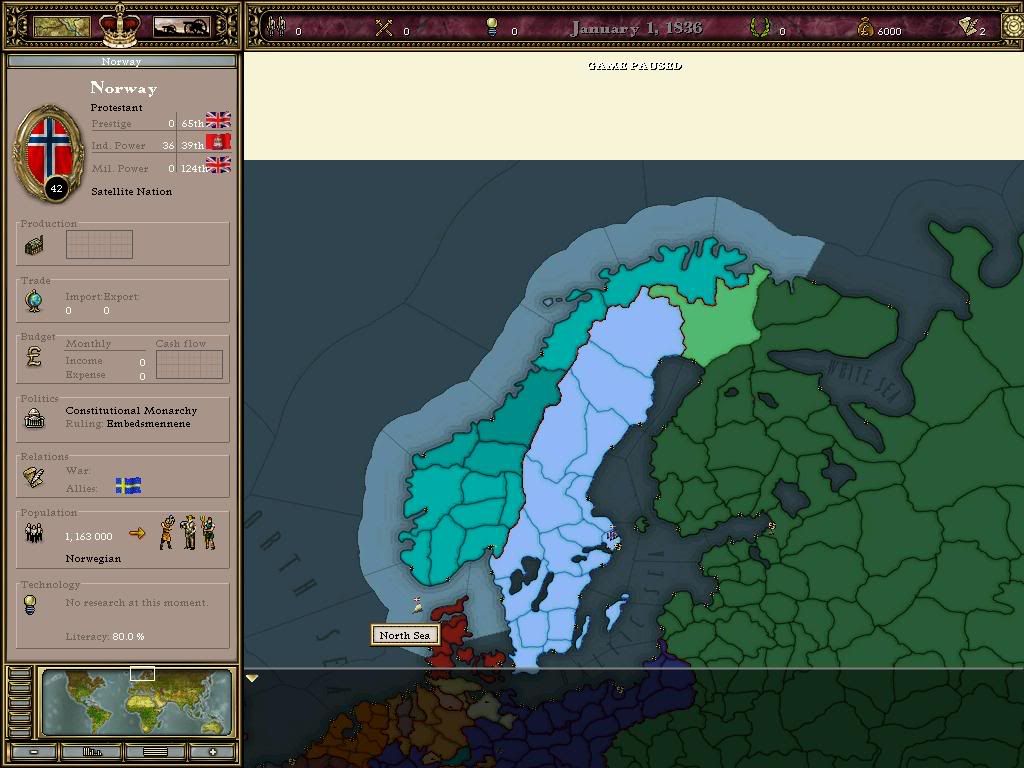 Last edited: