East vs West developer
33 Badges
0500 July 11th 1944
6. Armee Headquarters, Beltsy, Romania
Von Manstein did not want to waste manpower and bullets over a theatre that was near the brink of collapse, but he had to divert Soviet forces to where he wanted. Beltsy was one of those points, as it would probably relieve Heeresgruppe Mitte some pressure.​
He ordered von Brauchitsch to attack the eight divisions in Beltsy. He would call off the attack as soon as enough Soviet reinforcements were diverted to help the defenders in Beltsy.​
1100 July 11th 1944
2. Armee Headquarters, Slonim, Poland
The attack in Beltsy did not discourage the Soviets from commencing operation in the North. General Straube would be the first to face the brunt of the Soviet attack, and would retreat to the safer marshes of Bielsk.​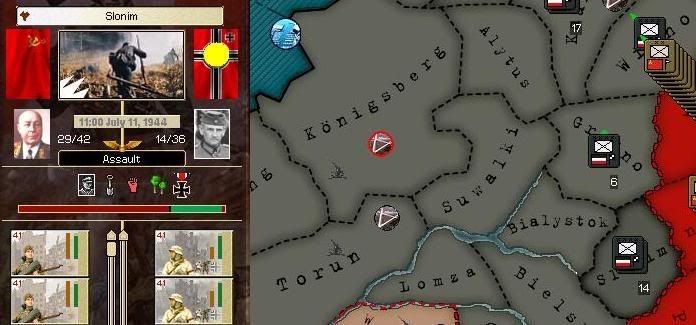 German generals were starting to question the stability of the Front.​
0500 July 12th 1944
3. Unterseebootsflotte, Central Bay of Biscaya
Some good, but at the same time worrying, news came from Western Europe. Grand Admiral Raeder spotted four unescorted British transport flotillas. This was an easy prey for Raeder's submarines, but this also meant the British wanted another beachead in France.​
Two of them would see the bottom of the sea.​
1200 July 12th 1944
16 Armee Headquarters, Jekaplis, Baltic States
After almost one month without fighting, Field Marhsal Busch's divisions were now well-equipped and ready for battle. He hoped he could continue this break, but this changed on July 12th as the Soviets pushed forty divisions towards the thirteen German ones.​
Only Hitler would tell him to fight against such odds. He was immediately ordered to retreat.​
At 1900 hours on that day the Soviets occupied Wilno. Von Rundstedt wasted no time ordering a counter-attack.​
One lone Soviet division experienced 28:1 odds. It was rare to see such events in 1944, and this was one of those rare days.​
Six hours later, that division realized it was time to retreat.​
0500 July 13th 1944
II. SS-Panzerkorps, Bourges, France
Chief of Army Julius Ringel took a trip to France and was now talking to Hausser.

"General Hausser, the time has come to teach those Americans a lesson they won't forget with ease. Make sure you strike hard and fast: the old fashioned Blitzkrieg way."

"I couldn't hear better words, herr Ringel. I have devised this simple but effective plan; take a look at this map."​
"Twenty-eight divisions will mop-up those two American divisions actually residing in Auxerre. The Americans will be urged to call up reinforcements; our forces will gladly dispose of such divisions that might want to venture in Auxerres; our bombers will target them and bomb them to death. The following day I will lead a two-pronged attack towards Orléans.

Once Orléans is secured, we will attack the forces in Le Mans with those twenty-eight division plus the ten defending Tours. To prevent Allied reinforcements, a diversionary attack will be called out from Le Havre to Argentan .When also Le Mans is taken, we will push West and capture Angers and Avranches, or Rennes, so to split American forces in two pockets: an estimate of twenty divisions will be isolated in the Caen-Argentan area; the other pocket will be in Cholet and surrounding zones. The weakest pocket will be destroyed first, then the rest will be dealt in time.

Therefore, we have one primary objective and one primary way of going towards it: reach the sea to split the Americans; do not get bogged down in long battles. Quick must be the adjective of the battles that will soon follow."

"It looks daring and ambitious at the same time, Hausser. Do you think you have enough forces to carry out this plan? Can you also afford to achieve total air superiority?"

"Air superiority is almost uncontested. Our forces have also rested enough and have received enough reinforcements to sustain an offensive. This plan is bold and risky, I know, but I think we must strike quickly before the Americans take the initiative again."

"It makes enough sense, Hausser. I hope you can achieve those two big encirclements, albeit risky. What worries me most is the fact that plans often tend to disgregate once they reach contact of reality. I hope you have taken into account all the variables that may alter the plan's course."

"I did herr Ringel, and I must tell you that I'm not certain of a positive outcome. But we can't afford otherwise."

Ringel did not want to add more doubts. He reckoned that this gamble on the West was the only way of escaping doom for Germany.

"Then that's it and we're agreed, general Hausser. Alea iacta est."​