East vs West developer
33 Badges
0000 June 22nd 1944
The skies above Amiens
British passengers flying British airplanes should know that they aren't allowed to roam freely through German-controlled territory without German passports.​
0100 June 22nd 1944
Argentan, Northern France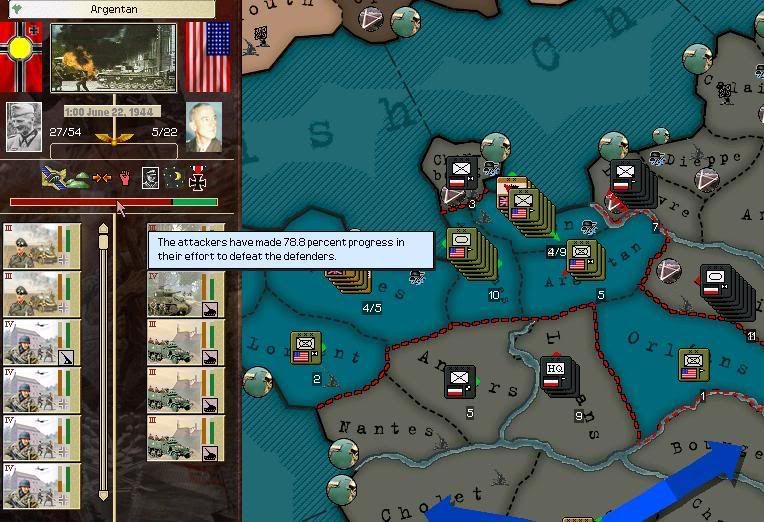 Three hours into the battle, the odds seemed to be in favour of the German divisions. General Hausser could only hope the Americans didn't want to move any of their divisions to Argentan in time for him to defeat the present ones first.​
0300 June 22nd 1944
Ismail, Romania
The Soviets wanted to attack Ismail once again. They would try to hold and call a flanking attack on Beltsy one hour later; eighteen understrenght divisions would attempt to distract the Soviets for a while.​
All ground battles did not look really good. Warsawian troops would occupy Torun soon; Cherbourg garrison was about to surrender; Argentan was not likely to switch ownership any soon; a Paris uprising was the only battle being easily fought by the Germans; defense of Ismail seemed not that certain, and the attack on Beltsy lacked any strenght to overcome its defenders.​
1300 June 22nd 1944
Cherbourg, Northern France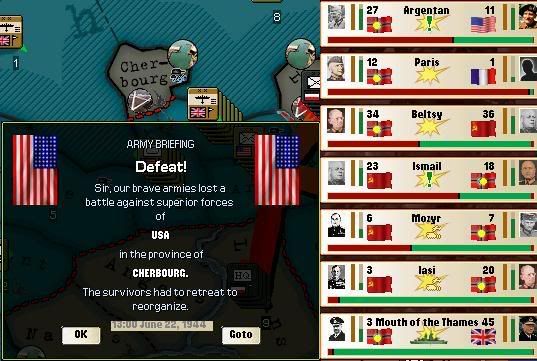 After two days of uninterrupted fighting, three decimated German divisions surrendered to the Americans in Cherbourg. They would be revenged as they fought frantically even when they knew their fate was sealed.​
As night approached, it was clear that the two attacks on Beltsy and Argentan could not be sustained. Troops in Ismail were not relieved at all and have been forced to fall back; Argentan would not change ownership, and Eisenhower would live another day. It was not a bright day for Germany, but at least it was another day where Germany was still alive.​