East vs West developer
33 Badges
"Das war ein Befehl!" A German Götterdammerung '44 AAR
​
0000 June 20th 1944
Reichstag Building

Generals and Ministers entering the Cabinet Meeting were soundly convinced that Hitler would discard, once again, each attempt at organizing a strategical withdrawal on the Eastern front. This time, they tought, it would be different.​
Hitler and the others were in this large, dark hall, all around a table and a huge map portraying Europe. His left hand was trembling, but this did not disallow him from expressing his concerns about the present situation in a not really mild way.
"That was an order! I told you all every man in the East must stand against the Red scum!" Hitler slammed his right fist on the table "How dare you disagree my orders, you coward, treacherous, so-called generals! I know you just need to exit this door to backstab me once again, bunch of fools!"
"Mein Führer, we're actually inclined to say you would now agree to our new plans our Generals prepared to front the new situation in Europe. Look at this paper our Chief of Army--"
"You dare think I would even look at your pile of paper once again when we have the Americans knocking at our doorstep, the Soviet scum invading our lands we rightfully occupied, and the Allies taking Italy from the grasp of our loyal ally, all of this because of your genial plans, and you even think I will allow this foolish suicide to continue? Give me I say, oh dear coward Generals, give me a single reason to why I should follow your darn plans!"
"We all actually have a good reason, mein Führer." quietly answered Julius Ringel, soon-to-be Chief of the Army, and calmly pointed its Luger towards the head of his beloved Führer, now shattering in fear.
"What does it mean... that's treason... why would you even think of such an action...! I have always acted in the interest of the Fatherland... you are my means to reach the Endsieg... y-you wouldn't want to end this all now, would you...? Why don't you react?
"Because we all agree, mein Führer, that your elimination IS the best thing for our Fatherland, for we are no means for the reaching of the Endsieg, but the leaders; for you are no leader of this Country, but its downfall."
A surreal silence descended upon the hall when, all of a sudden, one could hear a distant sound. It was that of the Ride of the Valkyries, that was being played from a radio not far away from the hall. That gave the signal for two SS-guards to enter the hall, deprive Hitler of his consciousness, and deport him far away from the Reichstag.
"He could still prove to be useful, afterall." said Chief of Staff Heinz Guderian.
"I really hope so" intervened Julius Ringel "for I don't really know how much better it is to keep him alive instead of finishing him off now."
"Now now let's not debate about this once again" Martin Bormann, Head of Government, replied "we went over this many times and decided to make him think he would get killed, and then get him deported. I tell you this will have its uses, in the future."
Ringel said "You are right, or at least I hope. Now we have a Country to save, don't we? Let's start this meeting once again, with one man less.
"I will start" said Heinz Guderian, Chief of Staff "with depicting our Armed Forces state in relation to our situation in Europe.

"Our ground forces of the Wehrmacht seem to look good. Well, they are not. Most of them are understrenght and need an intense flow of reinforcements. The Kriegsmarine has a not really big, to keep it optimistic, surface fleet, still it can rely some potential on the 50 submarine divisions, with which we can hope to harass a bit of Allied Shipping in the Channel. The Luftwaffe is not that bad, though much of it is on the Eastern sector, and even there we can barely achieve Air superiority.
Since June 6th, we must deal with a 3 front war. I want this to become one - the East. To do this we must first focus on the newest one, France, before the Americans knock at the Reichstag's doors in a few months. Then we will deal with Italy, and then we can play with the Bear. To how we can achieve this, I know our Julius has some in-depth plans. Julius, why don't you inform us."
"Thank you. First of all, I deem it necessary to put all our reinforcements stream on our divisions in the West, and also reallocate all our Airforce in the East to the West. It is imperative that we stop the Americans and capture those divisions landed at Normandy before they expand out. We cannod however achieve this with our current state of forces present in the area, so I developed a salvage plan for the current days.​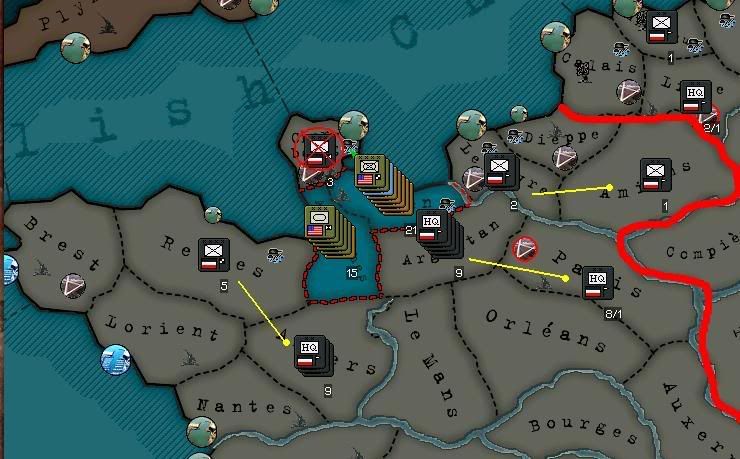 Unfortunately, our three divisions in Cherbourg have no way to get out and will be destroyed by American forces. Anyways, Yellow lines represent retreating moves, and the Red line represent our ideal front. Paris we will keep or not, this I cannot know and may become a wildcard. I will be satisfied if we can keep the Americans along the red line. While we do this, we will call all our divisions at present behind the front to bolster our defense and hopefully pull them back, or keep them on a tighter front.​
Italy is the easiest front we can manage. I want all those lone divisions in Rimini and Florence, and perhaps we can even mount a successful operation there.​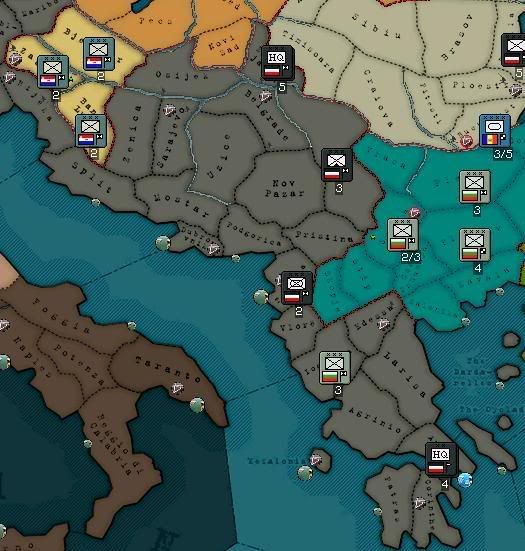 The Balkans need some rearrangement. While I think it is unlikely that the Allies will open a new front there, I still think that we can spare a few, understrenght divisions, in Greece to watch for any danger. Those Croatian divisions are really understrenght and, since they would be of no help in Italy, they can be some nice watchkeepers in Greece, while the other divisions scattered among the region can be transferred to the fledging Eastern theater, which I am about to analyze.

The Eastern sector is huge and I will divide it in North, Center and South. Overall, we need a strategic withdrawal along the whole line. We must buy time to resupply our forces, shorten the front line and hold the Russians in a stalemate front, if this we can achieve. Do also remember that we must avoid fighting where possible, and that I am sending all operational aircraft to the Western theater to deal with the American menace. The earlier we close that front, the earlier we can send those troops to the Eastern front and stabilize things a little. Also, I am going to reorganize the chain of command a little, as many commanders have way too many divisions under their command.

Now, on a further look:​
In the North, the whole Baltics region must be evacuated. By doing this, we will avoid the risk of being encircled, we will shorten our frontline considerably, we will buy time for the Soviets to come and for our divisions to resupply. A Jelgava-Jekaplis-Wilno line should be enough, I hope.​
Center. This is a mess, but I hope that this will ease things a little. We are not really reducing our frontline lenght a lot, but we desperately need to buy time. I am merely adjusting the front line to the obvious restriction the northern region will put to the central region.​
South. Here, trading space for time is not really a luxury we can afford. Our allies must be protected at all costs, but still I think that we can hold the line by retreating to the Zamosc-Strij-Iasi-Ismail line. I don't know if Iasi can be held for this so much time. I request that all behind-the-lines troops be called to the new frontline to keep the Soviet menace at a halting ground.

I say that Field Marshalls von Manstein and von Rundstedt command the Eastern front, General Hausser the Western front, and myself the Italian front. That is all from me. To execute this plan, I ask that we allocate each and every drop of resource to reinforcing our troops, with maximum priority given on those of the Western front. Speer, is that something we can afford?"

"Not at that extent" replied the Armaments Minister Albert Speer "but I can optimize our precarious production situation.​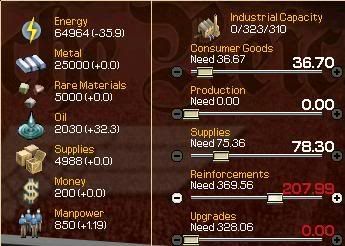 As you can see, I have scrapped all the underwater metal waste and fireworks projects that were U-boote and those shiny V2 that, albeit cute, do not help our war efforts by much. I have allocated whichever available to the reinforcements sector, and even there we can only sustain almost two-thirds of daily reinforcements needed. Not that it is that bad, but I don't know if this will be enough. As for our resources pool, we can still count on fairly high reserves, though I think we'll need to arrange many trades for Oil and Rare Materials in the near future. I would now hand over to our Head of Intelligence. Ernst."

"Thanks, Albert. Our technology level is fairly high, but there are some sectors I need we must specialize in.​
First of all, we need to focus on manpower growth. Then we must improve our decryption devices to help our troops' precarious odds with the enemy; Improved Electronic Computers will help us accelerate our research pace, while Turbojet Interceptor and Turbojet Close Air Support will be needed to even the odds with our enemies' airforce: if we can't get numerical superiority on air, at least we can achieve the edge of technological advancements, can't we?"

"That's very good and all, gentlemen" said Head of Government Martin Bormann "as a last measure, I will ask our specialists to direct towards a more standing army in the future. Let's now try to get this plan in motion, and let Germany live another day. Or die trying."​



1944​
June
- Pages 1 to
4
Prologue, Initial Setup, Initial Plans
-
Utter Retreat in the East and in the West
-
Warsaw Uprising
-
The Luftwaffe battles for Air Superiority in France
, the Kriegsmarine fails to patrol the Channel, further Allied expansion in France -
Stryj is besieged
July
-
4
to
6
Cabinet Meeting
- Stryj is lost, Warsaw Uprising crushed -
Reinforcements for the Wehrmacht in France
, small German counter-attack in the East -
Plan for re-occupation of Northern France
, evacuation of Wehrmacht forces from the Baltic States to Königsberg - First successes in the West
August
-
6
to
11
US troops encircled in Caen
, Soviet breakthrough against Soviet Union - Nine US divisions evacuated from pocket -
German counter-offensive at Stryj, US defeat in France
-
Mid-August Cabinet Meeting
-
End of Operation Overlord August 18th
, Eisenhower captured -
Rommel plans to encircle 100 Soviet divisions in Stryj
, Soviet defenses start to crack -
Stryj pocket isolated
, Wehrmacht begins encirclement of 20 more Soviet divisions in Ismail
September
-
12
to
14
Cabinet Meeting
-
Ismail pocket destroyed
, one hundred Soviet divisions trapped in Cracow - Troop re-deployment in Italy -
Cracow pocket destroyed
October
-
14
to
15
Cabinet Meeting
- IJN crippled by the USN -
Creation of Hassuer's Heeresgruppe Finland
-
Operation "Boot Shiner" starts: the Wehrmacht begins offensive operations in Italy
- Tannu Tuva becomes part of the Soviet Union
November
-
15
to
17
Roosevelt gets re-elected - Axis troops advance in Pescara and Cassino, British troops pinned down in Perugia -
Axis troops advance into Naples
-
US Navy's shore support prevent Axis breakthrough in Anzio
-
Month-long battle of Perugia ends as Axis victory
- Rome-Anzio pocket created
December
-
17
to
18
Ringel plans to stop the USN preventing the Anzio breakthrough
- Two U-Boot flotillas prevent the USN from shore bombarding Anzio - Axis troops utterly crush the British in Anzio and Rome -
Rome is captured
- British divisions missing -
Final operations of Operation Boot Shiner: Axis troops sweep through southern Italy
-
December 21st: Operation Boot Shiner ends: mainland Italy under Axis occupation, thirty Allied divisions captured
- Ringel troops get redeployed to Berlin. Invasion of Sweden is planned.​
1945​
Scenario - Götterdammerung
Country - Germany
Difficulty - Challenge / Normal
Version/Mod - HOIDD:A, EWWII(WiF)
Changed from Arma 1.1 to Arma 1.2 15th Dec 1945​
____________________
Notes from the Author
- The World in Flames mod includes a completely different combat system, as battles take much longer, consequently dealing many more casualties, and trench-like warfare is much more likely to happen if one side does not possess convincing odds or enough airpower. Furthermore, the Challenge difficulty provides a -20% IC to the player and a similar positive bonus to the AIs, notwithstanding a small -5% combat penalty modifier.

Is a '44 Germany winnable in such conditions? We shall see.
​
Last edited: