Dar al-Islam
The House of Submission​
"How long, my brothers? How long will we sit here, content to be ruled from Baghdad by those who do not acknowledge Allah? They would rather pretend that there is no god, but we know that there is no god but God, and Mohammed is his prophet. We must rise up against these infidels! And when we are the masters, we will rule bismillah--in the name of Allah!"

Abu Bakr, Mecca, 1930
The following is an excerpt from
Brother Against Brother: The Arabian Civil War
by M. Clancy:
. . . World War One, two countries pulled out of the war because of civil strife: the Russian Empire and the Ottoman Empire. The Russian Civil War eventually led to the creation of the Soviet Union, a communist state. The Ottoman Civil War between the Turks and the Arabs led to the creation of two states: the Republic of Turkey, and the Arab Federation.

The Arab Federation was a republic built on secularism. This angered much of the Muslim-majority population. As a result, the Federation never truly had control of Arabia, as the tribes deep within the Arabian Desert would not listen to this secular government.

When the Great Depression reached Arabia in 1929, the amount of people in rebel groups grew exponentially. These groups were at first scattered and few, but Abu Bakr, the leader of the group "Dar al-Islam" united them under the banner of radical Islam. As the groups grew and grew closer, eventually they were strong enough that Bakr began to plan the overthrow of the government. His plans were put into action in 1933, when the Arabian Civil War began.

The Arab Federation fought Dar al-Islam in this take-no-prisoners, winner-takes-all war. Dar al-Islam took control of the Arabian Desert almost immediately, as well as some cities in the north, and the two sides fought viciously over three years, until those loyal to the Federation fled into exile and the country of Dar al-Islam came into being (see Fig. 1).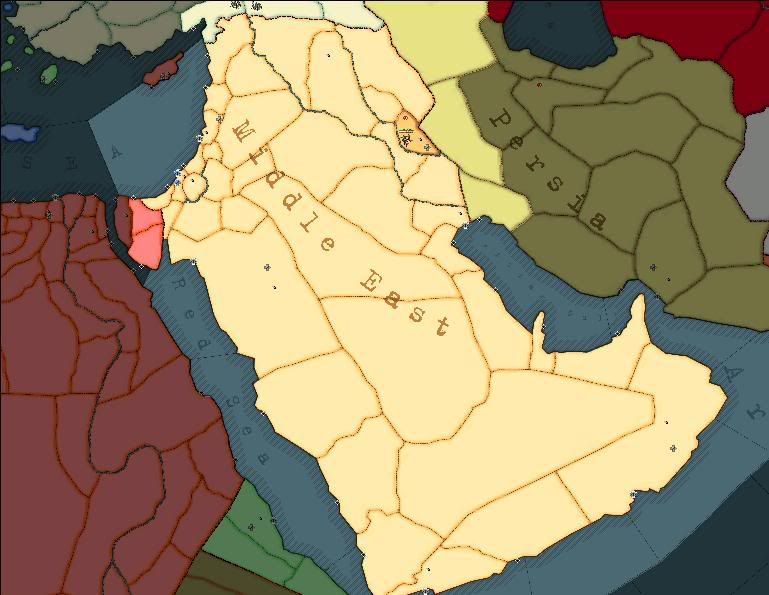 Fig. 1​


This country was ruled from Baghdad, which had been built by the ancient Caliphs to be the capital of the Muslim world. To rule this country, he created a cabinet of loyal and faithful Muslims, and they would rule with an iron fist (see Fig. 2).


Fig. 2​


In Arabic, the Muslim world was known as Dar al-Islam, which is why Abu Bakr chose it as the name of first his rebel group, then his nation. It literally means "the House of Islam," or "the House of Submission," and it was almost entirely true that Arabia was this house, as most of the Muslim world was ruled by secular states or from Europe. Bakr claimed all of this land in the name of Dar al-Islam, and vowed that all of this and more would be his before long. . .