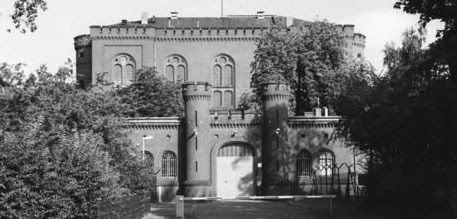 Berlin, The Spandau Prison
Excerpt from Albert Speer's "Spandau Diary"
**​
July 17th, 1954


Yesterday, on Friday, the sixteenth of July, the guards wake the nine of us up at four o'clock in the morning. A platoon of soldiers are waiting in the prison hall, and a young leutnant - an American, judging by his accent - enters my cell. He points at each of the personal items I'm allowed to take with me to Spandau. And then he keeps his eyes fixed on his watch for nearly ten minutes, prompting me to hurry up with my packing every now and then, even though I'm finished by the first time he expresses impatience. I could smuggle a forbidden item past him, but I decide not to take the risk: our jailors were bound to search through our luggage before it reached Spandau.

We have time for a last cup of bland coffee. It is served at the Registry.


Soldier guards seem to have a fondness for making their prisoners go through dull periods of waiting. The nine of us loiter in the entrance hall for over an hour. We're under orders not to talk to one another, and there's no doubt the men who keep watch on us would enforce that order.

A gunshot cracks, breaking the silence. It's an American who handled his rifle badly and hurt his own toe. It brings back a memory of Elsie scorning the American soldier, and of Karl patiently explaining the assets represented by the American industry and manpower, and of I trying to follow their argument. Has it already been thirty years?

We take our leave from Major Teich. I thank him for the kind behaviour of his subordinates, and hastily add "within the strict limits defined by the rules", hoping to spare him further trouble. Each of us is then chained to a soldier, and we leave the prison. We are taken away in medical cars, and followed by a mechanized column.

I feel relieved to leave the prison block. It was indelibly associated with the trials, and our co-accused at the trials had been executed there. Presently the short trip taking us through Nuremberg and Furth, wrecked as they are, lightens my heart, and I feel genuine pleasure when we cross the Pegnitz on a small and elegant steel bridge of recent construction. Hitler would have destroyed Germany, and I am seeing with my own eyes the proof his last, demented wishes will never become reality.


I am assigned a seat by the window on board a small touristic plane. After having been locked for several months, it was impossible not to feel emotion during the journey. Even being manacled to a soldier cannot bring me out of my reverie, engrossed as I am in gazing at the world around me. On the ground below are villages and small towns, many apparently untouched by the wars; the fields have been sown, and the forests are mostly intact - the rumours some generals and SS colported about a Germany turned into a barren wasteland were not true either.

Little things move me. A train on a railway, a brick navigating the Elbe, a plume of smoke from a chimney - all of them remainders of how life is going on, when my own had been frozen since November 1952. Thirty more years! Will I be able to recognize the world around me when I am released, should I live long enough to see that happy day?

We fly in circles around Berlin for over half an hour. The city is still mostly in ruins. My eye is inevitably attracted by the dome of Grosse Halle. I quickly spot the East-West Axis I made for Hitler's 50th Birthday; the lawns around the Olympiastadion look well tended, and the Reichskanzlei is in a pristine state. Grunewald and the Havel Lakes look as beautiful as ever.

We land at Staaken and climb into a black van.

The journey through Berlin is made at breakneck speed. Braking, accelerations, sharp turns and horn blows. One last turn, and a brutal halt. We get off, still chained to soldiers.

An order in German: "Take their manacles off. They have no use here."

The American guard takes leave of me with a rather solemn handshake.

Inside we're made to seat on a wooden bench, dressed in the civilian clothes which had been returned to us when we left Nuremberg. One by one, we are led to a room where we abandon our clothes and are examined by a condescending Russian doctor; I make a point of having him assess me as "fit". We're all issued prisoner clothes: pale blue trousers, a threadbare vest and a rough shirt. A formless cap and fabric shoes with wooden soles complete the outfit. Before we're taken to our cells, the German director of the prison reads us the rules which will govern our sojourn behind the walls of Spandau.

Large white numbers have been painted on the backs of our shirts and vests, assigned to us in the order in which we have been taken to our block. These numbers are how we are to be adressed for the duration of our imprisonment in Spandau; it is forbidden to speak any of our names. My thoughts go back to Elsie, and of her chilling habit of talking about human beings as little more than objects and pawns. It seems this is the feeling the United Nations have for us.

I was called forward last, and consequently have become "number Nine". The United Nations must have found it demeaning for a man who built and maintained the Third Reich's military machine.


I dwell upon a depressing idea: when I am released, my eldest son will be older than I was when they arrested me.


Albert isn't much younger today than I was when I met Karl.

It's strange how I still think fondly of the little man. One could say he's the reason I am a prisoner in Spandau: he introduced me to Elsie, who introduced me to Hitler.

Karl wasn't an easy man to deal with. You never knew on what footing you should approach him. He hardly ever expressed feelings, but would sometimes burn with fiery passion. One moment he would be coldly analytical - machiavellian, indeed - and the next he would offer succor to victims of the war, to the extent of his capabilities.

He often displayed nineteenth century mannerisms and turns of phrase, and his values had a lot in common with those of the old Prussian generals, but he was open to progress, and even well into his sixties his keen mind could perceive changes younger men needed years to notice. Over the course of the years I learned to value his counsel, and seldom regretted having followed his advice.


I often wonder what my life would have been had I not met Karl. I would never have met Hitler, and Germany might have lost the war before 1945, averting many horrors. And I would be with my wife and children, maybe busy making plans for the reconstruction of Germany.

Instead, Margarete is alone with our six children to raise and few resources at her disposal, and almost everybody views their husband and father as one of the greatest criminals in history.
**​
Last edited: