Diagnosed Megacampaign Addict
82 Badges
Crisis in the Danube
An Austro-Hungarian Civl War AAR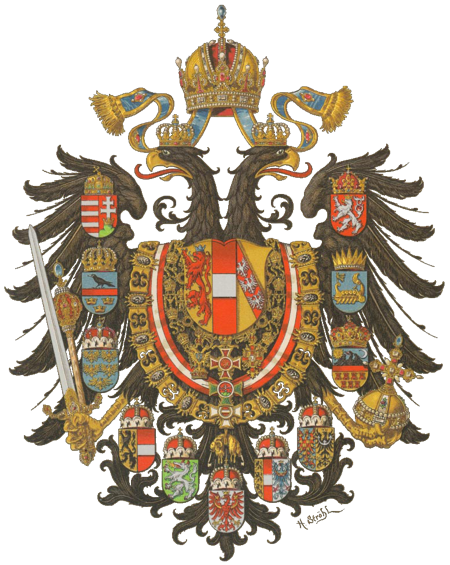 The Background
(From KR's text)
Although Austria was on the winning side of the Weltkrieg, the war's main impact was to reveal the Empire's significant weaknesses and utter dependence upon Germany. Over the course of the 1920s one disaster followed another: Emperor Karl died in 1922 causing the throne to pass to his 10 year old son Otto; Austrian industry collapsed in face of competition from German manufactures; and the quarrels of the Czechs and ethnic Germans in Bohemia nearly pushed the Empire into civil war. Finally, the humiliation of having to call in German mediation to resolve the deadlock of the Ausgleich negotiations in 1927, which resulted in the concession of autonomy statutes given to Bohemia and Galicia, seemed to signal the end of Austria as a Great Power.
However, many feel that there is new hope for the Osterreich - now that the Emperor Otto I has come of age and the terms of the 'Great Compromise' are to be renegotiated at the 1937 Ausgleich next year. Could this be the time for Austria to throw off her shackles of dependence on Germany and reassert the power of the Habsburg dynasty over her Empire?
The Scenario
Emperor Otto sits on the throne of a shaky crown. At this point, it would be debatable if the Austro-Hungarian Empire can still truly be called an empire -- or if it even remains Austro-Hungarian. With nationalist sentiments on the rise and a growing number of Magyars clamoring for independence, and with the creation of semi-autonomous states thanks to German meddling in the 1327 Ausgleich, the base of power in the Empire has been severely decentralized.
With the 1937 Ausgleich approaching, there remains a chance to restore what was once a powerful Imperial dynasty. But Vienna is crowded with diverse agendas and ideas, all of which are vying for supremacy in the coming year. Some would favor an authoritarian, purely Austrian state; others, a more centralized and powerful dual monarchy; still others call for federalism. An outdated army needs to be modernized, and the debate over force composition and doctrine remains strong in Austrian military camps.
This is a time of great change for Austria... But for better or for worse?
The Details
Part of me had really wanted to try a Hungarian game in DH, but I want to wait for the patch to come out before I embark on that journey... I'm rather fascinated by all of the varying options that can come out of the Austria-Hungary scenario in KR, and it's just one of my favorite mods of all time. So with that in mind, I'm playing Kaiserreich for DH with a few custom mods:
- The units folder from DH Full has been imported to KR, and changed as follows:
- Build time of land and sea units reduced by 35%
- Build time of air units increased by 20%
- Build time of brigades unchanged, except for Military Police, which is reduced to 60 days
- The cost of certain decisions has been lowered to make them more accessible (most notably, War Games now costs 600 instead of 1,000)
I like the slower build times of DH -- say what you will about the historicity of raising regiments in such a long period of time, but I like how it cuts down on the overall number of divisions and makes for less superstack-grinding.
My goal is to get to the Ausgleich and have it result in some form of civil war, and I'll save/reload at the Ausgleich event until it happens. Don't know yet who might be for/against me, or what concessions I might make or not make to other countries. All I know is I want a bloody, violent civil war. If I win, I'm open to voting on whether to go the Austria-Hungary or Danubian Federation route. If I lose, well... I'll pick up as whatever nation wins the war and continue the AAR from there.
So now that my Fascist France AAR is over, and I'm still chugging along through my EU3 Savoy AAR (though it's stopped temporarily while I try to fix a bug), my new venture is going to be this little romp through Austro-Hungarian politics
Last edited: