Debased coinage
35 Badges
Come and

Take It!

A Texas AAR
Stephen F. Austin, the father of Texas
​
It all started in 1824, when the newly free nation of Mexico became a republic under the new constitution. In the following years the Mexican government allowed Anglo-American immigration to the area known as Tejas, under the guidance of Stephen F. Austin, under the condition that they converted to Roman Catholicism, became Mexican citizens and adopted Spanish versions of their names. However, the newcomers soon became disillusioned with the Mexican government for a number of reasons. One was that Texas was not a state in its own right, but part of Coahuila, with the capital in distant Saltillo. Another was the ambiguous legality of slavery, formally abolished by the constitution but not widely enforced, and another cause for resentment was the seizure of power in 1833 by Santa Anna, who established a dictatorship, flagrantly ignoring the 1824 constitution, citing that the Mexican nation was not ready for democracy.
Austin and the settlers initially supported Santa Anna and his bid for power, and sent a petition to Mexico City asking for various things, especially for Texas to be separated from Coahuila. All the requests were granted apart from the main one, and not long after an angry Austin was arrested and imprisoned for sedition after a letter to a friend was intercepted by the central government.
He was freed 18 months later, and despite this the Texan settlers were not yet in full opposition to Santa Anna. It was never going to take much to incite revolution, and when the Texan settler Jesse McCoy was bludgeoned with a rifle by a Mexican soldier in an altercation, Austin saw no other choice but to rebel. He sanctioned for a consultation to take place in October, to discuss formal plans for a revolt
The first battle of the struggle against the Centralists was to take place at Gonzales, in October of 1835, before Austin's consultation could take place. Not long before Santa Anna had ordered the disarming of all state militias, and when Mexican troops demanded that the militias in Gonzales return a cannon given by the Mexican army several years before, the Texans were defiant and refused, challenging the Mexican army led by Castañeda to "come and take it". Castañeda did not rise to the challenge, instead leading his dragoons back to San Antonio. The Texan Revolution had begun.
The Texans were then victorious at Conception under the command of James Bowie (of Bowie Knife fame). However, the siege of Bexar, defended by Santa Anna's brother-in-law Marin Perfecto de Cos, saw the Texan force dwindle, as many of the volunteers got bored and left. The duration of the siege saw a lot of bickering between the Texan commanders, showing that Austin's talents lay more in politics than military command. Despite this the siege ended in December with the capture of Cos and what remained of his army. Rather naively, the Texans let him and the other Mexican prisoners go, after he was forced to promise not to fight against Texans again.
Back in Gonzales, a provisional government was established in November, not to be separate from Mexico but merely to oppose Santa Anna and his Centralists. Sam Houston was made commander-in-Chief of the regular Army of Texas, which currently consisted entirely on volunteers. Austin stepped down as a general on November 24th, and was replaced by Edward Burleston.
The Texans initial gains had been impressive, but as 1835 ended Santa Anna decided that now was the time to launch a major offensive and crush these Anglo upstarts once and for all. The volunteers of Texas would soon be facing the professional troops of the Federal army of Mexico.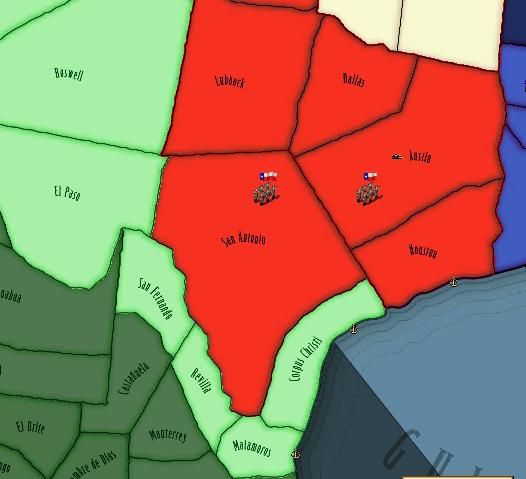 In San Antonio there were two separate armies. There were 2097 under Col. James W. Fannin and 932 men led by Lt. Col. William B. Travis. The main body of the Army of Texas in Austin was led by General Houston, consisting of 5,126 troops in total. Scouts indicated that there were no Mexican armies in sight, but they were surely not far away.