This AAR is heavily inspired by magritte2's AAR '
A History of the World According to Paradox - a Hands Off AAR
'.
I will be playing a variety of obscure counts throughout Europe and do as little as possible to ensure that I have no impact.
I am using only one mod in this game which is CK2Plus Continuation which can be found
here
In addition, I am also making use of the interesting scenario included in CK2Plus Continuation which begins this AAR on December 25th, 1000.
Warning - this AAR will be text heavy and have few pictures.
Germany, 1000-1010​
The lands of the Holy Roman Empire in the year 1000 extended from the Baltic Sea to the Mediterranean and from the Kingdom of France to the Duchy of Poland. Her neighbours were few and far from being able to challenge her might when she so chose to extend a fist. However, despite her apparent strength, she had never been so threatened. Internally, the Empire had never been weaker. In Italy, her lords stood irate by the constant emphasis of Germanic issues over Italian ones, while powerful lords of great ambition were never hard to find.
In 1002, the Dukes of Tuscany, Ravenna, Susa, Lombardy and Modena met together in a secret conference supported by the newly elected Pope, Celestine II, who had no great love for Otto III and desired buffers between the Empire and the Papal States. Together, the lands of the Italian lords dominated central and north-eastern Italy. It was agreed amongst themselves that the rule of Otto III no longer suited them, and independence was a word more to their liking. However, even with all their resources, it was generally accepted that attempting rebellion against the rest of the empire was a bad idea – unless there was something to distract the Emperor's forces.
Brief thought was given to the Boleslaw 'the brave', Duke of Poland whose lands lay to the east of Germany, and who was currently decimating the Duchy of Bohemia for Moravia. Although Bohemia was not part of the Holy Roman Empire, the growth of what was becoming a powerful rival was drawing attention. However, when Pope Celestine had his agents in Poland sound out Duke Boleslaw he was only able exact a promise of future aid.
However by June 1001, a man had been found who was more than suitable for the Italian plans. Duke Eudes II was a member of the Karling dynasty whose ancestors had created France and the Holy Roman Empire. However, in the year 887, the last Karling ruler had been the great grandson of Charlemagne, Charles III, who was overthrown in a coup after which the Carolingian Empire collapsed into five successor states. Duke Eudes II was the last of his family in the Holy Roman Empire with any meaningful titles, and he was often said to have proudly boasted of his family's great history. A man given greatly to trust, he eagerly fell into the claws of the Italians when they offered to make him Emperor in exchange for their independence.
On December 1002, the Lower Lorraine League declared independence against Otto III. The whole of north Italy and north-east Germany turned against the Emperor. Eudes II, although a poor warrior, was well served in his marshal who consistently defeated any army sent by the Emperor against him. The Italians had chosen well in their distraction. The name of Karling resonated hard in the mind of Otto III who instead of focusing on the Italians chose instead to send his strength against Eudes II, but paid heavily for it. The Italian armies conquered Switzerland, Tyrol, Verona and Carinthia, eventually threatening to march upon the capital itself.
On November 5th, 1003, Otto III came to terms with the Lower Loraine League. To a man, the Italian lords signed the treaty offering them independence, breaking their promises to Eudes II who was left without a single ally. Upon advice from Pope Celestine, Eudes II agreed reluctantly to the same terms as the Italians.
In a single swoop, the Holy Roman Empire had lost most of her Italian possessions and north-eastern Germany.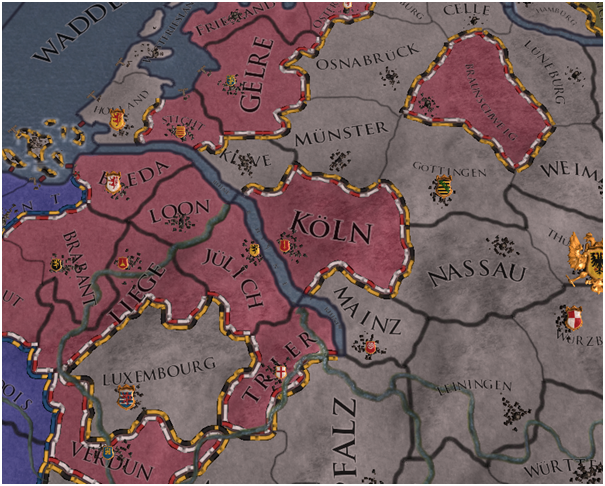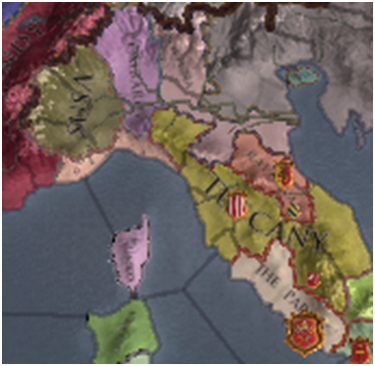 After the disaster of 1103, Otto III retreated into himself. During the war of independence, Otto III had taken a devastating wound which, despite it having healed, continued to plague him for the rest of his reign. On December 15th 1006, Otto III fell into a sudden coma and three days later, died. When the lords of the Holy Roman Empire came together, it was decided that Otto III's cousin, Heinrich, would take the throne. However, after barely a year of rule, Heinrich died of a sudden illness.
Eudes II meanwhile suffered greatly as a result of his Italian allies. Their desertion had left him in a difficult position between the kingdom of France and the Holy Roman Empire. On August 1004, his vassals began abandoning him in favour of their own rule. By 1009, Eudes had barely any vassals remaining to him, all of whom had abandoned him, some few returning to the Holy Roman Empire, others choosing to go down the road of independence. On April 1009, Eudes II was suddenly invaded after the French king, Robert II, discovered a claim on the county Breda. On December 25th, 1009, Eudes was forced to surrender the county of Breda to Robert II. With no titles remaining to him, Eudes found the doors of his former vassals closed to him, eventually finding residence in his distant relative's court in Champagne.
Although often the children of the Emperor or a family member would be elected after the death of the Emperor, not enough support was given to the three year old child Heinrich IV, duke of Bavaria and Mainz. After the electors came together, it was decided that new blood was needed on the throne. In the end, it was Duke Adalbero of Carinthia who was chosen from amongst themselves.
Adalbero was very much a new man of the Holy Roman Empire. The Duchy of Carinthia itself had been previously a possession of Emperor Heinrich, but had been taken in 995 by Otto III and granted to Adalbero for his service. When Heinrich was elected as Emperor after Otto III, Duke Adalbero had watched warily. Addalbero was by nature a man of paranoia, and feared the loss of his titles which had only just been gained. Upon Adalbero's election in 1008, there was no man now more powerful than he to prevent him from acting upon his suspicions. On March 13th, 1008, barely a month after election, he immediately ordered the Duke of Bavaria and Mainz, the three year old Duke Heinrich IV and the son of Emperor Heinrich, to relinquish the county of Nurnberg, a county traditionally part of the duchy of Bavaria. The boy's regents refused, hoping for aid from other lords, but to no avail. Within the span of a year, Duke Heinrich IV was forced to surrender his lands and to be confined to the dungeons.
Rumours soon began to spread that Heinrich IV was being treated in a way that reflected in no way his position as the son of a former Holy Roman Emperor and a Duke of the Empire. In February 1010, gripped by paranoia, he soon discovered that one of his vassals, the count of Nassau, was plotting to incite the Duke of the Upper Lorraine, a powerful vassal on the French border, to rise against him. His attempt to arrest the count failed however, and word spread that the Emperor, far from arresting a treasonous subject was in fact arresting honourable subjects! Within a few days, no less than five Dukes, three Prince-Bishops and three counts had joined the rebellion.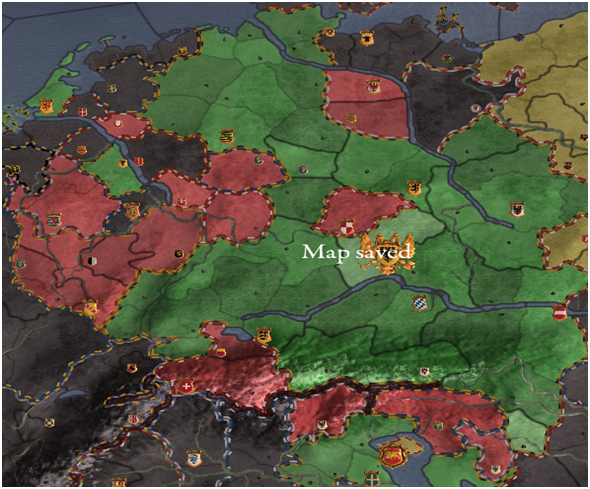 The war lasted less than two months before victory had been achieved. Reacting with a speed no one thought possible, Adalbero had gone straight for the leader of the rebellion, Count Johann of Nassau, defeating his small army and capturing both Johann and Prince-Bishop Adam of Mainz. With the charismatic leader gone, the rebellion quickly fell apart. In the span of a mere two months, Adalbero had captured nearly half of the most powerful rebellious nobles in the Holy Roman Empire, and prevented a bloody civil war from marring his reign. With a huge proportion of the nobility in his dungeons, it seemed as though nothing would be able to challenge Adalbero.