The bane of all farmers
42 Badges
The Setup
- Armageddon 1.2, Normal/Normal
- New Nations Mod 4.4, Alternate World scenario
- CCIP
- Custom events to help keep the war going along.
-
Folks recruited here.
- Hopefully, this will be a narrative/gameplay, with some room for comedy, depending on how I feel at the time of writing.
- Hooray, my first AAR.
Background Information
October 1925. Barcelona. Many workers are up in arms, and revolutionary forces have raised armed popular militias, who place the economy under the worker's control. However, many being to clash with each other, mainly the anarchists and the communists. Spanish authorities are unable to put a stop to this fighting, and some say there were at least 3 independent entities claiming to represent Catalonia as a whole. However, the anarchist forces were eventually taken out. Catalonia now lay in control of communists. A singular communist bloc eventually took control of the state, either absorbing or pushing opposition out of the way.
The dawn of a new age?
New Year's Day, 1936
Palau de la Generalitat de Catalunya, Barcelona
Premier Joaquim Casanova sat at his desk, a glass of wine in one hand, and a stack of papers under his other hand. He took another sip of the wine, his second glass today. He was flipping through the papers, when he heard a knock at the door.
"Come in.", he lazily said.
The door opened, and in came his secretary, Caterina, who promptly questioned in a worried tone, "What are you doing?"
"Uhh, preparing for the New Year's meeting?", Casanova replied.
"You can do it without drinking, you know. I don't know what to say if you think you can run the country half-way to drunk.", his secretary lectured.
"Right. Anyway, how much time do I have?", the not quite there Premier replied, downing the rest of the wine afterwards.
"I'd wager about half an hour before you should leave."
"Alright, thank you.", and with that, Casanova went back to his work. Caterina left, closing the door behind her. Casanova then slumped back in his chair, and spun around to stare at the maps tacked onto the wall.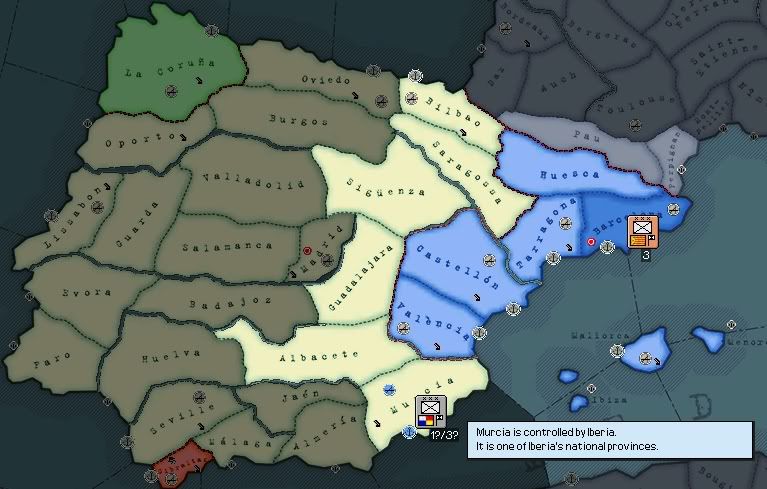 He had to wonder if it was worth it sometimes, but, this was his country, and if it wasn't him here, it'd probably be some blithering idiot. Still, stopping the Iberian unionists in Spain and Portugal from attacking was tough. They could almost double Catalonia's production. Then there was that eyesore of a spot up in Galicia, that being the Celtic Union, whom seized Galicia during Spain's moment of weakness, sputtering things about Celtiberians. No matter what, he couldn't imagine living under a government that foreign. He turned his gaze to another map...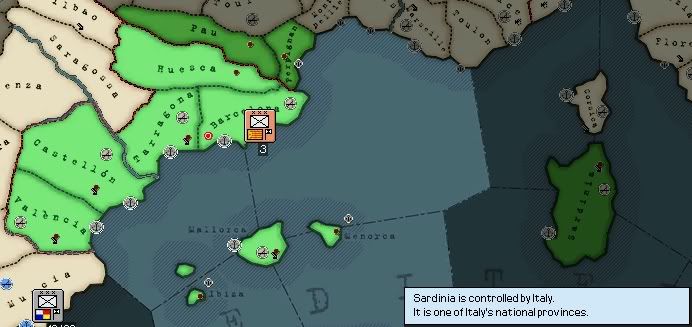 However good relations between France and Catalonia might be, Northern Catalonia was a bone of contention.
France figured since they had held onto it for centuries, why didn't they have the right to it? Because the folks living there are still Catalans, that's why.
, Casanova thought with a chuckle. Now, Sardinia... Casanova had no idea why his predecessors marked that island on this map. It was a possession of the Crown of Aragon, but when Casanova tried to figure out why that gave Catalonia a claim, he thought they were stooping to France's level. He got back to work. Or something resembling it.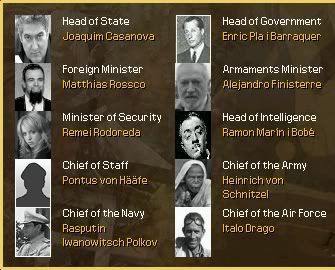 His cabinet couldn't be anymore of a strange group of individuals.
First off was the General Secretary of the PSUC, Enric Pla i Barraquer. Casanova would've preferred Pla be his successor in running the Armaments Ministry. No matter, the party had chosen. He seems to be happy in his position, who wouldn't be? However, Casanova had to wonder about his actual skill. He seemed too optimistic for his own good.
Next, Matthias Rossco, foreign minister A dependable fellow, his only shortcoming might be his great zeal about spreading the revolution. He was a true believer, but it hampered negotiations at times.
Alejandro Finisterre. Minister of Armaments. The eccentric scientist hails from Galicia, probably one of the many who fled the Celtic invaders. He enjoys tinkering with things, and invented a very fun game, which simulated the excitement of a football (soccer) match, but on a tabletop. What this man was doing running Casanova's old department, he didn't know.
Remei Rodoreda. Minister of Security, and quite popular with the people. However, she has some enemies in the PSUC. Not Casanova, though, who appointed her to quell any unrest.
Ramon Marín i Bobé. One of the most vocal hardliners in the PSUC, Marín is the head of intelligence, and a harsh sort of man when it comes to matters of governance. He specializes in messing with other nations' politics with his spies. In Casanova's eyes, this man is crazy. He's also loyal, but maybe a little too loyal. Still, Casanova was a pratical Premier, and Marín's skills were good to have, even if his poetry is subpar.
Pontus von Hääfe. Chief of staff, and probably another hardliner. Not that anybody was sure. The man didn't even really show his face. Moving on...
Heinrich von Schnitzel. An extremely crippled man, Casanova wasn't sure what was going on when this man was hired for the job of Chief of Army. He has difficulty getting anywhere.
Rasputin Iwanowitsch Polkov, chief of navy. Not much to say about him, besides that he is Russian, and thus is handy for when the Soviets send people.
Italo Drago. A former Regia Aereonautica pilot. Casanova wasn't sure if he was really a mercenary anymore, however, he did get the Catalan Air Force on it's feet with stolen Italian planes. Not much else to say here, hopefully he can keep the skies of Catalonia clear.
Last edited: