it must be nice....it must be nice....
43 Badges
This will be a game on Normal difficulty with the goal of Mediterranean Conquest. Initial goals are unification of the Iberian peninsula followed by a push into Africa and Italy. It will be necessary to destroy or at least injure France and England severely enough that they lack the power to interfere with my Imperial ambitions. Eventually I'll have to deal with the bigger forces of the eastern parts of the Med, but I have many other fish to fry first.
Index
:
Update 1: The Reconquesta
Update 2: Infamous
Update 3: Birth of an Empire
Update 4: Border Wars
Update 5: Thunder of Giants
The Plan
Unify Iberia
Push into Europe and the Italian Peninsula, including the decimation of France
Conquest of Africa and securing of the mouth of the Med. Sea
Subjugation of the British Isles (Through Vassalization, Disruption, or Annexation)
Limits of the Push into Europe proper, including the neutering of the HRE.
Final push into conquesting the rest of the Med, control of which will signify my win condition.
Update 1: The Reconquesta
This is my first AAR, and while I have player EU3 IN on a friend's computer for a bit, I am not a very experienced EU3 player. This game takes place in the latest steam version of Divine Wind. Settings are the defaults, except that there are random "lucky" nations instead of historical ones. We shall see what happens.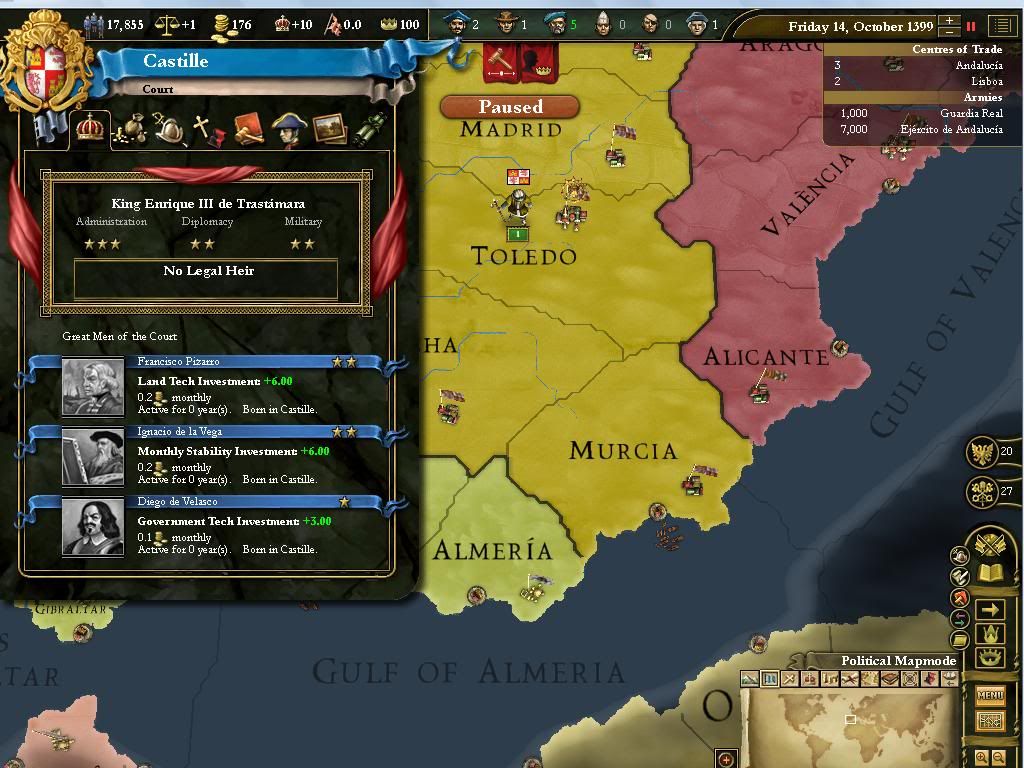 Ministers: Land tech, stability, government tech
Sliders moved towards Land Army (Naval Thought Suffering)
King Enrique III de Trastamara ADM: 3/2/2
Building up armies to take Granada; Guaranteeing Navarre
Current Priorities:
Operation Granada Mancha: Take Granada, try to take a few provinces in Africa.
Operation Ara-gone I: Reduce Aragon without taking the Belares.
Royal marriages: Brittany, Milan; Gonna be lonely for a while, nobody else wants to marry
Maybe Brittany will ally with me later and help defend (or take the brunt of an attack) from England.
1399 wraps up with my guaranteeing Navarre, as well as declaring on Granada. Without a big army built up, the entirety of Sunni African decides to declare war on me in support of Granada. Building up armies while defending made things very interesting, but eventually the tide of ships dropping off Enemy troops ebbed. Granada spent a lot of time and money spamming mercenaries, as they got 10-15 units of troops completed in a few days, but they use them as lone stacks so they weren't too difficult to destroy. Soon Granada is secured, annexed into the Iberian Empire, and I can turn my attention to Africa proper.
Fighting in Africa is interesting. I'm having to limit my stacks to around 6 units to stay in good supply and low attrition. With the AI liking to send doom stacks of 13+, I just have to reinforce with a second or third division. This resulted in three or four massive fights involving 20k-30k total troops in the middle of the desert (not the greatest for me, but superior local power and better morale got me through it). In the end, Morocco was out of the war because of war weariness (at 19+) but Algiers and the rest had relatively low war weariness and were still threats for the war (4-5 WW; still good troops counts).
Only other notable bit of the war that I wish I had a SS of is a quick redeployment of forces that won a major battle. I had a 6k stack in Melila, and another that had just gotten done sieging Ceutu. An Algierian stack of 9k was coming in from the east to Melila, so instead of going through the desert, I loaded the troops into my ships from Ceutu and dropped them into Melila on the day the enemy troops arrived (as opposed to a month late going by land).
With a large stack (16k) of various enemy nations coming in through Algiers, I decided to call it quits with this war. I take three provinces, Ceutu, Tangiers, and Toubkhal, and barely get my troops out of Moroccan territory before rebels rise up from their massive WW. By 1404 I have gained six provinces, and am still fairly well off in terms of battle readiness, with 18k manpower, a good number of stacks, and a positive treasury. Operation Granada Mancha is a huge success.
My attention gets turned back to the Iberian peninsula proper. By sheer luck, I get the Alliance CB against Portugal. Unfortunately this means risking Big Red (England) coming into the battle, but reducing Portugal is part of the Plan, and since they are allied with both Navarre and Aragon, I cannot afford to ignore this opportunity. I build up a few more army stacks and declare close to the CB's expiration to maximize my chances. Interestingly enough, Portugal, Aragon, Sicily, the Papal States, and Navarre all enter the war. Shortly after the Papal States get into war, I become the Papal Controller….guess the Vatican Armies didn't get the memo.
I decide on a Portugal First strategy, and allow the eastern forces to overrun parts of my empire (though only Madrid gets captured). I reduce Portugal by destroying their armed forces, and capturing a few territories. After the first couple are captured, I move those troops into the east, driving away a few small Sicilian stacks and destroying them. There is an epic battle between 13k Aragonian troops and 15k Castillian troops. My troops defeated the forces of Aragon (despite some reinforcements they received) and the long process of sieging begins.
There is no further outside involvement during the fighting. Portugal gets reduced properly and I take a handful of their provinces, Porto, Alentejo, and Algarve, as well as annexing Navarre. This causes my Infamy to shoot up to nearly the limit (at 31.8), and meant I couldn't take anything from Aragon. I decided to end that War, getting them to break their treaties, admit defeat, and revoke their core on Sardinia. Before the war ends, England enters with Scotland and a few others. They land 15k troops into Navarre, and I turn and destroy them, but a pair of doom stacks from Bohemia are coming through France, so I elect that discretion is the better part of valor, and get the only war resolution I can from England, admitting my defeat (with 50 warscore….oh well) and getting out cheaply with giving England prestige. All in all, Operation Ara-gone I is a success, though it meets none of its own goals. It does meet the goals of reducing Portugal, perhaps meaning it should be renamed Operation Portu-gone.
The Empire as it currently stands.
I may be into high BB, but we're also #1 in prestige! It's a no-brainer that I have hired a diplomat, though a terrible one star one, and have a statesman and army reformer as well. Tech-wise, I have gotten production to lvl 4, and am working on land tech 4 and should have it within the year. The empire is in decent shape, we have a loan that the AI decided to nab when the treasury dipped to 0 for a moment, and are at low manpower, but overall we have strong armies, destroyed neighbors with high WW, and low WW ourselves (1.42). All in all, not a bad start.
Few events happened that I didn't SS. We had an heir die, and instead of getting a church out of it (which would have been smarter of me) I decided to get a new heir. Juan de Trastamara is a weak claimant, and a weak potential ruler with an ADM of 3/6/3, only slightly better than his dad's 3/2/2. Also had Berber protestors that I decided to work with at the cost of ducats rather than a rebellion and increased chance for rebellion in the middle of the Portugese War.
Next order of business is to get my Infamy down, build up some infrastructure, and get my finances in order. I have the Italian Ambition mission, which means the ability to gain a core in Italy, which is a very good thing. I'm not sure if this is worth interrupting my Infamy reduction for.
Is there a way to repay loans early when they are not to another nation and are instead from the "Bank?" I'm not seeing it, but I'm new at this so I could be missing it easily.
Last edited: