Carthage Reborn - the first Tunisian AAR
Episode1: Abdulaziz finds some Friends
This is the story of a man named Abdulaziz Ibn Hafs who was Sultan of Tunisia at the beginning of the fifteenth century. Abdulaziz was fascinated by history, mainly due to the extremely clever and world-famous historian Ibn Khaldun who lived, taught and wrote extremely long and erudite history books in the capital city of Tunis on the shores of the Mediterranean Sea.

It came to the notice of Sultan Abdulaziz that Carthage, now a suburb of his Hafsid capital, had once been the centre of a mighty empire which stretched all the way around the Western Mediterranean and whose explorers had sailed far to the south of Morocco, which was as far as anyone in Tunisia knew about in those days. Abdulaziz's eyes nearly popped out of his head as he gazed in wonder at the maps in Ibn Khaldun's New Illustrated Historical Atlas for Amateur Despots. Needless to say these maps were not terribly accurate, but they inspired Abdulaziz with a dream. He believed that Tunisia could become great once again, and once more become the centre of a great Mediterranean Empire, even larger and more glorious than that of Carthage.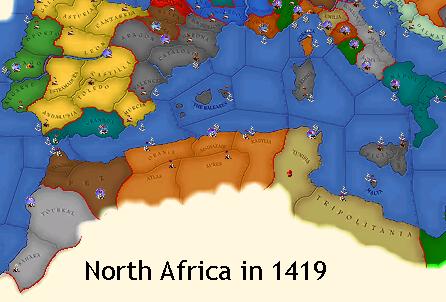 Abdulaziz began to ask his advisors what was to stop Tunisia becoming a great empire once more. They had plenty of things to say...
Sultan Abdulaziz Ibn Hafs of the lowly but potentially great and glorious Sultanate of Tunisia:
Well, chaps, just take a look at this atlas of Ibn Khaldun's - look how huge the Carthagian Empire was!
First advisor:
Truly Your Excellency, those Carthaginians must have known what they were doing all right!
Second advisor:
They must have been rolling in money, that's for sure!
Third advisor:
Imagine what sort of a huge and invincible army they must have had!
Fourth advisor:
They surely must have had lots of small and poorly defended neighbours to conquer!
Abdulaziz:
So, er - what's to stop us becoming great once more, just like them?
There is an awkward pause...
First advisor:
Low technological ability?
Second advisor:
Extremely limited finances?
Third advisor:
Pathetically small army?
Fourth advisor:
Big scary neighbours with big scary armies?
Abdulaziz:
Er - right, well I can see it won't exactly be a picnic, but...
* He assumes a noble stance *
...Tunisia WILL be great once more!
And so Sultan Abdulaziz began to plan how he would build the Neo-Carthaginian Empire. First of all he decided to find some friends. The Mameluks to the East didn't seem too friendly, but the other nations of the Maghreb, Algiers, Fez and Morocco seemed more hopeful. In 1420 he managed to arrange a royal marriage with the family of Uthman III of Fez, who, with his Algerian allies, was presently in the middle of a war with Portugal. The marriage was a roaring success - in 1421 Uthman invited Abdulaziz to join his alliance.
Letter from Sultan Abdulaziz of Tunisia to Sultan Uthman III of Fez
Dear Uthie

I knew it was the start of a beautiful relationship when my ravishingly beautiful daughter Selma married your extremely rich and well-mannered nephew Ibrahim. I'd be only too happy to join you in your struggle to crush those detestable Portuguese infidels. I'm afraid I don't have much in the way of military assistance to offer, but I would imagine that the Portuguese will tremble at the very mention of our great and glorious Sultanate, which I have decided will one day be the centre of a mighty Neo-Carthaginan Empire stretching all around the Western Mediterranean (though not, of course, including your most noble Sultanate of Fez!)

With warmest brotherly greetings

Abdulaziz
And of course, tremble the Portuguese did, when they heard of this new development. Four days later they offered to pay the North African Alliance 200 ducats in return for peace. Abdulaziz had plenty more daughters and his diplomats were soon busy marrying them off to various other royal houses. Since the Tunisian College of Diplomats usually only produced one graduate per year, he only managed to arrange one marriage per year, despite his large number of daughters. Later in 1421 the Algerian royal family accepted a marriage with his fairly beautiful daughter Fatima, and in 1422 his rather plain-looking daughter Yasmine was dispatched to Morocco. In 1423 the marriage of his slightly clumsy daughter Nejla was with the royal house of Granada and in 1424, Samia, his downright ugly but extremely adventurous daughter, travelled all the way to Turkey to enter a marriage with the Ottoman royal family.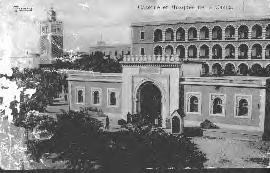 The Tunisian College of Diplomats
Now Abdulaziz was really hobnobbing with the great and mighty, and when, in 1431, the alliance with Fez expired, he was quick to recreate it, but with himself as its leader. Meanwhile Algiers had made an alliance with Granada and the Moroccans didn't seem to want to be allies of anyone.
Last edited: