Chapter 1: Renaissance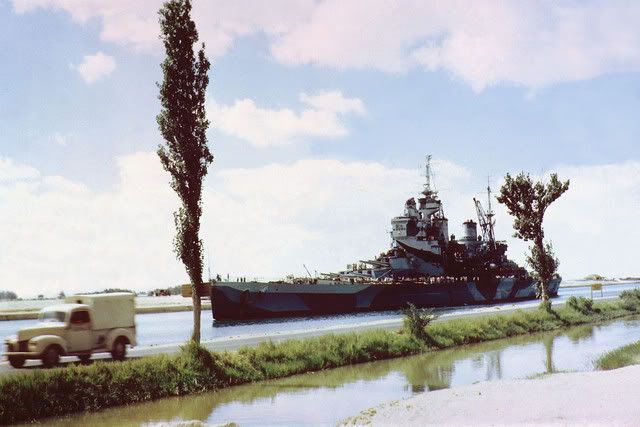 A British Battleship Passes Through the Suez Canal
​
The 1930's would not be ideal times for the British Empire, especially during the wake of the Great Depression, the increased militarization of fascists powers, and the ever increasing failure of the League of Nations. With domestic dissent from governmental instability growing, and its resources dwindling, Great Britain is an island nation with many duties to fulfill, but less manpower available as time goes on. It is in these times where "Isolation Politics" will be used to deal with the various problems arising so that Britain can build up and bring herself back to the diplomatic table with increased prestige and power. One thing was clear however that demanded future observation; the rise of fascist nations such as Germany, Japan, and Italy, with a lesser extent to the Balkan nations of which have began to dabble in more authoritarian governments. Nothing could be done for now, but this is were diplomacy shines best when other moves require too many resources. With Britain ruling the seas, a standing professional army, and the increasing attention given to aircraft and radar counterparts, who would dare challenge the majesty of Britain? That question would be put to the test in the coming years, and it would be a true awakening to everyone around the world that would come in a price of human life.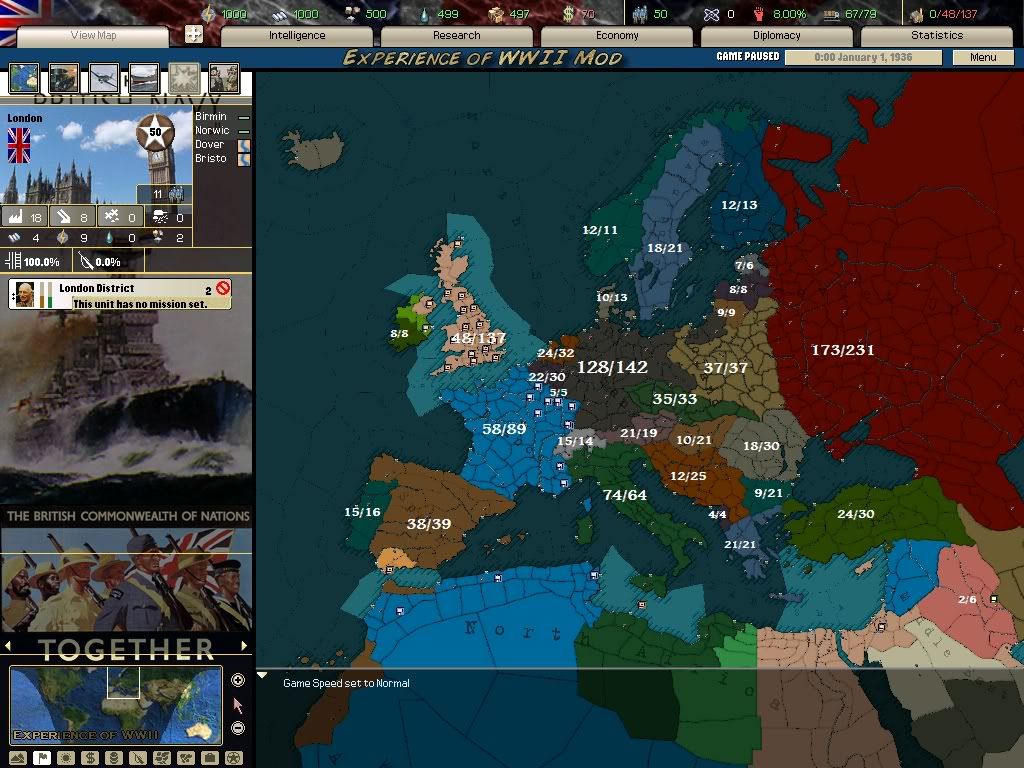 An Overall Strategic Map of Europe
​
Looking at home, Britain has numerous home guards to defend her shores, and has begun to modernize the air force and related sections such as radar and flak batteries. The navy is large, however becoming more and more obsolete as time passes, special attention must be given to adequately equip the backbone of British power. In foreign regions, Britain is spread out and has few forces in any region to meet the needs of any increased aggression. Egypt and Jerusalem are especially vulnerable with not even more than 50,000 men for the entire region, a low number despite the massive importance of the Suez Canal and Mediterranean operations. India and the Far East also suffer from a lack of manpower overall with barely any naval forces to sustain a future war of aggression from foreign powers. With this in hand, the British government concluded that it would be best to split up their attention to all three areas of the military, which would dictate their building policy.
British Building Policy for 1936-1938
Beginning Research for 1936
​
In Europe, Britain would continue to utilize the League of Nations to resolve diplomatic crisis' and to further the pacification of Europe. With the Ethiopian venture of Italy and German rallies for the militarization of the Rhineland, Britain must be on guard to deal with future aggressive involvement with these nations, but refrain from another Great War, no one wanted to even mention a full war with either of these nations. Something dark was coming, a new time period and Britain would be at the forefront of this new age ready to take the lead.
---------------------------------------------------------------------------------------------------------------------------------------------
Author's Notes: Hello everyone, this is my second AAR featuring Britain which I intend to lead from 1936 to hopefully 1964. However, there are a few notes I'd like to say.
I am playing with the mod Experience of WWII: The World in Flames 1.0 Beta with the Armageddon attachment
Please stop by Fernando Torres' mod page if you're interested in the mod, the current public version is 0.6
I am also playing with the mod's unit limitation aspect, so there won't be 250 vanilla infantry divisions since Britain never had that, or 50 division of tanks
Even though the mod has gone through several versions, there are still some English grammatical errors (The mod is bilingual, French and English) so please no hate on the custom events of world news
I intend to mostly lead a historical game, with of course a few ahistorical choices but all of them will be historically backed up
Last edited: